Knife and Fork Talk: November Restaurant News in Paris
"Whoever does not visit Paris regularly will never really be elegant."
—Honoré de Balzac
La Maison Dom Pérignon x ADMO
Alain Ducasse at the Quai Branly-Jacques-Chirac Museum is an exciting 100-day pop up, at Les Ombres, the Jean Nouvel designed glass-walled restaurant, perched on the rooftop with the finest view of the Eiffel Tower in town.
AD in collab with Albert Adrià and Romain Meder have dubbed it ADMO, the contraction of "Adrià Ducasse Meder aux Ombres."
ADMO heralds the arrival in Paris of Spanish chef and culinary agitator Albert Adrià (Ferran's brother) whose recently published book on his plant-based approach to gastronomy is entitled Vegetales a Todo Color (Casa del Libro Editions). And Meder, talented executive chef at Ducasse's erstwhile Plaza Athénée 3-star restaurant, says it's an evolution of the "Naturalité" concept launched in 2014 at the Plaza A. "It's a healthy celebration, combining cereals, vegetables and sustainable fish, good for you and good for the planet," explains Meder. Jessica Préalpato, the former Plaza Athénée pastry chef, is taking care of "Desseralité". Exciting! Prepare to be amazed.
November 10th – until the end of February open from Tuesday – Sunday lunch and dinner.  Menus at €200 and €380.
27, Quai Branly, 7th
Tel: 01 47 53 68 00
Metro: Bir-Hakeim
https://admo.lesombres-restaurant.com/the-cuisine/?lang=en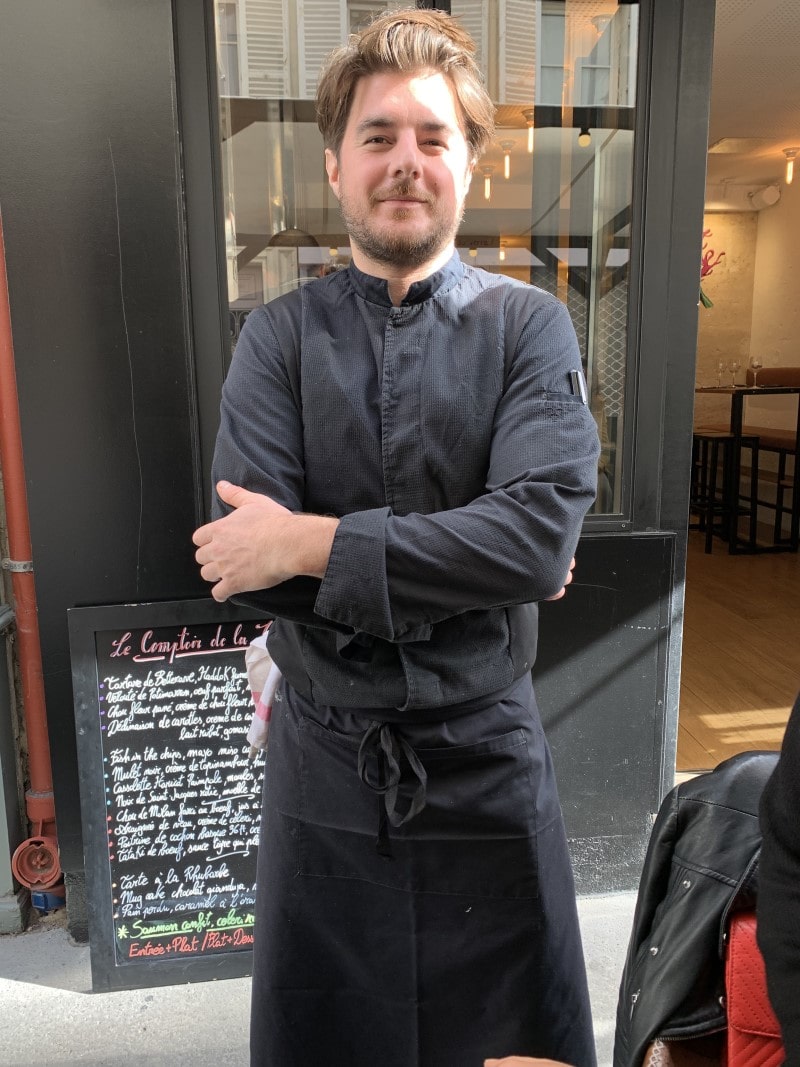 Le Comptoir de la Traboule
Jules Monnet was a promising young film director (No Limit, Les Yeux Fermé, Jack London Une Aventure Américain, etc.) when he gave in to his passion for cooking. The result's an airy, bright, brick and glass space just off rue Saint Dominique in place of the former FL by Nicolas Valanchon (now to be found in Amiens).
"There's an open kitchen. I want guests to watch me cook," he tells us. Monnet's relaxed and focused, so happy that he's cooking as well as his dad. "Papa's not a trained chef but the Saint Pierre (John Dory) he cooks at home in St. Malo is the best dish ever." Other noble influences are Eric Frechon, Yannick Alleno and Glenn Vial. Jules' favorite film? Grand Budapest Hotel directed by Wes Anderson. And he'd love to cook for Leonardo di Caprio and Kate Blanchett.
Toast Traboule (secret passageways in Lyon, go figure!) with a glass of red from La Colline en Flamme 2018 Saint Romain (€7-€28) and study the daily changing blackboard. Dishes might include beetroot tartar/smoked haddock/blackcurrant pickles (€9) with variations on a theme of carrots/ginger/ sour milk/sesame; and the cauliflower/cream of cauliflower brulé/parmesan/pistachio oil. "They're dishes for sharing," says Monnet. Mains include fish & chips – Monnet's interpretation is awesome- grey miso mayo and a touch of black curry – and it works. We can't wait to return. Call him an artist in the kitchen, "even though my name (Monnet) is spelled with two n's!" he jokes.
1bis rue Augereau, 7th
Metro: La Tour Maubour
Tel: 01 43 19 02 08
Closed Sunday & Monday
Lunch formula €18-€29 + blackboard A La Carte
Terrace
https://www.comptoirdelatraboule.fr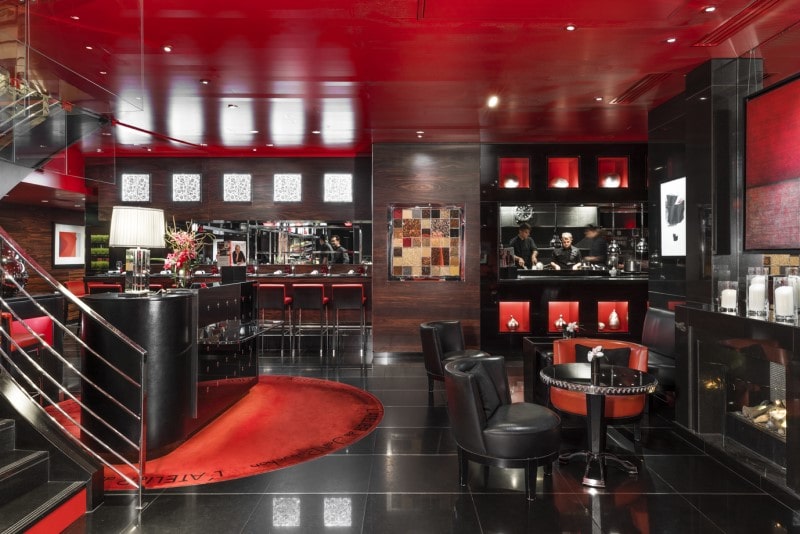 L'Atelier de Joël Robuchon
"To describe Joël Robuchon as a cook is like calling Picasso a painter, Pavarotti a singer and Frederic Chopin a pianist," Patricia Wells, the cook, author and iconic food writer, wrote in L'Atelier de Joël Robuchon.
When the superchef created the "no reservations" brand, L'Atelier de Joël Robuchon, designed by Pierre Yves Rochon with sexy black, red, silver interiors, he decided that, "L'Ateliers are not your formal watering holes; more sushi-tapas bars where high stools replace chairs, a counter replaces tables." Wanting to do something convivial in Paris, he observed at the time, "I'm always surprised to see how the Japanese, usually very reserved, relax and chat in sushi bars."
"Here the product's the star, not the chefs!" insisted the visionary JR. The kitchens are open-plan; the chefs, toqueless, wear black – the new white. At the helm of the Etoile Atelier is chef Eric Bouchenoire, keeping the heritage alive.
Showstoppers include Le Caviar Imperial (Osetra caviar, king crab in a crustacean gelee, dotted with cauliflower puree); La Langoustine (truffled langoustine ravioli served with simmered cabbage and foie gras sauce); and La Rosa (delicate gelée of Dassai 39 saké topped with white chocolate rose and orange coulis). The sublime pommes purée (mashed potatoes) using 1:2 butter to Ratte potato ratio, copied copiously everywhere. And, of course, François Benot's desserts cheesecake, tarts, ice creams and sorbets.
"Cooking is chemistry, really." –Joël Robuchon 1945-2018
Publicis Drugstore – Champs Elysées,
30, rue Vernet, 8th
€49-€89 Dinner €89 + A La Carte Glass of wine €12
Menu Vegetarian €99
Metro: Charles de Gaulle Etoile
Tel: 01 47 23 75 75
www.joel-robuchon.com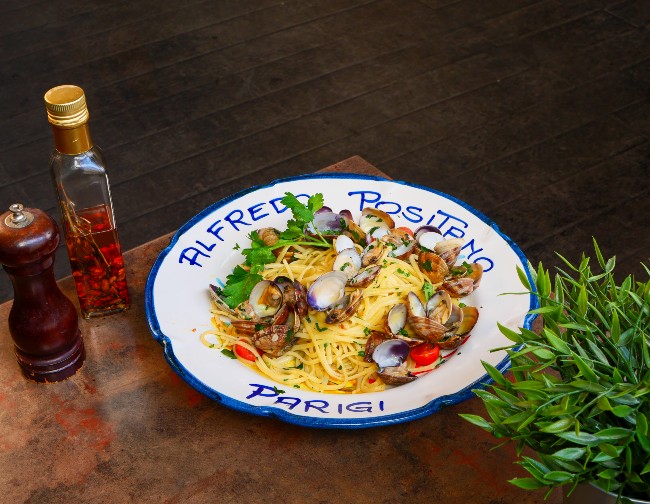 Alfredo Positano 
The Petrone family, "restaurateurs from father to son for generations," now have a buzzy trattoria, located opposite Radio France, a few minutes from Balzac's house and Passy.
Great-grandfather was chef at Theatre San Carlo, Naples, Grandfather and Father were cooks and, as long as he can remember, Gianluca Petrone was never far from a cucina. And the lovely lady with the Scottish accent? Meet Julie, Gianluca's wife.
The menu's comprehensive, packed with your favorite Italian specialities. Look for tender marinated octopus salad; aged parma hams; carpaccio of tuna, salmon or sea bass with fresh herbs, Piedmont beef marinated in honey and tea.
Schnitzel Milanese (€21.50) is made with Limousin veal (entente cordiale oblige) and, don't cry for Entrecôte alla Pizzaiola (€39) with Argentinian beef. Pasta and pizza mavens will find a multitude of à la carte versions (from €9.50 to €16.50).
Sea bass or sea bream is grilled with herbs (€35), as are small anchovies (€17) or red mullet (€25). Desserts include a tiramisu tribute to Italian restaurateur Ado Campeol, the owner of Le Beccherie, Treviso, Northern Italy, where tiramisu was invented in 1969. Campeol, the "father of tiramisu," died this month, aged 93.
Alfredo Positano
7 bis rue de Boulainvilliers, 16th
Click n'Collect
Metro: Boulainvilliers/Ranelagh
Tel: 01 46 51 93 54
https://www.alfredopositano.fr/en/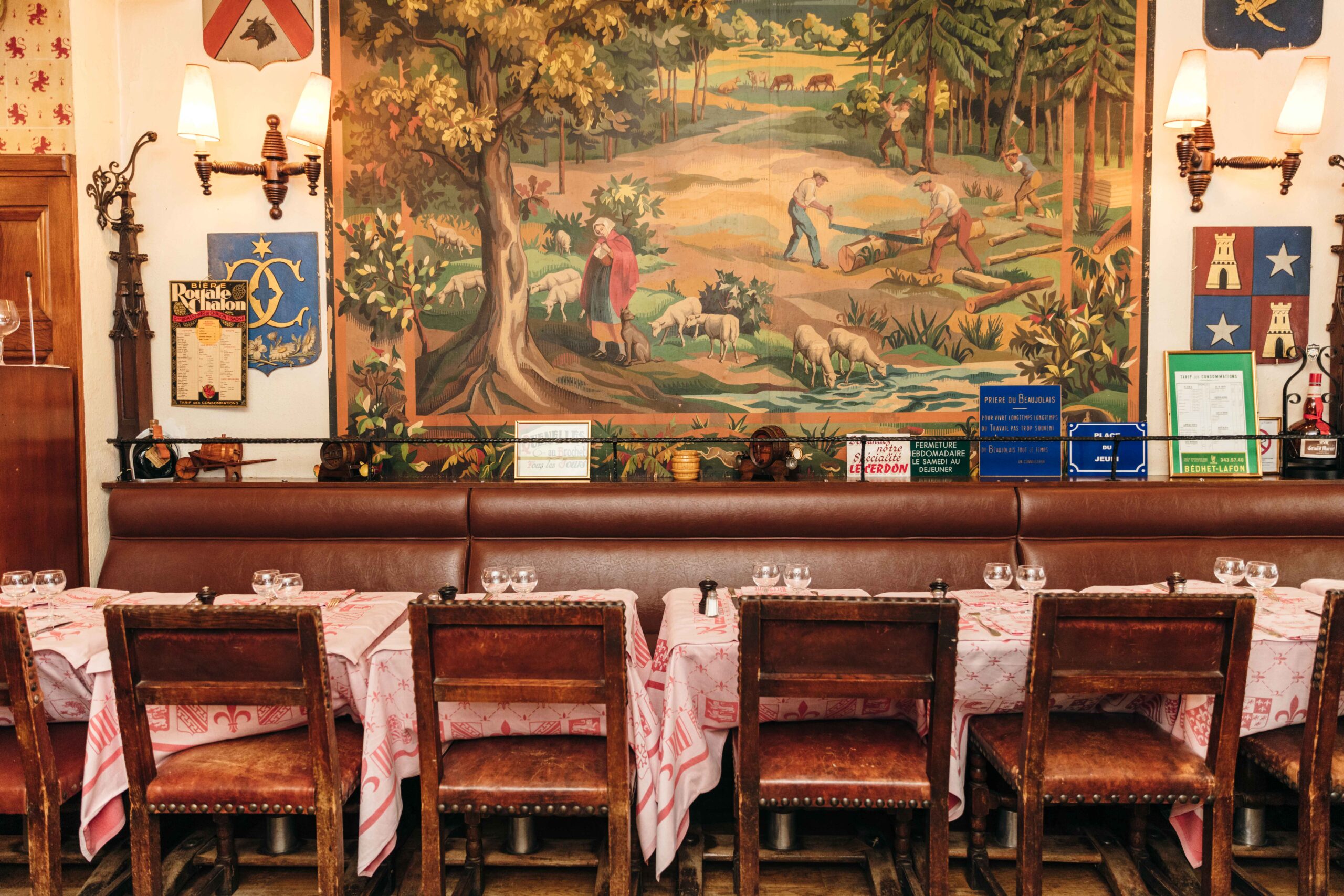 Auberge Bressane
Here's a trip to the countryside without the monotony of the motorways. In the heart of Paris, a breath of fresh air from the flagship address by brothers Jérome and Stéphane Dumant. Their other exceptional eateries include Le Paris 16, Les Marches, Crus de Bourgogne, Aux Bons Crus, and Pizzeria d'Auteuil.
The Auberge de B's an invitation to discover "Bresse" from the comfort of a left bank legend. Burgundian Bresse, subdivided into Bresse Louhannaise and Bresse Chalonnaise, is located in the east of the department of Saône-et-Loire. Savoyard Bresse – sometimes called Bresse de l'Ain – which makes up the northwestern quarter of the Ain department and Bresse Jurassienne, the smallest of the three, to the west of the Jura department.
Meanwhile, back on Avenue de La Motte-Piquet, the welcome's warm as a Bresse morning from sommelière/maitresse d'hotel Adeline Fernandez and her enthusiastic team. The restaurant rocks neo-medieval, gothic-1950s vibes with crazy chic. Jérôme and Stéphane's collection of old plaques and old menus, lampshades, and multiple kitsch are a nostalgic nod to the Bresse region and days of old when knights were bold.
Sink into a banquette, order a cocktail Cerdon (choose from 300+ references in the cellar, Adeline will advise) and study the menu (definitely order the mile-high souffles, the Burgundy classics, coq au vin, and the seasonal game). If only they had a few rooms…
16, avenue de la Motte-Piquet, 7th
Metro: La Tour Maubourg
Tel: 01 47 05 98 37
Terrace
Open 7/7
http://www.auberge-bressane.com/ffd99702_5441_4982_93a8_bf040d368c79.html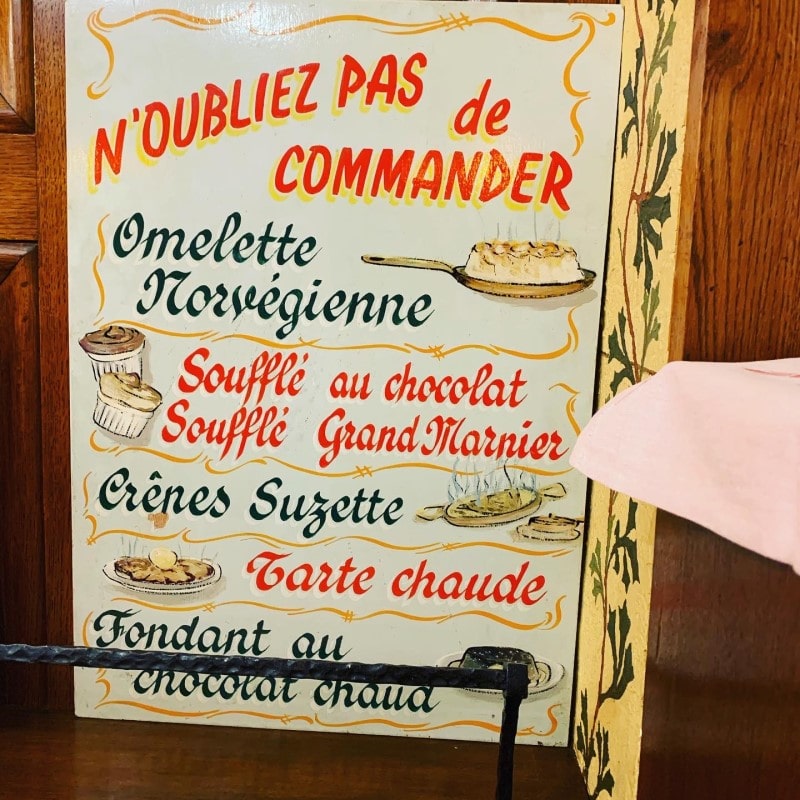 Mark your calendars for the third Thursday in November (18th)! Love it or loathe it but don't ignore a fabulous excuse to party the day and night away.
In Les Halles 'hood, chez Au Pied de Cochon (since 1947), at midnight on the 17th the traditional Beaujolais bell rings – a prelude to the opening of the first bottles from Domaine des Nugues by Gilles Gelin.
The jolly, day-long celebrations on the 18th are everywhere. Au Pied de Cochon posts a special menu washed down with … Beaujolais. And, always on the menu, the signatures: brioche sausage with pistachio, casserole of moules-cochon (Maison Cadoret oysters and Eric Ospital charcuterie) and tradition oblige – delicious grilled pig's trotters. On the terrace at 7pm, enjoy an apero and dancing to Sylvie Pullès, the accordion Queen.
Want to be inspired by more French foodie experiences and enjoy classic French food, wine and recipes? Head to our sister website, Taste of France, here.
Lead photo credit : The chefs behind ADMO
More in Drink, food, Paris, review, Suggestions, Trending
---
---