David Toutain, Le Reminet, Le Chardonnay, Drouant: Paris Restaurant Buzz
"Good cooking is the accumulation of small details done to perfection."
— Chef Michel Bourdin (1942-2023)
Looking for a great place to eat? There's never a dull moment in Paris, the world capital of cuisine. Exclusive news and reviews… Here's a look at what's happening on the restaurant scene.
David Toutain, whose culinary influences are led by the raw and the land, is adding new dimensions to his menus.
Always ultra-creative, the award-winning chef becomes a member of the prestigious "Grandes Tables du Monde" in 2023, flagging up recognition for his excellent restaurant which becomes one of the 188 best in the world. Add "bravo!" for scoring 17/20 in the Gault&Millau guide and for being voted "The Best" by Guide Lebey 2023.
Toutain continues his fascinating evolution in the simple, Left-Bank kitchens of his neo-gastro address, awarded two Michelin stars. The development of his permaculture garden near Honfleur is impressive – this is where he cultivates rare herbs and plants that season his dishes and drinks. He's excited about a new journey which nods to the current trend for zero alcohol!
Delightful pairings are composed of kombuchas, extractions, maturations, cold infusions, juices, fermentations, waters, teas etc., taking his cooking to a higher intellectual level.
Together with Toutain, Head Somm Fabien Vullion is concocting interesting non-alcohol pairings. "It's a huge challenge for a sommelier!," says Vuillion. For example, a cold infusion based on buckwheat and bergamot to sublimate bulot (whelk) and romanesco cauliflower; albedo-infused kombucha paired with chicory and seasonal fish; Douglas fir bud water escorting the lobster; a wild creation of spelt and milk froth with cheese; and, for dessert, an extraction of quince pips and peel, honey and saffron. Average spend from €150-€290.
29 rue Surcouf, 7th
Metro: La Tour Maubourg
Tel: +33 01 45 50 11 10
Closed Saturday/Sunday and Wednesday lunch
You're looking for a cool French bistro? Welcome to Au Chardo! This new addition is by the gorgeous Dumant family, located next door to their fabulous, more formal brasserie Aux Crus de Bourgogne. On the mnenu: Paté en croute au foie gras; egg mayo in several versions (plain, bottarga, truffle, tuna); poached egg, red wine, mushroom plus pike quenelle, sauce Nantua; chicken with cream and morels, fresh spinach; Croque-Monsieur with truffles. Choose wine from the blackboard selection. Prices are affordable, from €9 by the glass. Dessert du jour, nougat glacé and a delicious Baba au Rhum to finish.
This bistro has everything: excellent quality products, daily market arrivals/suggestions, without forgetting the inimitable Dumant style welcoming atmosphere. I'll keep my rond de serviette (napkin, starched, of course!) here please.
3, rue Bauchaumont, 2nd
Metro: Sentier
No reservations
Closed Sunday
Terrace
Romain Van Thienen trained in a diversity of kitchens, from bistronomy to 3-star haute cuisine, with Michelin-star chefs such as Cyril Lignac, Yannick Alléno, and Oliver Bellin. At Drouant, where he is now head chef, he faces a challenge, "to draw a culinary line between tradition and modern menus."
I hear you saying, why do I know Drouant? Because since 1914 it's home to the Prix Goncourt, France's most prestigious literary award, taking place annually in November. It was created by diarist and historian, Edmond de Goncourt, whose will requested the founding of the Academie Goncourt, a panel of 10 judges who are writers. Today they lunch or dine regularly in the Salon Goncourt on the first floor, their names engraved on the chairs, solid silver cutlery etc.
"La cuisine is excellent," remarked Robert Sabatier, a former member. "Is this what's known as 'la cuisine des Prix Litteraires'?" Illustrious winners include Romain Gary (1956), Simone de Beauvoir, Marcel Proust, André Makine, Marguerite Duras, André Malraux and François Weyergans for Three Days with my Mother.
A meal here is to be enjoyed without moderation on the chic terrace in warm weather. Begin with Romain Gary Gourmet Pie or Charles Drouant Oysters. Followed by Colette Salad, Mushroom ravioli, Red Mullet, Scallop Pot au Feu, Cheese from Cyrille Hardoin and Proust's Giant Madeleine (to share or not).
16-18 Place Gaillon, 2nd
Tel: +33 01 42 65 15 16
M: Opera
Open 7/7
Sunday Brunch (€78)
Starters from €18. Mains from €35. Cheese from €14. Desserts from €14.
Nestled in the heart of the Latin Quarter, Le Reminet has been an insider address in the atmospheric quartier Saint Michel for 30 years. With a lick of paint, new owner Raoul Dehé (you know him from Le Bel-Ami, Vesinet) and new chef Fabio Andriani (who comes via Il Carpaccio, Le Royal Monceau) are attracting lots of foodie attention.
Chef Fabio admits he's driven by his passion for products and is very attached to tradition; "the backbone of my menus revisit French gastronomy and include a wild veggie style vol-au-vent."
According to the market, dishes to savor include: starters of meaty mackerel, tanned to perfection with a blowtorch, fennel carpaccio anointed with citrus fruits, lemon condiment (€16); Florentine-style perfect egg, comté cream (€16); Gravlax salmon marinated in beet, gin and dill (€19). Mains include red wine braised beefcheek, creamed polenta, carrots, smoked bacon crisps(€31); Snacké scallops, leeks, parsnip mousseline, sweet wine emulsion (€35); Dauphiné style duck breast fillet, oven-baked potatoes, beet caramel (€31); Cod, cooked low and slow, saffron white butter sauce, spiced roasted cauliflower(€32).
Finish with seasonal ripened cheeses (€15) or a lovely array of desserts: Citrus supremes, clémentine ganache cream, blood orange sorbet (€15); "Mont Blanc" Réminet (€15); Brioche-like French toast, hot chocolate foam, avocado sorbet (€15); Lemon cream éclair and frosted meringue (€15).
Open 7/7
Lunch €25 Menus €45-€55-€70
3 rue des Grands Degrés, 5th
Metro: Maubert-Mutualité/Saint Michel
Tel: +33 01 44 07 04 24
Here you'll find flame-grilled, mouthwatering steak-burgers prepped with top quality grass-fed Irish Angus beef and a sublime layer of melting AOC cheese (Tomme de Savoie, Emmental, Cheddar). The bun's baked according to the recipe from Little Italy Bakery NYC.
On the menu: Empire Cheeseburger, Rockefeller Burger, New Central Park Burger, Brooklyn Falafel Burger (veggie), or the latest Paname Cheeseburger with Reblochon cheese, crispy bacon, chives, mayo and honey.
And he who orders burgers needs fries! N'est ce pas? Manhattn's are housemade sweet potato or Belgian style (like the owners, brothers, Jérome and Philippe Vandermeulen). Milkshake? Vanilla, Speculoos or Oreo Cookie. Relax on the terrace, watch the world go by, as you enjoy your beautiful burger comme à New York City. See you there!
59 rue Montorgueil, 2nd
Metro: Etienne Marcel
Burgers from €10.60. Fries from €4. Milkshakes from €6.
Need to Know: A Well Earned Palace Promotion
The adorable Arnaud Berric has 19 years experience at the Hotel Plaza Athénée on Avenue Montaigne. In banqueting, room service, Le Cour-Jardin, now he's been appointed maître d'hotel at the legendary brasserie Le Relais Plaza (where the chef de cuisine is the star Jean Imbert). With Art Deco décor, the restaurant is a fascinating homage to the 1930s transatlantic ocean-liner SS Normandie. Arnaud replaces the iconic Werner Küchler, who recently retired. Read his memoir 25 avenue Montaigne. He's famous for his discretion, efficiency, knowing  "who's who". Werner Kuchler, an extraordinary man, was at the Plaza Athénée for 47 years, having started there in 1980. "Werner is a hard act to follow. I'll do my best," Arnaud Berric promises.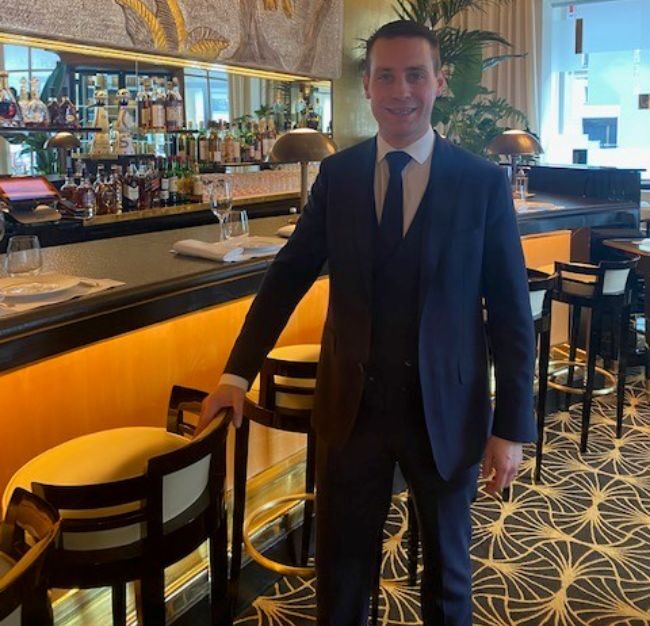 Lead photo credit : courtesy of David Toutain
---
---