« I'm looking over a four leaf clover »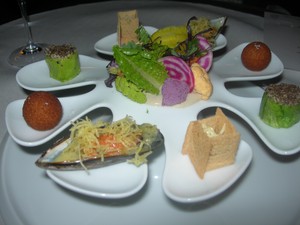 Just off Saint Germain des Près, in the former Ellis Island Café on rue Perronet, 2-star Michelin chef Jean-François Piège and his wife Elodie Tavares Piège, launch Clover an intimate little space.
With room for only 20 + a chef's table, "it's not gastro/bistro/brasserie, we want a real "restaurant du quartier", he says. Open kitchen, metro tile and raku décor by young rising star designer Charlotte Biltgen. The tables, made in Belgium from the vintage wood of a Canadian range, are naked ! No nappe/napkins! There are Portuguese touches from Elodie, flea market Baccarat glasses for below stairs Port tastings, cutlery from London.
Very informal, the idea is to eat with fingers for the first course of, say, Croûte de Quinoa/aubergine/saté.  Steamed brioche "on which we're grating truffles or mushrooms" (an evolution of the sensational Pizza Soufflé chez Thoumieux). Soothing watercress/herring soup.  About 40 unusual wines and mains of Curry, with  lime and vegetables. Queue de boeuf, cooked on a bed of grilled chestnuts, served with lait caillé, cabbage oil, cabbage. Pasta with herbs and smoked beef. Desserts by Pâtisserie Thoumieux bien sûr.
Why Clover chef? "The logo for my eponymous restaurant, it's lucky for me," says the talented chef who may be opening a Clover in a town near you soon. Watch this space.
Clover,
5, rue Perronet, 7th
M : Saint Germain des Pres
T : 01 40 49 08 08
Lunch about 28€ + boissons Dinner 55-60€ + boissons
L'AG opens :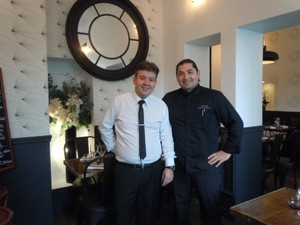 L'AG stands for for Alan Geaam young globetrotting chef alert readers remember from :  this article.
The boy from Beirut, who you know from L'Autobus Imperial, is very excited about his latest concept, a left-bank bistro with a talented young team and market driven menus of seasonal products.
Where ? Just off Boulevard Saint Germain, opposite the covered market complex.
In the former Bistro de L'Alycastre AG has created an atmospheric space, with a Marché Saint-Ouen feel, which delights in its' informality and warm welcome from Director Laurent Radoweski (ex-Connaught, London etc) and AG himself, grinning happily.
«The concept includes as much as possible from local suppliers, bread from Poujauran, cheese from Fromage Sanders across the road, flowers etc. » he explains. « I'm still chef chez Nicolas Flamel and Medi Ben (Les Crayères, Le Meurice, Laurent, Tokyo, Singapore) heads the kitchen here with young pâtisssier Marius Dufy who graduated from Ecole Ferrandi then worked chez Pierre Hermé and Le Mandarin Oriental ».
The blackboard announces food and wines (Crozes Hermitage Domaine Mucyn : Chablis William Fevre etc) and the daily specials, or choose A La Carte. Water is house-made, still or sparkling (3€). Another bottle ? No problem, no charge !
At lunch, simple bare polished metal antique tables, by night it's the full monty with starched white tablecloths, sexy candles etc. Dishes are pretty as pictures as in :
Oeuf mollet/crushed vitelotte/parmesan
Foie gras / coing / granny smith
Burrata / figue / betterave
Bellota / condiments
Cabillaud rôti/ blé façon risotto/ fumet a la tomate
Lieu / gnocchis / artichaut barigoule
Turbot / risotto / palourdes
Boeuf / salsifis / grelots
Volaille / comte / champignons
Mont Blanc surprise
Chocolat / praliné
Sablé / yuzu / meringue
Liegoise façon AG
Hurry to L'AG you're going to love it. See you there !
L'AG
2 rue Clément, 6th
M : Mabillon
T : 01 43 25 77 66
Shut Sunday
Lunch 22-29€ Dinner Average 40€
Menu Découverte 58€
Terrace
Hello Dali !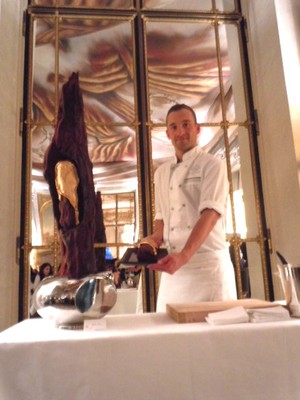 Cédric Grolet, Chef Pâtissier at Le Meurice, pays homage to Salvador Dali, his Christmas 2014 bûche a dark and handsome woodland log of smoked chocolate decorated with the iconic soft watch. Wow !
On a chocolate cookie base, chunks of honey-caramelized pear nuzzle between two beautiful buckwheat chocolate cookies, Grolet, who says he loves pastry with a capital P, adds a layer of dark chocolate mousse. Wicked !
The log, inspired by Dali's 1931 painting The Persistence of Memory, has received authorization from the Fundació Gala-Salvador Dalí.
« It may not be to everybody's taste, it's a very daring and delicate combination, I've played on the surrealist aspect which I think would please Monsieur Dali, a frequent guest at Le Meurice. And, who dares, wins », added Grolet to-day during Tea-Time at Le Dali. «
« I have been lucky to work with Camille Lesecq and now Monsieur Ducasse is here to inspire me along with the equipe. We're working around three themes : The classics revisited : la modernité and future visions », adds Grolet.
Try La Bûche Dali at lunch, tea, dinner at Le Dali from 16th to 26th December. Or, order one to take home, and say, « yes, of course I made it ! ».
Hôtel Le Meurice,
228 rue de Rivoli, 8th
M : Tuileries
T : 01 44 58 10 44
Tea-Time 46€ -60€ with champagne
Order La Bûche Dali 115€ (for 8)
Book Dinner Christmas Eve 380€ includes Bûche + boissons
The Big Brunch Thursday 1st January 2015 180€ including boissons