Christophe Michalak @ The Eiffel Tower: Grey Goose @ Le Cinq & Moroccan Cuisine @ Le 114 Faubourg
Squeeze your buns !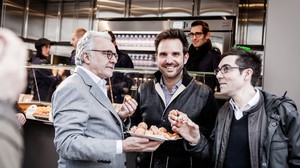 Alain Ducasse and Masterclass Champion du Monde Pâtissier Christophe Michalak have combined with architect Patrick Jouin to design the first kiosque for sweet and savoury choux pastry (cream puff) buns in the city. Their choice of location : In the shadow of the Eiffel Tower : the ultimate in chic street food.
Calling his little beauties « Choux d'Enfer » Michalak says they're made in seven minutes, in the special on-site oven. Delicious to eat, filled with anything and everything, sweet or savoury. « J'adore », he grins. Michalak's fave ? « Ma religieuse caramel beurre salé, one of my signature buns since 2000 ».
Gosh ! Cup-Cakes and Macarons are so last year !
Where ?
Intersection of rue Jean Rey and quai Branly, 15th
Sweet & Savoury Choux d'Enfer from 6-17€
T : 01 47 83 26 67
M : Bir-Hakeim/ Champ de Mars
Open 7/7 from 10am – 8:30 p.m – 23hrs during summer
Taste your (Grey) Goose do not cook it!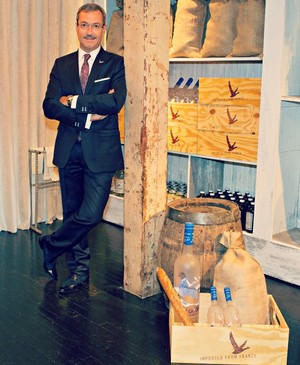 "Lush, Buttery, Elegant, the clean taste of Grey Goose – a vodka of iconic character", says Eric Briffard, Chef de Cuisines at Four Seasons George V Le Cinq, Meilleur Ouvrier de France. We're seated in the handsome dining room, enhanced by Jeff Leatham's unique floral designs, sipping a spin on the Bloody Mary vodka cocktail by George V mixologist Greg Hazac.
The name Grey Goose was inspired by the geese of Cognac.  Spot them, in the town centre, where the flock regularly drink from the fountain in front of the Hôtel de Ville.
«Created, in 1997 by American businessman Sidney Frank, Grey Goose is the only vodka maker with its' own in-house Maître de Chai (Cellar Master), Francois Thibault,", explains chef Briffard.
Apparently, Grey Goose's founder chose France because of its' legendary culinary history and to differentiate it from other vodkas produced in Eastern Europe.
Chef Briffard continues: "All aspects of the Grey Goose recipe are selected and created under Monsieur Thibault's expertise".
Under Monsieur Thibault's guidance, Grey Goose vodka is produced using an exclusive five-step continuous distillation process, with 100% French wheat from the Picardie region, as used by top French bakers.
Blended with spring water until it achieves the Maître de Chai's high standards, the water used by Grey Goose originates in the Massif Central mountains where it's naturally filtered by Grande Champagne limestone: finally rising to the surface in the Cognac region.
Last week chef Briffard, François Thibault, Greg Hazac, George V mixologist, and Claudio Bedini, Brand Ambassador at Grey Goose, passionate "cocktailologist", created lunch at Le Cinq using Vodka, instead of the more usual wine pairings, to match Eric Briffard's dishes. "Why not?" the quartet asked. "Grey Goose is an excellent mixer!"
"Dry Martini Aperitif" a mix of Grey Goose, St. Germain, Porto & Chartreuse to match a dish of Couteau de Galice razor clams, beurre d'algues, crevette sauvage de Palamos:
A sea-salty "Bullshot" of beetroot juice and beef consommé matched Richerenches truffles and ginger brioche, was also interesting with Bergamote steamed Bay de Seine Saint-Jacques and main of tender Touraine pigeon en croute: foie gras, beetroot and pomegranate.
To finish, palate cleanser "Mimosa", Grey Goose, pomegranate purée, red-berry juice and champagne, perfect with Lucien Gautier, Le Cinq's pâtisser, spin on Paris-Brest.
"I wouldn't do this every day, but it's fascinating to work a different dynamic from time to time", says Briffard.
Restaurant Director/Uber Sommelier Eric Beaumard said: "Interesting to showcase Grey Goose a very refined creation, a good reflection of Art de Vivre à la Française I think. But, attention, we do have 50,000 bottles of world wine in the cellar!" he laughed.
Le Cinq
Four Seasons Hotel George V,
31 Avenue George V
M: George V
T: 01 49 52 70 00
Eric Briffard's Fresh From the Market Menu 110€
Ceviche cha cha cha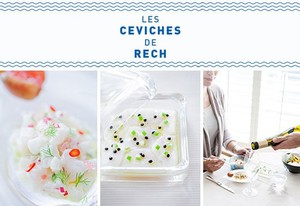 "Watch Peru!" advises superstar chef Alain Ducasse.
"The Peruvian culinary scene is incredibly vibrant. The country benefits from biodiversity and many young chefs, such as Gaston Acurio, are exploring and questioning the region's culinary traditions. Peru has a clear vision of its future in terms of both cuisine and sustainable development. From my travels there I learned that they understand how to unite its talents to succeed. And, even more importantly, every chef realizes he has to find his own personal style of expression".
With this in mind, until April 30, Alain Ducasse's Paris Seafood Brasserie Rech, dubbed with 1-Michelin star in the just published 2014 Guide, suggest five delicious Peruvian inspired ceviche dishes by Rech Executive Chef Adrien Trouilloud.
"The marinade of lime/ lemon, olive oil, chilli, piment d'Espelette, has no added salt, so fish and seafood retain identity and freshness.", says chef Trouilloud.
Bite size pieces of freshly marinated fish include:
Mulet + huître + chives :  Sea Bass + Citron Caviar: Langoustine + mango: Sea-Bream + carrot + ginger & Saint Jacques + caviar + green apple.
The ceviches are served with corn wafer galettes and delicate langoustine/coriander consommé
Ruben, Rech sommelier, suggests Alsace wine pairings: Reisling: Sylvaner: Pinot Blanc or Gewurtztraminer by glass, bottle, magnum or jeroboam!
Delicious!
Rech
67 avenue des Ternes,
M: Ternes
Valet Parking
Shut Sun-Mon
T: 01 45 72 29 47
Lunch 34€ -68€ Dinner 72/93€
Ceviche dishes – 12€
Diary Date: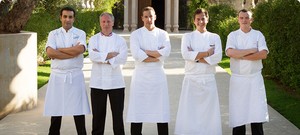 From March 5-8 the sun shines on 114 Faubourg at Le Bristol where chef Eric Desbordes, under the direction of Eric Frechon, welcome from Le Palais Namaskar Antoine Perray and his sous-chef El Hachem Oulhous for a golden Marrakech cook-in.
Pastillas both sweet and savoury. Moroccan salads, Beef and chicken Tajines, the chefs showcase dishes that have given Le Namaskar restaurant its' international reputation for delicious excellence.
Restaurant 114, Faubourg,
At Le Bristol,
M: Miromesnil
T: 01 53 43 44 44
112 Faubourg St-Honoré, 8th
Average spend x 3 dishes 82€
Shut Sat lunch – Sun lunch
Want to be inspired by more French foodie experiences and enjoy classic French food, wine and recipes? Head to our sister website, Taste of France, here.
Lead photo credit : Restaurant Le Cinq - Four Seasons Hotel George V, Paris
More in Alain Ducasse, Christophe Michalak, Eiffel Tower, Grey Goose, Le Bristol, Le Cinq, Paris restaurants, Rech, restaurant, Restaurant reviews
---
---