Marché Raspail: An Evergreen Market in the 6th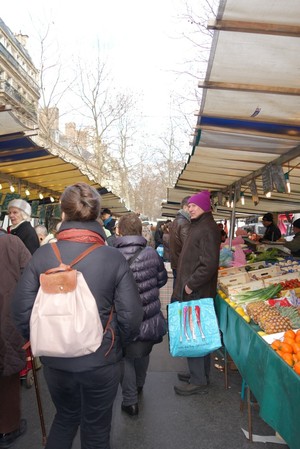 Even in mid-winter, Marché Raspail remains one of the most vibrant open-air food markets in Paris. I returned there on a recent Friday morning when overcast skies, predictions of heavy rain, and a raw chill seemed likely to deter even the most intrepid shoppers. But instead the market was hopping with customers and commerce. Like other Paris markets, this one draws a broad cross-section of locals who regularly shop here for their weekly provisions. It has everything from fresh produce to dairy, meats, flowers, and prepared foods. A few young children pedaled foot scooters while parents completed their purchases. Some older customers, aided by walking sticks, navigated a well-grooved path to their favorite vendors. I also saw a good number of tourists. But make no mistake. This market isn't a tourist trap. It mostly caters to the appetites and needs of local residents. Marché Raspail is one of over seventy open-air neighborhood food markets in Paris. Centrally located in the 6th arrondissement along boulevard Raspail, stretching from rue du Cherche-Midi to rue de Rennes, Marché Raspail is open every Tuesday and Friday morning all year long. On Sunday mornings, an organic market–"Marché Biologique Raspail" (or simply "Le Marché Bio")–can be found in the same location, but with a different set of vendors who specialize in organic items. At the regular market on Tuesdays and Fridays, one finds several stands selling vegetables and fruits, numerous cheese sellers, fishmongers, butchers, triperies, and more. Olives and nuts come in a variety of flavors and colors. The rôtisserie chicken always tempts me, especially as its juices drip upon chunks of potatoes. So too the breads and savory pastries. Monsieur Grémillet sells foie gras in vacuum-packed cans that can be transported home for a taste of Paris well after vacation has ended. For immediate gratification, the food truck Cantine California serves up various options including kale chips. It's somewhat misleading to refer to these as "food markets" since the offerings are much broader. In addition to all the delicious foods, one can also find scarves, gloves, leather goods, health and beauty products, jewelry, and even furniture repair. A visit to Marché Raspail can easily be combined with a foray to the gourmet food hall La Grande Épicerie, only a couple blocks away. Or to the Jardin Luxeumbourg for those hearty enough to picnic even in winter. The "regular" (non-organic) Marché Raspail is open Tuesdays and Fridays from 8 am until 1:30 pm. The closest Métro stop is Rennes. Marjorie R. Williams is co-author and photographer of
Markets of Paris, 2nd ed
. Her work has been featured in numerous travel and food magazines and blogs. She lived in Paris while researching and photographing the markets. Visit
Marjorie's website
for more information.
SUBSCRIBE
ALREADY SUBSCRIBED?
BECOME A BONJOUR PARIS MEMBER

Gain full access to our collection of over 5,000 articles and bring the City of Light into your life. Just 60 USD per year.

Find out why you should become a member here.

Sign in

Fill in your credentials below.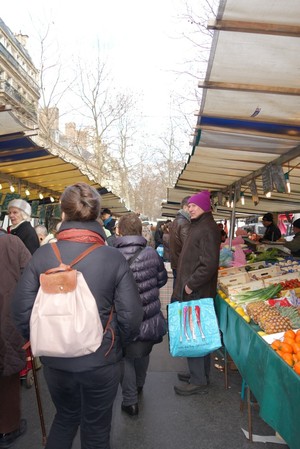 Even in mid-winter, Marché Raspail remains one of the most vibrant open-air food markets in Paris. I returned there on a recent Friday morning when overcast skies, predictions of heavy rain, and a raw chill seemed likely to deter even the most intrepid shoppers. But instead the market was hopping with customers and commerce.
Like other Paris markets, this one draws a broad cross-section of locals who regularly shop here for their weekly provisions. It has everything from fresh produce to dairy, meats, flowers, and prepared foods. A few young children pedaled foot scooters while parents completed their purchases. Some older customers, aided by walking sticks, navigated a well-grooved path to their favorite vendors. I also saw a good number of tourists. But make no mistake. This market isn't a tourist trap. It mostly caters to the appetites and needs of local residents.
Marché Raspail is one of over seventy open-air neighborhood food markets in Paris. Centrally located in the 6th arrondissement along boulevard Raspail, stretching from rue du Cherche-Midi to rue de Rennes, Marché Raspail is open every Tuesday and Friday morning all year long. On Sunday mornings, an organic market–"Marché Biologique Raspail" (or simply "Le Marché Bio")–can be found in the same location, but with a different set of vendors who specialize in organic items.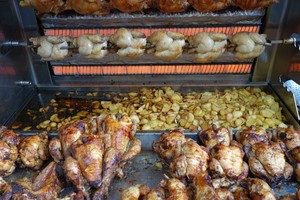 At the regular market on Tuesdays and Fridays, one finds several stands selling vegetables and fruits, numerous cheese sellers, fishmongers, butchers, triperies, and more. Olives and nuts come in a variety of flavors and colors. The rôtisserie chicken always tempts me, especially as its juices drip upon chunks of potatoes. So too the breads and savory pastries. Monsieur Grémillet sells foie gras in vacuum-packed cans that can be transported home for a taste of Paris well after vacation has ended. For immediate gratification, the food truck Cantine California serves up various options including kale chips.
I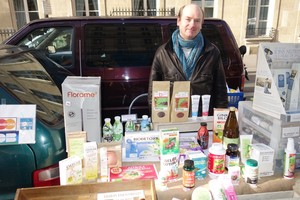 t's somewhat misleading to refer to these as "food markets" since the offerings are much broader. In addition to all the delicious foods, one can also find scarves, gloves, leather goods, health and beauty products, jewelry, and even furniture repair.
A visit to Marché Raspail can easily be combined with a foray to the gourmet food hall La Grande Épicerie, only a couple blocks away. Or to the Jardin Luxeumbourg for those hearty enough to picnic even in winter.
The "regular" (non-organic) Marché Raspail is open Tuesdays and Fridays from 8 am until 1:30 pm. The closest Métro stop is Rennes.
Marjorie R. Williams is co-author and photographer of Markets of Paris, 2nd ed. Her work has been featured in numerous travel and food magazines and blogs. She lived in Paris while researching and photographing the markets. Visit Marjorie's website for more information.
[copyright MRW]
---
---