Chef Anne-Sophic Pic Fetes the 5th Birthday of La Dame de Pic Paris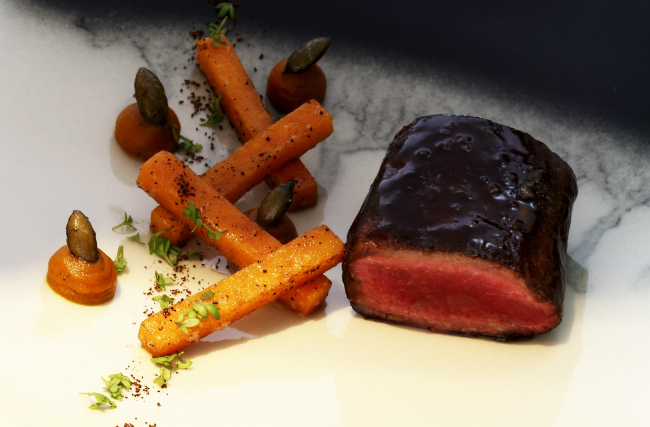 Foodies rejoiced when celebrated chef Anne-Sophie Pic opened her Dame de Pic restaurant concept in London earlier this year. Housed inside the Four Seasons Hotel London at Ten Trinity Square, the restaurant quickly nabbed a Michelin star.
Anne-Sophie Pic is the only French female chef to hold three Michelin stars (her culinary empire is in Valence), and to quote France Today magazine, she "represents the most recent generation of one of France's most prestigious cooking dynasties."
La Dame de Pic was first launched in Paris five years ago, which means a big birthday bash is in order. On the menu, you'll find some of the favorite ingredients chef Pic utilizes in Valence– like verbena, matcha tea, rhubarb, beetroot, pine buds and liquorice— helping create each dish's aromatic complexity. (In London, her cuisine remains decidedly French, but she highlights English products like Dover sole, Cornish crab, Scottish langoustine, Hereford beef, stilton and cheddar.)
A real treat in Paris is the open kitchen, so you can watch the chefs at work— a mesmerizing show.
Happy birthday, La Dame de Pic! Here's hoping this fabulous concept is exported to more destinations around the world.
Open 7 days a week for lunch and dinner. During the week, there's a lunch menu available for 59 euros (entrée-main course-dessert). Or opt for one of the two sublime tasting menus (105 and 135 euros).
La Dame de Pic Paris, 20 rue du Louvre, 75001 Paris. Tel: +33 (0)1 42 60 40 40. Website: www.anne-sophie-pic.com
For more Paris food and restaurant news, click here.
Lead photo credit : Courtesy of La Dame de Pic Paris
Leave a reply
Your email address will not be published. Required fields are marked *