Breakfast in Bed with Paris Delivery by UpDELI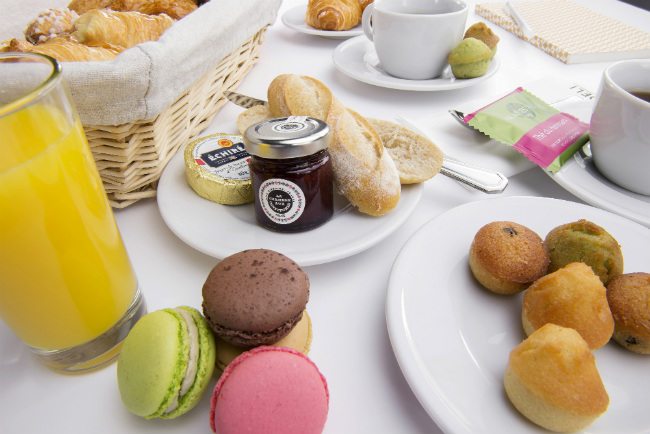 [Editor's note: Since the publication of this article, UpDELI has changed their business model and now only works with companies and corporate events.]
Food delivery websites/apps have been proliferating in Paris as of late. Where it used to be difficult to find take-out or delivery options in the French capital, it's now much easier, as more and more start-ups enter the game.
One of the most innovative is UpDELI, which delivers a lovely breakfast for those days when you can't quite gather the energy to head outside to the local boulangerie. What's so special about this new company is the high-quality products that are served. UpDELI got its start (a month ago) when founder Etienne Le Gouis excitedly tried one of the new delivery companies… only to be disappointed with a soggy, overpriced meal. After meeting famous baker Frédéric Lalos, Meilleur Ouvrier de France, Le Gouis realized there was a niche to be filled. Gourmet breakfast!
Lalos supplies palace hotels like Le Meurice with fine breads and viennoiseries, using the finest flours and butter. UpDELI works directly with chef Lalos to supply customers with freshly baked croissants—everything is baked fresh to order. Paired with these treats are hot drinks, fruit juices, and jams created by La Chambre aux Confitures. UpDELI's gourmet coffee was selected by Hippolyte Courty, founder of L'Arbre À Café, and this "grand cru" (the red Iapar) is the preferred choice of pastry king Pierre Hermé. Sourced from the Camocim plantation in Brazil, this pure Arabica is gently roasted for UpDELI, and the beans are ground just before serving. If you'd rather wake up with hot chocolate or tea, these boissons chauds are also gastronomic delights. Jean-Paul Hévin, the master chocolate maker, is behind the decadent hot chocolate, and the tea comes from Palais des Thés.
From their headquarters near Dupleix, UpDELI serves all arrondissements except for the extreme east (12, 19, 20). They also deliver to western suburbs like Malakoff, Montrouge, Issy les Moulineaux, Vanves, Boulogne-Billancourt, Neuilly sur Seine, La Defense (Puteaux & Courbevoie), Levallois-Perret, Clichy.
The website—currently being translated into English—is really easy to use. Simply indicate your menu choice, address, and time of delivery, and a gourmet breakfast will magically materialize at your doorstep. Priced from 9 euros/person. The "Gourmet Breakfast" is 13 euros/person, while the "Continental" is 15 euros/person. There is a 15 euro minimum on orders.
Readers of BonjourParis can benefit from an exclusive discount offer; get free delivery on your first order (worth 5 euros) when you enter BONJOUR when you place an order. Check out the website here.
Photo credit : UpDELI breakfast delivery in Paris
Leave a reply
Your email address will not be published. Required fields are marked *