August Table Talk: Dining in Paris
"Everywhere in the world there are tensions-economic, political, religious. So we need ice cream!" —Alain Ducasse
It's a childhood dream come true for Alain Ducasse, mission statement "faire bon mais surtout faire différent" (make it well, make it different). At his new ice cream shop, there are intriguing combos of coffee and coffee paste; olive oil; fermented yoghurt with fresh herbs, pomegranate, mint. The grapefruit and vermouth sorbet is by the in-house Italian ice cream maker Matteo Casone.
Located in the Bastille 'hood where you know and love Le Chocolaterie (since 2013) and the Manufacture of Coffee (since 2018), the cute boutique is by design duo Patrick Jouin and Sanjit Manku, confirmed ice cream aficionados, who'll be in the line waiting for at least 18 flavors to choose from, eat in – take out – or both.
Petit Pot €6.50. Medium Pot €8. Big Pot €10.
38 rue de la Roquette, 11th
Metro: Bastille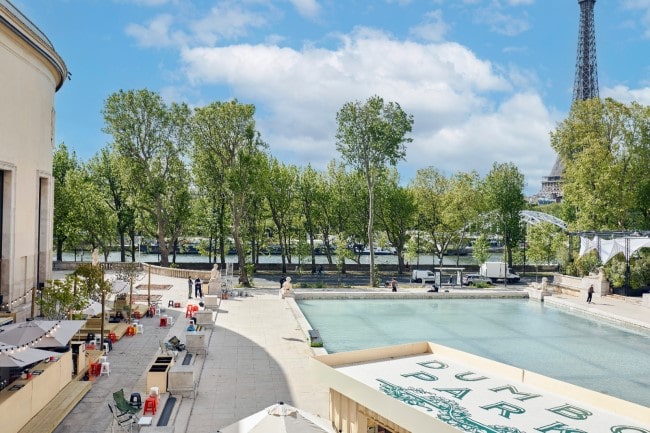 Following the delicious collab with Bertrand Grébaut and Théo Pourriat at restaurant Septime when they created "smash burgers," Dumbo's in the kitchen with Moma Group. Until September 30th, Charles Ganem and Samuel Nataf, in tandem with Benjamin Patou, present this ultra cool canteen and bar fronting the Modern Art Museum, facing the Eiffel Tower. Bliss! So, order Granita cocktails (€9) with mezcal, tequila and wine plus the signatures that made Dumbo so popular – classic cheeseburger (from €10) featuring the ultra soft cheeseburger bun, and a veggie version. To finish? Ice cream sandwiches (€4.50), of course.
Open 7/7 from mid-day to midnight.
12, Avenue de New-York, 16th
Metro: Trocadero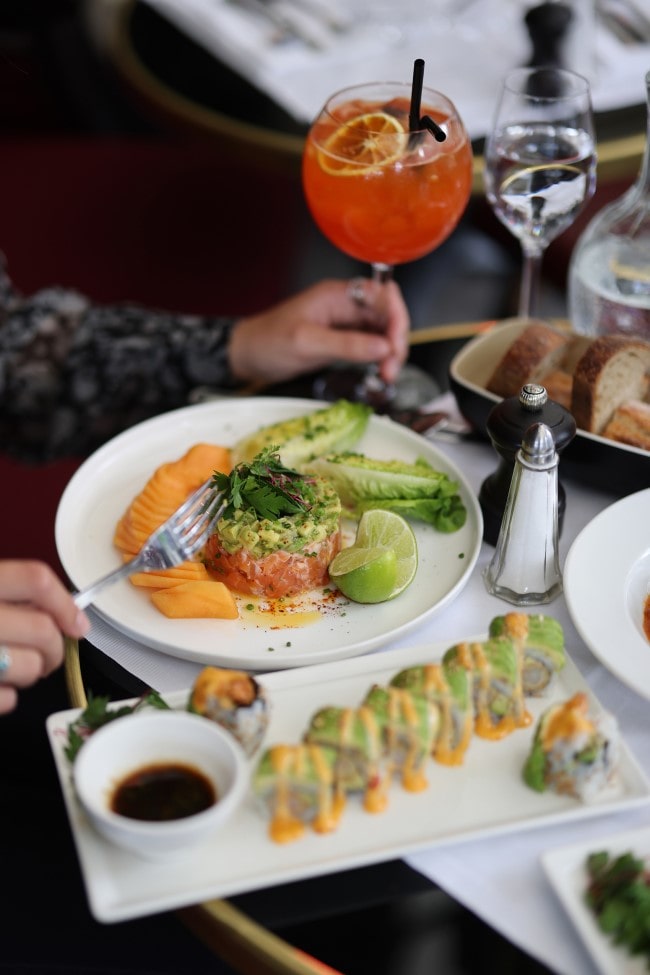 In Les Halles 'hood with ideal triple exposure –  rue Montorgueil, the Nelson Mandela garden and Saint-Eustache Church – Florida rocks 1930 vibes and salutes the Mediterranean Riviera so dear to Cédric Orrière and Florian Eboué, the duo in charge. Interior designer Gilles Guillot has created a chic, Belle-Epoque style decor featuring weathered woodwork on the walls, black and gold wooden tables, velvet banquettes, fireplace, majestic brass counter, and gilt mirrors. The classic staircase, with its brass rail, leads to the first floor with intriguing nooks and crannies, and if you're 6-8 people, it would be fun to book the lounge-boudoir.
Open for breakfast until 11pm, the all-day menu is by executive chef Laurent Durot, formerly at Chalet des Iles and the Concorde Lafayette. In a hurry? Pop in for a plat du jour (€18).
Difficult to choose from dishes like Creamy Burratina (€15), Veggie Gyosas (€14), Carpaccio of Poulpe (€17), Sea-Bass Ceviche (€16), Chicken Club BLT Sandwich (€18), Croque Monsieur/truffle cream (€17), Prawn salad (€19), Truffle Rigatoni (€19), Chicken salad (€17), California Avocado Salad (€12). Desserts (about €10) are revised classics such as baba chantilly soaked with old rum, Red fruit Pavlova, Praline millefeuille/ caramelized hazelnuts and lemon meringue pie.
The interesting wine list showcases organic and natural winegrowers (like Jean Foillard and Domaine Abbatucci). And there are chic cocktails and a cigar cave, what's not to like?
Lunch formula €35. €55 at dinner.
Open 7/7 from 8am-2am
1 rue Montorgueil, 1st
Metro: Chatelet Les Halles,
Tel: 01 80 06 61 94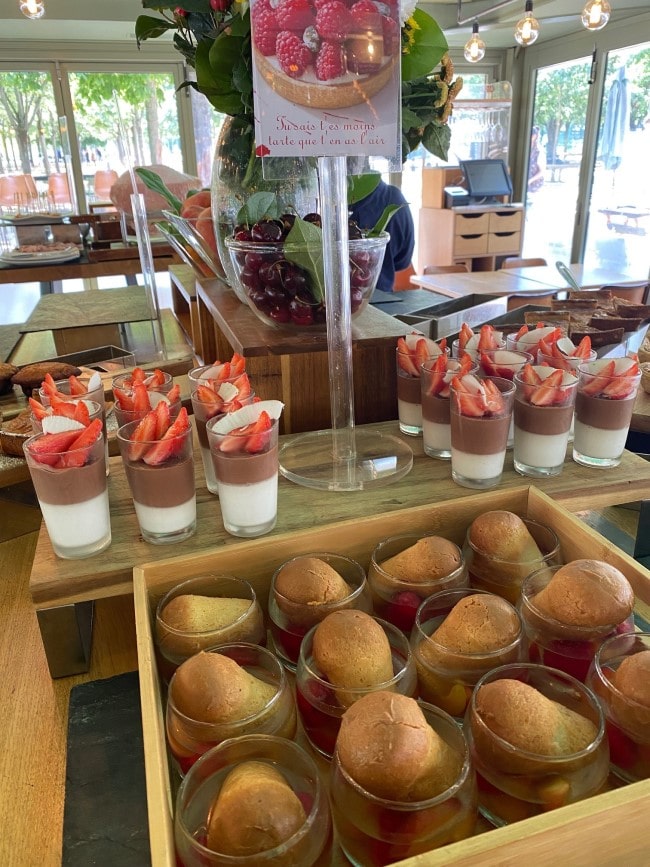 The bucolic, 25-hectare gardens were commissioned in 1612 by Marie de Médicis to embellish the Luxembourg Palace. It was restored by architect Jean-François-Thérèse Chalgrin under the First Empire (1804) and now belongs to the Senate. The superb gardens boast a large bassin by Le Nôtre, on which pretty little sail boats bob. There's an orchard, beehives, bandstand, greenhouses and rose garden. Count the 106 statues, admire the Medici fountain, the Orangery and Davioud pavilion, not forgetting the guignol puppet show!
La Table (eat, drink, repeat, all day) is helmed by chef Philippe Renard (formerly at Le Lutetia) and it's the perfect spot to eat, snack, Sunday brunch (€65, children €35) on the terrace, beneath the spreading chestnut trees or under the glass roof. Market-driven weekday lunch formula €21-€35.
By the way, the most unusual statue in the garden is the Statue of Liberty, a replica donated by Frédéric Auguste Bartholdi, its sculptor!
Porte Fleurus – 7 rue Guynemer Paris, 6th
Tel: 01 42 38 64 88
Metro: Vavin
Open Wednesday-Sunday 9am-8.30pm
Entry by all the gates of the Jardin du Luxembourg
President Charles de Gaulle (1890-1970) famously said, "how can you govern a country that has 246 varieties of cheese?" It seems that Jean-François Hesse, founder of Agence Transversal, may have the answer.
Hesse, creator of Cheese Day Paris 2016 and Cheese Week NYC 2017, announces Paris Cheese & Wine Week, "the perfect opportunity to discover/rediscover exciting addresses." It's a week of "Bon Vivre" and "Bien Manger" with tastings and events all over town, explains Monsieur Hesse. His favorite cheese? "All of them!"
"The big cheese" sponsor for the event is Christian Le Squer, the *** Michelin star Chef at Le Cinq, Four Seasons Hotel George V, Paris, in tandem with Les Vins du Savoie. Le Squer recommends Saint-Paulin cheese from his native Brittany. "Eat the rind!" he says.
Your favorite fromageries, bakeries, bistrots, restaurants, hotels and Parisian wine merchants will rise to the occasion and include: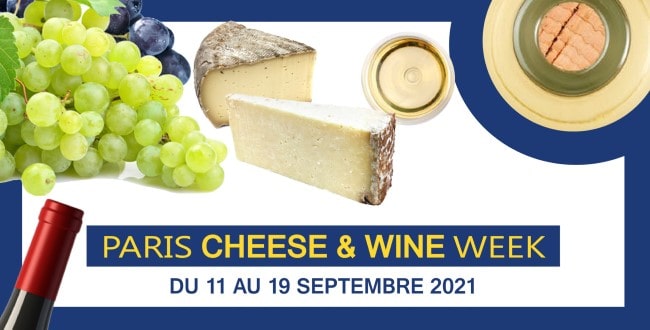 The Cheesemakers:
Fromagerie Mozart 16th – Fromagerie Mozart Rueil Malmaison – Laurent Dubois at Printemps du Taste – Fromagerie Laurent Dubois, 4th – Maison Vimond Malakoff – Paroles de Fromagers Paris, 10th – Ferme du Hameau Paris, 15th – Les Fromages de Gambetta, 20th – Julhès Paris, 10th – Saisons Fromagerie, 3rd – Fromagerie Quatrehomme, 7th – Le Cheese Geek, 10th
The Bakers:
Paul, rue de Buci, 6th – Anthony & Nadine Bosson's L'Essentiel, 5th – L'Essentiel, 12th – L'Essentiel, 13th.
The Wine merchants:
Cav-a-vin 14th, 16th and 17th.
The Restaurants, Chefs and Bistros:
Guy Savoy –  Guy Martin, Le Grand Vefour – Brach – Nolinski – Palais Royal – Sinner – La Closerie des Lilas – L'Auberge Bressane – La Vera Pizza Napoletana – Le Relais Plaza – Renoma Café – Tosca – O Château – Al Ajami – Les Deux Magots – La Cagouille – Chez Fred – Hugo Desnoyer – Le Brandevin – Vins d'Autheurs – Sebillon – Batifol – Chez André – Au Boeuf Couronné – Le Congrés Maillot – Roger la Grenouille – La Estancia – Formaticus – Monbleu le Comptoir etc.
Hotels :
Splendide Royal 8th – Le Pigalle, Hotel Restaurant, 9th.
From Saturday September 11th to Sunday September 19th, 2021.
Want to be inspired by more French foodie experiences and enjoy classic French food, wine and recipes? Head to our sister website, Taste of France, here.
Lead photo credit : Manufacrture de glace devanture @ Philippe Vaurès Santamaria
More in Aguust, Drink, festivals, food, restaurant, review, Trending
---
---