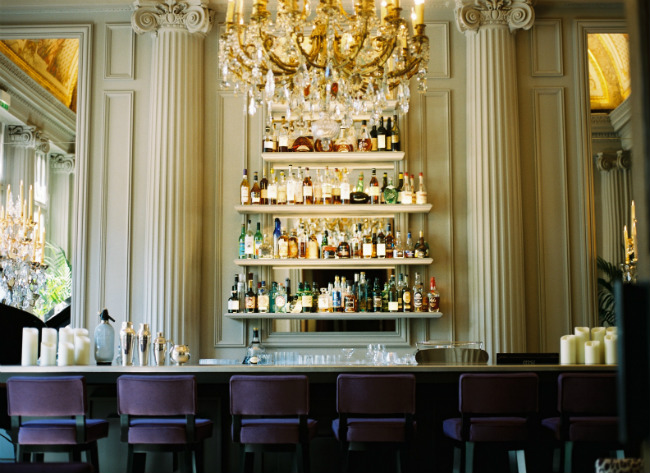 "Well, I heard Apicius was for sale because Jean-Paul Vigato wanted to change his lifestyle, so I bought it," shrugs Mathieu Pacaud (son of Bernard, the Michelin *** star chef at L'Ambroisie). "Maybe because it begins with an A", I suggest. "Of course," he laughs.
Apicius is a rare jewel in the crown of Paris gastronomy, located in a handsome 19th century hôtel particulier just behind the Champs-Élysées, on the ground floor of the former Hôtel de Talhouët-Roy. It's set in a bucolic garden, where breakfast, lunch, cocktails and dinner are served, weather permitting!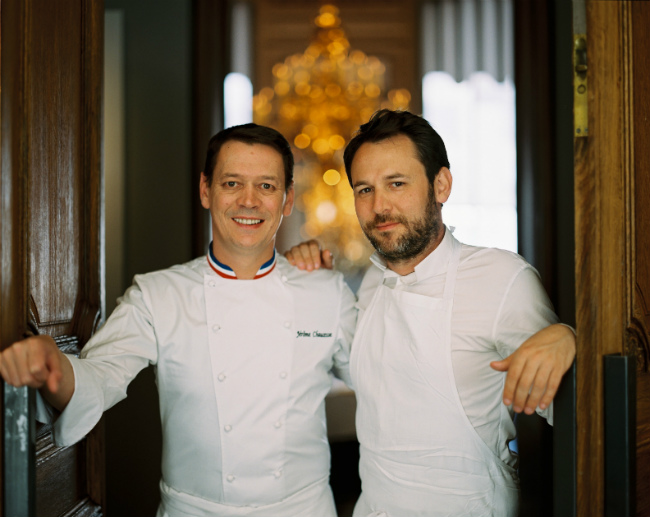 For his Apicius adventure, Pacaud is associated 50/50 with Laurent de Gourcuff, CEO and founder of Groupe Noctis – leading players in the Paris restaurant, event and night life scene – heading the likes of Monsieur Bleu, Loulou, Rasputin, Castel, Le Madam, Yoyo, Palais de Tokyo etc.
Pacaud plans to steer the maison – which once housed the production company of film director Luc Besson – into the 21st century. The experience begins as soon as guests pass the huge gates, feel the crunch of pebblestones underfoot – with soft sound, "because I love music."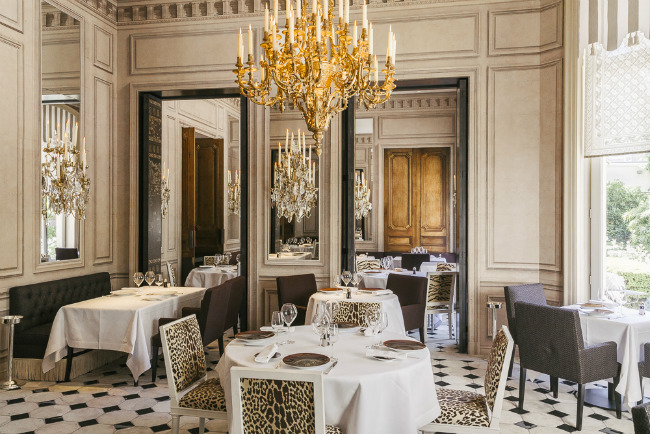 On the left, as you enter, is the bar, with piano, crystal chandeliers, purple and black bar stools, comfy sofas and armchairs, the perfect spot to discuss the art of the deal before a delicious lunch or dinner or an afterwork meeting. Our mixologists "are shaking up the spirit of Paris", promises Pacaud.
Throughout the discreet dining rooms, which seat 90, François Joseph Graf's décor mixes traditional with modern, the awesome high ceilings bring light everywhere, especially important to the 50-strong brigade who are able to work with natural daylight in the shiny steel kitchens that overlook the gardens.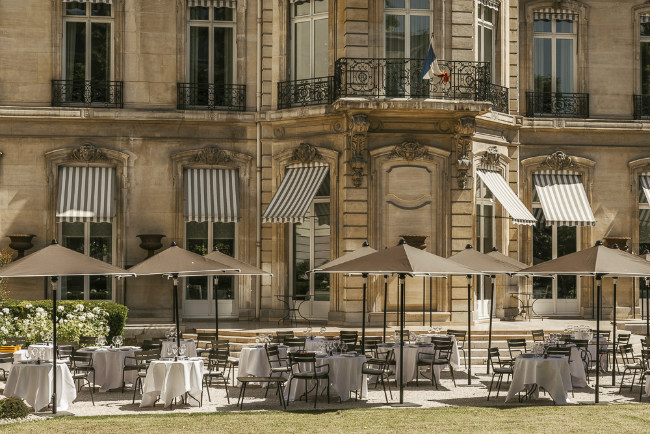 If he had to describe himself as a dish, Pacaud is simply "caviar", so begin with his soft boiled caviar egg, frothy watercress sabayon and sweet onion emulsion, followed by John Dory, samphire and citrus confit, cappuccino of Madras curry with petit pois. Or, the Iles de Chausey blue lobster, wild fennel and Noirmoutier potatoes.
"We have about 50 independent suppliers, including fishermen who save their catch just for us", explains Pacaud. "There is a menu, but so much depends on what they send us each day", he sighs. Products such as herbs and honey are sent from Paul Canarelli's Domaine du Murtoli in southern Corsica where Pacaud is Executive chef.
Desserts have the light, bright magic touch of Jérôme Chaucesse (ex-Le Crillon) as in his spin on île flottante, his incredible sugarless chocolate soufflé with Chantilly cream or Vacherin Enigma, a swirl of meringue surrounding wood strawberries and cream. (Menus €180 – €250, A La Carte about €160).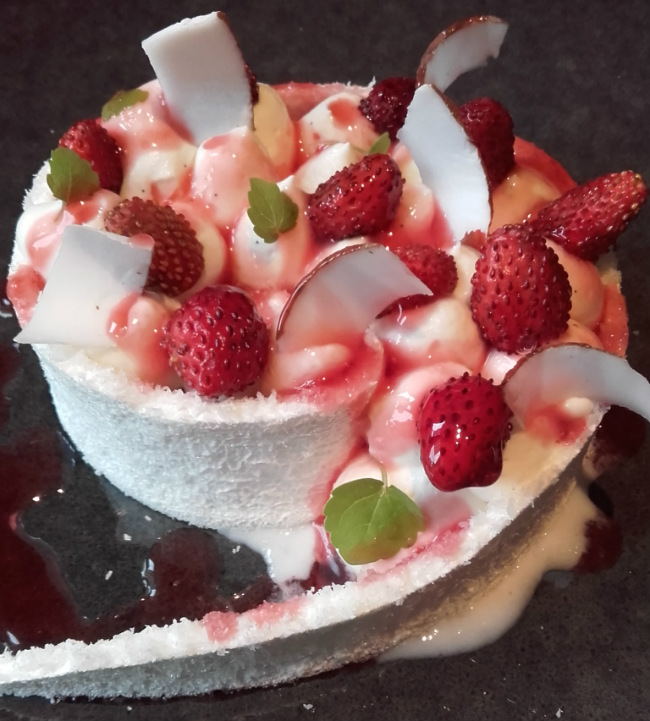 Below stairs the cellars sprawl with about 20,000 references, Pacaud's proud as a peacock with his rare vintages. When I enquire if he always wanted to be a chef, because children usually steer clear of their parents' profession, he replies with refreshing honesty, "I had no choice, I was nul at school!"
"Pacaud's the future, he has so much talent, a unique understanding of what diners want and such light touch", raves Claire Dorland-Clauzel. The former Executive Vice President of Michelin Brands was taking time out from her present life as a Bordeaux winemaker to salute, and encourage, Pacaud at his new address.
As I leave, Pacaud is at the gigantic front door, saying goodbye to delighted guests, fielding enquiries from a couple who absolutely must have a table on Friday night, and, when I tell him how much I enjoyed the lunch the chef quotes the eponymous Apicius, "the first taste is always with the eyes", he winks.
Need to know:
Find Pacaud in his other restaurants: from September in Macau (L'Ambroisie) on Corsica at Domaine du Murtoli and Paris chez Le Divellec. And, stay tuned for new right and left bank concepts. See you there!
20 Rue d'Artois, 8th. Metro: Saint-Philippe-du-Roule. Tel: 01 43 80 19 66. Best Table: Number 12. Open 7/7 and August. Valet Parking. Terrace. Website: www.relaischateaux.com/us/france/apicius-paris