Alain Ducasse au Plaza Athénée : L'Alsace : Jeff Leatham Book : Le Bristol Bûche
Alain Ducasse au Plaza Athénée
« It's all about the Art of Service », explains Denis Courtiade, Restaurant Director at the exquisitely transformed AD au PA. And Courtiade should know, he's worked with Monsieur Ducasse since 1991 at Louis XV, Monaco : Juan-les-Pins : London : Raymond Poincaré etc.
The sparkling dining-room, re-thought as a shiny silver igloo by Patrick Jouin and Sanjit Manku, is where Alain Ducasse continues the evolution of his 3-star restaurant (think 24 restos: Maison d'Editions: Cookery Schools: 8 countries: 33 Michelins) with a brand new look at the premise, "you are what you eat".
"This concept is healthier and more natural, more respectful of the Planet", says Monsieur Ducasse.
The kitchen, reached via a Cabinet of Curiosities, headed by Romain Meder (ex-Hélène Darroze: La Cour Jardin: AD Quatar) is based around a fish, vegetable, cereal trilogy. Meat is not banished, how could it be chez Ducasse who hails from the Landes region (read, foie gras for petit dejeuner chez lui) features in the emotional tribute to Alain Chapel, his Spiritual Master: Pâtes mi-séchées crèmées, ris de veau, homard, crêtes et rognons de coq. "Un plat de grande cuisine française, dans la plus pure tradition", explains Monsieur Ducasse
Jouin and Manku's dining room design is curvy, at the beginning of the meal shiny oak tables are naked, except for a Mobius white collar looking like a sex-toy from 50 Shades of Grey.
Little by little pieces arrive, a flute of fresh pressed carrot, apple, ginger, pimento and herb juice, golf-ball ice cube. Crunchy cereal based nibbles. A sardine, head and bones grilled, a few chick peas.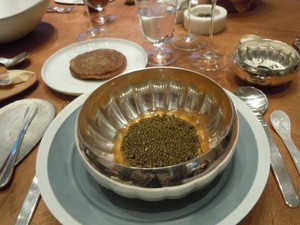 All's created with precise attention to detail, the white folding stool for the Birkin, the wooden butter spade, the silver mushroom photophore table lamp. Magic!
Dishes are contantly changing, yesterday 6 starters included: Caviar sitting on a bed of Green Puy Lentils, subtle smoked haddock jelly. Or, Légumes des jardins du Château de Versailles (go here). And all the time little offerings arrive, along with non-gluten bread from Chambellard, a must visit boulangerie.
Six mains include Tripettes de Stockfish en fin ragôut comme a Monte-Carlo: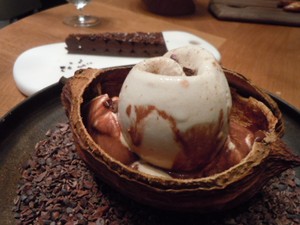 Atlantic sea-bass, young leeks, black olives: From Lorient Bay, John Dory, white and green blettes al pil-pil.  A black bowl of quinoa, coquillages, salicornes/samphire's is a prelude to cheese and dessert, eaten with a balsa wood spoon.
Wines are classified by generation. 10 years, 15 years, all the way up to 55 years, by   Gérard Margeon, Executive Head Sommelier of Alain Ducasse Restaurants and   Head Sommelier, Laurent Roucayrol.
Chef Pâtissier Michaël Bartocetti sends out astringent Citron niçois, algues kombu, tarragon. Then choose, say, the signature inspired by Manufacture du Chocolat d'Alain Ducasse, in an outsize Fairtrade cocoa bean shell, everything you ever wanted in a dessert. "Chocolat et café de notre Manufacture", ground sarrasin/buckwheat. Wicked !
Denis Courtiade says he, and his gorgeous George Feghaly dressed team are creating a new style of service, "it's all about the gestures, the postures and simple and authentic movements, which build the meal into an experience that engages the entire body, we are here to give guests an unforgettable experience", he insists.
Haute Couture Culinaire : Bravo !
Alain Ducasse au Plaza Athénée,
25 avenue Montaigne, 8th
M: Alma Marceau – Valet Parking,
T: 01 53 67 65 00
Best Table : Table Cabane
Open for lunch Thurs-Fri
Dinner Mon-Fri – Shut Weekends
Menu Jardin-Marin 380€
A La Carte (without boissons) 250€
Check out: The diary size little black/red book:
J'Aime Paris – 100 Adresses (from Allard to Zerda Café)
Alain Ducasse Editions
Download the digital version here.
L'Alsace Champs Elysées
Shut for two years, Brasserie L'Alsace re-opened this week with bright contemporary decor and brand new logo depicting the Strasbourg Cathedral clock. « This timepiece tells the story of our restaurant, open round the clock every day of the year », explained Pascal Brun, President of Groupe Frères Blanc.
Bernard Leprince MOF ex- La Tour d'Argent, Prunier, The Savoy, London and Head Chef of Groupe Frères Blanc since 2003. (15 restaurants) together with Patrick Ortega, L'Alsace Head Chef will invite celebrity Alsace chefs to cook with them each month.
« The origins of Brasseries were created by refugees from the constant wars in Alsace-Lorraine, the region kept changing hands between France and Germany. So,  Alsace innkeepers came to Paris, opened microbreweries, then decided they should offer a some local food with their beers. Eventually these turned into grand Art Nouveau glories where the demimonde of Paris would meet, eat, smoke and drink", says Gilles Pudlowski in Le Dictionaire Amoureux de L'Alsace (Editions Plon).
On L'Alsace menu, at least six different types of Choucroutes Alsaciennes, signature dish of sauerkraut with chunks of pork/ sausage or fish, brought to Paris by the original founders.
Start with "La Mer sur un plateau". Salade Elysées, for the ladies who do.
Prawn Cocktail (yes, ringard, mais revived and so chic). Assiette Gourmand: Fish Soup and creamy Mulhouse Onion Tart, or how about a dozen Red Label Burgundy snails?
Mains include Sandre braised with Reisling, spaetzle, and grilled leeks: Grilled Canadian Lobster:  Plancha salmon: Omble Chevalier and plenty of meaty morsels Andouillette AAAAA grille, pommes frites etc. Wash down with excellent Alsace Pinot Noir Rouge d'Ottrott Cuvée Louis Klipfel 2013.
There's traditional Munster Fermier from Fromagerie Siffert, sprinkled with cumin  seeds, paired with a well dressed salad.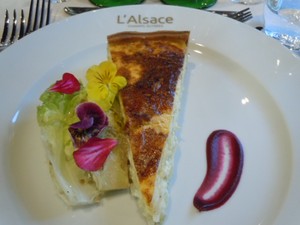 Finish with Kouglof glacé Elysée (I don't know, maybe Monsieur Hollande and his Julie!) indulge in a glass of Alsace Gewurztraminer Vendanges Tardive de chez Gustave Lorentz 2007, that'll put feathers on your chest !
L'Alsace, (Since 1977)
39 Avenue des Champs-Elysées, 8th
M : Franklin D Roosevelt,
T : 01 53 93 97 00
Open 7/7 Breakfast/Lunch/Dinner
Plateau de fruits de mer de 28-60 €.
Choucroutes from 21-90 €
Lunch Formula 19.50€
Average Spend A La Carte 32-85€ + boissons
Children's Menu 11€
Terrace
Jeff Leatham Visionary Floral Art and Design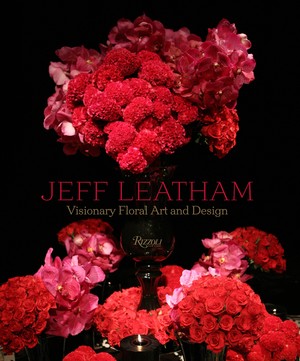 Jeff Leatham is Artistic Director at Four Seasons Hotel George V, Paris and floral designer to the likes of Kylie Minogue, Alexander Wang, Philip Treacy, Hermès,  Givenchy etc.
Yesterday was a landmark in the life of Leatham, when he not only received the award of Chevalier dans l'ordre des Arts et des Lettres, but also launched his latest magnificent coffee table tome:
With foreward by Nadia Swarovski, the spectacular volume showcases Leatham's designs as "official floral artist to the stars".
More than ten years' of fabulous floral masterpieces, from sensational parties to confidential little soirées, showcasing Leatham's much copied concept. He insists that artful floral design transforms even ugly spaces. "Go for it, think outside the box, I do", says Leatham.
Inspirational !
A cool Yule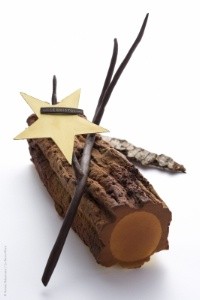 Laurent Jeannin, Le Bristol's talented Executive Pastry-chef, designs a very merry Nutcracker log of hazelnut dacquoise, caramelized nuts, une crème pâtissière, une crème légère pralinée, une confiture framboises-gingembre et une crème au beurre,  servie avec un coulis de fresh raspberries. Yum !
Le Jardin Français
112 rue du Faubourg Saint-Honoré
75008 Paris
T: 01 53 43 43 42
Chef Sommelier : Marco Pelletier
Tea time from 3:00 pm –  6:00 pm
Christmas Hot chocolate with pastry : €28
Chocolate Complet Bristol, hot chocolate, a flute of Champagne, savoury nibbles, petits-fours and Christmas cake
€70 per person, €110 for two.
From 1st – 31st December 2014.
Leave a reply
Your email address will not be published. Required fields are marked *