When the Weather's Nice in Paris: Our Favorite Things to Do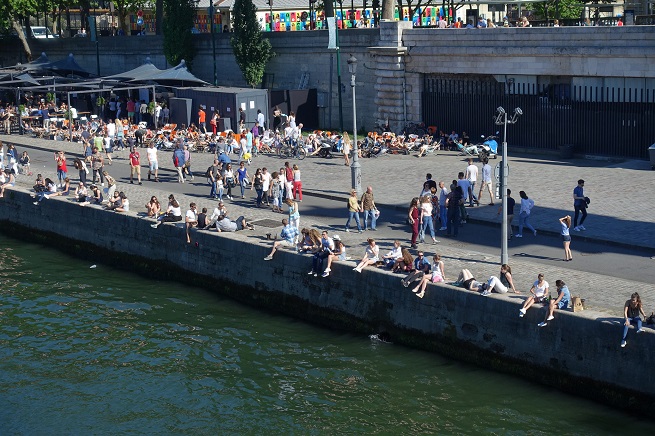 Who says it only rains in Paris? From picnics to terrasse sun-bathing, Parisians love to have fun in the sun. The city's parks beckon, as do bike lanes for soaring down the boulevards on two wheels. Here we've compiled some of our favorite recommendations for when the sun's shining in Paris.
Berges de Seine
In 2013, the quay along the Seine's Left Bank between the Orsay Museum and the Pont de l'Alma was converted into a pedestrianized walkway. This quay used to be a congested roadway, but now its traffic consists of urbanites on two-wheels, roller blades, or foot. There's a climbing wall for kids, games, floating gardens, exercise equipment, and a number of cafes including Rosa Bonheur, which occupies a boat. In 2017, the Right Bank followed suit, as the former road was transformed into the Parc Rives-de-Seine. Beneath the Hotel de Ville, you can stroll next to the river and watch the passing boats as the bells from Notre Dame cathedral toll across the way…
— Mary Winston Nicklin is the Editor of Bonjour Paris.
Buttes-Chaumont
One of the highlights of last summer was meeting a group of friends for a sunny evening on Buttes-Chaumont in the 19th. This hilly park offers fantastic views over Paris, minus the throngs of tourists found round the clock at the Sacré-Cœur. "I'll bring the food, you bring the wine," goes my friend. No problem, I think; I'll buy a bottle in a casino or Monoprix close to the park rather than drag one all the way through the sweaty Metro. Wise guy you might think, but it turns out there are no shops near the Buttes Chaumont, and I ended up forking out big dollar for a takeaway bottle in a nearby restaurant. Thee hath been warned.
— Theo Gittens is a freelance journalist who also works in the France Media Group office in Bath.
Bois de Boulogne
In solidarité with the Tour de France (July 7-29) and in homage to the late great Freddie Mercury: "I want to ride my bicycle." As the first spring sunbeams appear, it's off to Decathlon to have the bells and whistles fixed, pump up the tires, and I'm off – destination Bois de Boulogne. There's no set route; don't think I've ever covered the same one, and nearly always get lost. There's everything from hookers and trannies outrageously advertising their wares, museums such as the awesome Fondation Louis Vuitton, the Jardins d'Acclimatation, chic wooden chalet style cafés to sit and stare/people watch and, if there's time, a boat trip on the lake – or pop in and book a future lunch at Pré Catelan or La Grande Cascade – and be sure to check out the very confidentiel Auberge de Bonheur.
— Margaret Kemp is a regular contributor to Bonjour Paris and Financial Times How to Spend It.
Bois de Vincennes
When the Parisian sun is shining there's no better place to seek natural refuge than the bucolic Bois de Vincennes. Paris's largest park bordering the 12th arrondissement spans over 2,400 acres. Considered the 'right lung' of the city, with Bois de Boulogne being the 'left lung', it's the ideal oasis in which to rejuvenate. With endless wooded paths for biking, two lakes navigable by rowboat (both bikes and boats available for rent), a world-class zoo, a botanical garden (Parc Floral), a Buddhist temple, and children's farm, there's no lack of activities. Or you can simply picnic with a good book. Have I mentioned there's also a château? We are in France, after all.
— Kasia Dietz is a handbag designer and freelance writer from New York.
Canal Saint Martin
My favorite thing to do is celebrate the sunshine with friends and une bouteille de vin sitting by the Canal Saint Martin or Quai de la Loire. Finding a sunny spot amongst the locals is definitely a more authentic way to experience the season in Paris, and there is no need to fight for a table on a terrace. Just don't forget your bottle opener!
— Nicola Leigh Stewart is a lifestyle journalist who after living in London and Madrid has finally settled in Paris.
Musée d'Art Moderne/ Palais de Tokyo 
Where do I catch bliss and sunrays during the summertime in the city?
Wearing a jumpsuit and tiny cat sunnies, you'll often find me chilling on the terrace at the Musée d'Art Moderne, located on the eastern wing of the Palais de Tokyo. Built for the 1937 Exposition Internationale, here is one of my favorite havens in Paris. The wine is affordable, while the view of the Eiffel Tower never fails to thrill.
In this nook of paradise, you'll also spy my favorite power gal squad, mindfully unwinding by the poolside. Created by sculptors Léon-Ernst Drivier and Auguste Guénot in 1937, the nymphs were recently given a much-needed beauty cleansing treatment. The graffiti is gone. Like the wind, so are most of the pollution streaks.
Wearing nothing but sheer confidence and stylish do's, don't hate them because they're still beautiful. Never underestimate the power of a sunbath. Perhaps this explains the strength they exude? So pass me my turban and Ambre Solaire SPF 50.
As my grandmother Helen used to say, "If you look like a million bucks, you'll feel like a million bucks." I couldn't agree more.
— Theadora Brack is a Paris-based writer who has a regular column, called "My Life in Paris," in France Today magazine.
Picnic by the River
I love to get picnic fixings (wine, baguette, cheeses, saucisson, fresh fruit, olives, etc.) from Franprix or Monoprix and then go to Ile de la Cité or Ile St. Louis and find a nice spot by the Seine to enjoy a picnic. When the weather's nice, it's always fun and lively by the riverside, and the rays of sunshine coupled with the delicious food and pleasant company make for an ideal day. Bring a book, and a blanket too, and you can spend hours watching the river activity and Paris scenes play out as you enjoy your relaxing day. (Don't forget your corkscrew and plastic cups for the wine!)
— Anne McCarthy is a freelance writer who regularly contributes to Bonjour Paris.
Tennis
As a tennis player, I can finally play outside again after a long, rainy winter. There are many great Paris public courts, but we play on top of the Montparnasse train station at the Jardin d'Atlantique. And, it's nice that some of the riverside cafés open again (near the Pont Louis Philippe and the Pont d'Alexandre).
— Meredith Mullins is an internationally exhibited fine art photographer and instructor based in Paris.
Lead photo credit : Berges des Seine, photo: Guilhem Vellut
Leave a reply
Your email address will not be published. Required fields are marked *
Comments