What's the Best Croissant in Paris? We Polled Some Expats…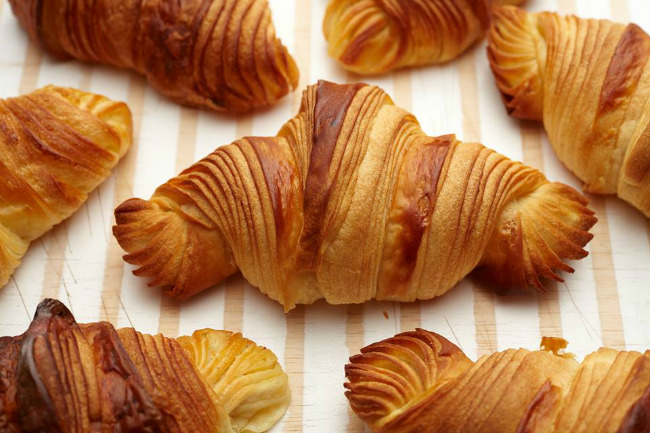 When it comes to flaky buttery pastries, the croissant is king. In all of its forms – pain au chocolat, croissant aux amandes, or plain old butter croissant – nothing goes better with a cup of coffee to start off a Parisian morning.
We all have our favorites. I like to pick up a few croissants if I happen to be near Gerard Mulot's bakery, not too far from the Sorbonne, at 76 rue de Seine in the 6th arrondissement. I am also a regular consumer of the almond croissants at Utopie, located at 20 rue Jean-Pierre Timbaud in the 11th arrondissement. It's a lot of trial and error to find a favorite, which requires eating many, many croissants. At 1-2 euros a piece, it's not the most expensive habit to pick up, but it's one of the harder ones to break.
I wanted to see how other expats get their morning croissant fix. I asked a few friends and familiar faces to share where they go when they want something more special than the normal, everyday corner bakery version. But hey, even the corner bakery is still usually pretty good.
Gail Bosclair, owner of Perfectly Paris apartment rentals, gets her croissants in Montmartre.
"I don't buy croissants very often but like the ones from Gontran Cherrier – plain or butter for me. The other baked goods are very good and inventive," she said.
Head up to Montmartre to find Gail's favorites at 22 rue Caulaincourt in the 18th arrondissement.
Kasia Dietz, local bag designer, heads to the canal to one of the city's most popular bakeries.
"For the best croissant or pain au chocolat, I head straight to Du Pain et des Idées near Canal Saint Martin. The lightest, flakiest and tastiest of them all!" she shared.
Find them at 34 rue Yves Toudic in the 10th arrondissement.
Lisa Anselmo, writer and founder of the "No Love Locks" movement, apparently follows Kasia to the same spot.
She told me, "You will get this reply 100x but for me the best is Du Pains et des Idées". No surprise there. Their banana-filled pain au chocolat is a playful rift on the classic.
Patty Marino, expat TripAdvisor guru, heads to one of the bakeries that has been ranked as the best croissant in years past.
"134RDT or their annex around the corner, and I always get only plain croissants," she said.
Find 134RDT at, of course, 134 rue de Turenne in the 3rd arrondissement, or at their second location 59RDS, at 59 rue de Saintonge in the 3rd.
David Lebovitz, local food blogger and pastry chef, heads down by the Marché d'Aligre for his croissants.
"I like Blé Sucré – I find their croissants to possess that rare quality of having both buttery, distinct flaky layers inside, and a crisp crust which I seem to detect a pinch of salt in, which adds a nice contrast to the billowing interior," he told me.
Find David's favorite croissants at 7 rue Antoine Vollon in the 12th arrondissement.
Lindsey Tramuta, local author and foodie, heads to the Left Bank for her favorite flaky pastry.
"I'd say I prefer to reserve my croissant intake for a special occasion in which case I'll make the trip early to Pierre Hermé on rue Bonaparte where he carries the Isapahan which is with rose almond paste, crushed raspberries and litchi compote. It's to die for," she said.
Head down to 72 rue Bonaparte in the 6th arrondissement to grab one early in the morning before they disappear.
These are just a few of the options available from, literally, hundreds of places that sell croissants. In general, avoid the pastries from supermarkets or even the bakery chain Paul. Why buy some overly industrialized croissant when you can get them baked fresh daily?
And just remember, the flakier, the better, so don't be afraid to wear those crumbs proudly after consuming your croissant. Let's call it a sign of good taste.
Lead photo credit : courtesy of Gontran Cherrier
Leave a reply
Your email address will not be published. Required fields are marked *
Comments