Time Flies When You're Having Rum: The 4th Rhum Fest Paris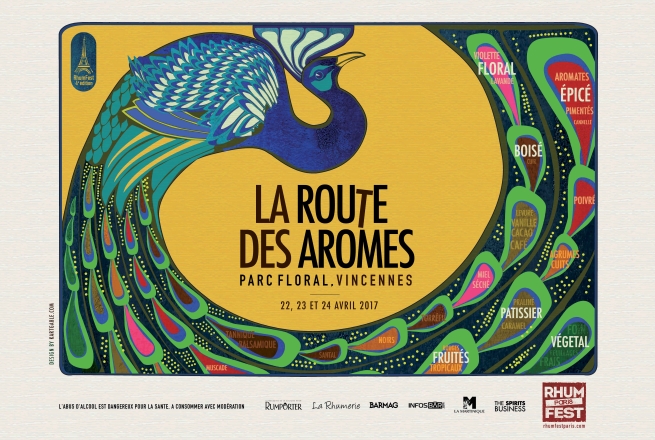 From April 22-24, it's the Route de Rum in the bucolic garden setting of Parc Floral de Paris. To tickle the taste buds there are about 118 different brands to look out for including Mount Gay 1703, Maison Ferroni, English Harbour, Havana Club & the delicious Ron Palma Mulata de Cuba (with hints of cinnamon, honey, ginger and strong notes of chocolate and oak)– perfect on the rocks or on its own– and Rum de Père Rabat from the Isle de Marie Galant.
"In an interesting move for the rum market, Virgin Holidays have produced their own blend – 'Virgin Holiday Spirit' – proving once and for all that rum is the Ambassador of Tourism", writes Rumporter Magazine. The recipe is rather unusual with Virgin founder Sir Richard Branson and his team taking a revolutionary rum route creating the world's first "data-distilled" drink using Artificial Intelligence!
The result's a limited edition of 800 bottles (£59 per bottle in the UK) "infused with real emotions, inspired by world holidaymakers'', explain Virgin who used IBM's Watson, the world's most intelligent super-computer, to analyze the thoughts and feelings of more than 15 million holidaymakers from their posts on various social media platforms. The predominant getaway emotions were then matched to more than 5,000 rum flavour descriptions and reviews and then distilled in Barbados. Smooth, sweet and lightly spiced, hopefully you will judge for yourself at Rhum Fest with a tot or two of "Virgin Holiday Spirit".
Appleton Estate the world's leading Jamaican premium aged rum, announce JOY, their limited edition 25 Year rum – in honor of Joy Spence and celebrating this remarkable woman's 20th Anniversary as Appleton's Master Blender. Sadly, Joy Spence will not be present at Rhum Fest Paris, but "JOY," the rum will be! From Jamaica, Ms Spence sends this message: "For my anniversary blend, I simply set out to create the rum I'd like to sip while watching the colors of my garden change in the warm glow of the Jamaican sunset."
The Festival takes place on the weekend of the first round of the French Elections it may be an idea for voters/BP readers to drown their sorrows – or celebrate – at Paris Rhum Fest.
Cheers dears !
Saturday 22 & Sunday 23rd April from 12 noon – 19hrs. Monday 24th (professionals only). Order tickets on line.
Park Floral de Paris, Château de Vincennes, Route de la Pyramide, 12th arrondissement. Entry by the Pavillon des Cedres. For more information visit The Rhum Fest website. 
Leave a reply
Your email address will not be published. Required fields are marked *