Solo Travel, Train Stations, and Dining at the Gare du Nord in Paris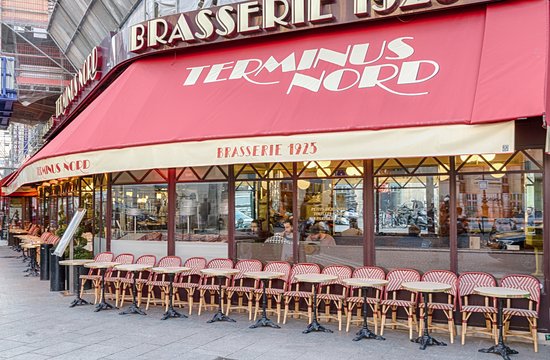 Travel by train in France is a salt and pepper affair where time in between connections and departures always prompts travelers to grab a bite to eat, or look for an oasis in which to dine well.
The spectrum runs from romantic affair to pragmatic necessity.
However you find yourself at Paris's Gare du Nord, the oldest of six main terminals, you'll be refreshed by the new shine of renovations in a station that deserved – and required – a serious facelift.
I've been through Paris Nord countless times. In pre-renovation years, I, not unlike countless others, quickly grew tired of the cafe and fast food sandwiches handed out readily for a quick snack.
Seeking to broaden my horizons, when looking outside the windows, directly across the street seemed very inviting. Café tables lined the sidewalk under extended red awnings for rain or shine. Tables that ran a long stretch right up to the corner had a ceaseless flow of guests coming and going. A favorite past-time, people watching, was instantaneously available with sitting down. Off I went.
Out comes the white aproned waiter, out comes the grand crème, SVP (s'il vous plait), with euro change thrown on the table. There I was, left to be in my own world of contemplation and putting order to the day, in the absolute midst of a bustling crowd.
A 'gastronomique brasserie', Terminus Nord is a classic long-standing Parisian restaurant, circa 1925. It is a favorite of locals, businessmen and seasoned travelers, whether groups or solo: a crossroads for friends arriving for a meal together before boarding trains to Bruxelles, Amsterdam, the UK via the Eurostar — and destinations further afield in France.
Come to find, this is how, more often than not, I suss out a restaurant because truth be told, I love to dine finely though not extravagantly.
I've been a solo, female traveler since the dawn of time. There's nothing I love more than dining with moi. Finding a favorite haunt in frequently visited gares or towns, makes me feel at home. And home is where I want to be – wherever I find it.
Though worlds of possibilities exist in Paris, there's a middle-of-the-road experience that fits me perfectly. A well-set table, fine linens and fresh flowers, tables arranged for the benefit of guests' preferences, and fine etiquette to mirror fine food. All of this, wrapped in an ambiance of casual elegance, quietude and privacy that begets a meal worth returning for, over and over again. Which I do.
This being said, as a part of Phase One of in-house renovations of the train station, one can now as well dine inside the terminal at Thierry Marx's L'Etoile du Nord or North Star.
Either way, give yourself enough time between trains to savor a true Parisian dining experience, in an atmosphere of your choice. Reservations, slideshows and menu options for both restaurants are available online.
Terminus Nord, 23 Rue de Dunkerque, 75010 Paris, Tel: +33 (0)1 42 85 05 15, website: www.terminusnord.com
L'Etoile du Nord par Thierry Marx, 18 Rue de Dunkerque, 75010 Paris, Tel: +33 (0)1 40 36 54 36, website: www.letoiledunord.fr
Lead photo credit : Brasserie Terminus Nord. Photo: Ani Moriarty
---
---
Comments