Restaurant Albion in the Paris 10th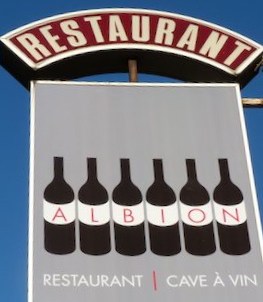 In late November I received an email from a friend, who also happens to be a respected restaurateur. He had been to dinner at "Matt & Hayden's" new place, which opened not quite a week ago.
"Beautiful job," he wrote, "food just like I remember!"
After hearing such positive rumblings of this imminent opening, how could I not gather up a couple of friends and head over for lunch after such an excellent tip?
Restaurant Albion is the new venture by chef Matt Ong and bartender Hayden Clout—both spent many years at Fish la Boissonnerie in the Paris 6th.
Albion was comfortably full at 12:30 PM, with people happily eating and talking at well-spaced tables. The room is spacious and calm, with deep blue-grey walls and three large windows facing a calm, bright, planted courtyard.
The zinc bar and wall of wine on either side of a large table displaying Hayden Clout's  "Wines of the Week" selections nicely separate the dining room from the cave à vins.  Wood floors and a cleverly baffled ceiling keep sounds from the open kitchen well under control, making conversation easy.
Chef Matt Ong keeps the daily à la carte menu to the point: 3 Entrées, 4 Plats, a tempting cheese plate and 2 desserts.
After a quick look at plates delivered to a neighboring table, we changed our minds one last time and ordered.
Marina, Hayden's delightful wife, suggested the 2008 Le Rocher des Violettes from  Montlouis by Xavier Weisskopf (22E) from the weekly selections. She was right: it went very well with our meal.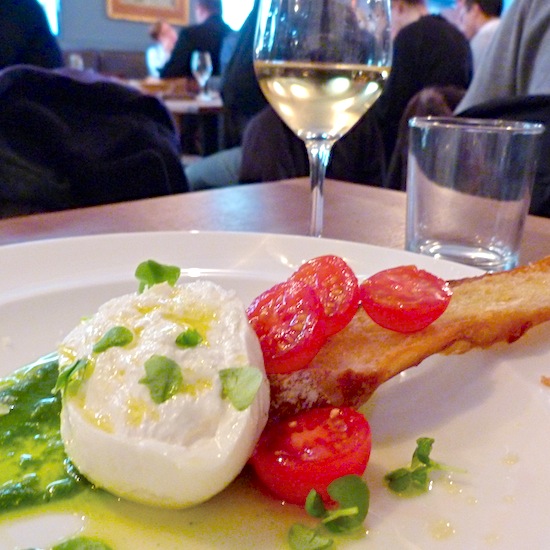 Burrata with pesto at Restaurant Albion. Photo: MZ Johnston
We began with the burrata with pesto, a sure bet, the rich creaminess married with the reassuring taste of lingering summer. The riskier risotto of cauliflower with an anchovy crumble was not only perfectly al dente, it was impeccably balanced between the wholesome flavor of chou-fleur, cream and the slightly spicy, toasted crumb-anchovy topping—just enough to make it just right.
For our plats, we ordered the Lamb Confit, Cabillaud and Roast St. Jacques. The Lamb Confit was served with an onion and garlic purée, braised endive and a delightful "salad" of gently dressed mustard shoots.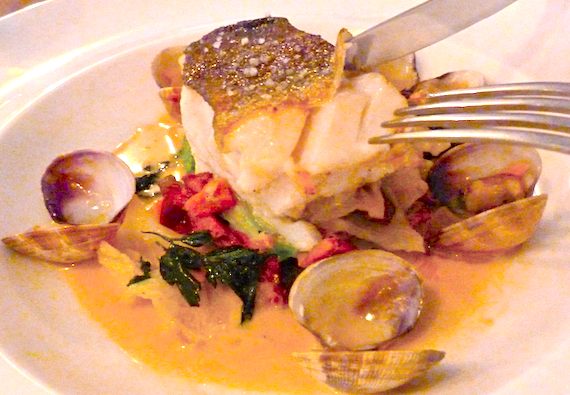 Cabillaud at Albion. Photo: MZ Johnston
The Cabillaud consisted of a thick slice of delicate cod served Iberian style in a delicate broth with palourdes clams and smoky bacon.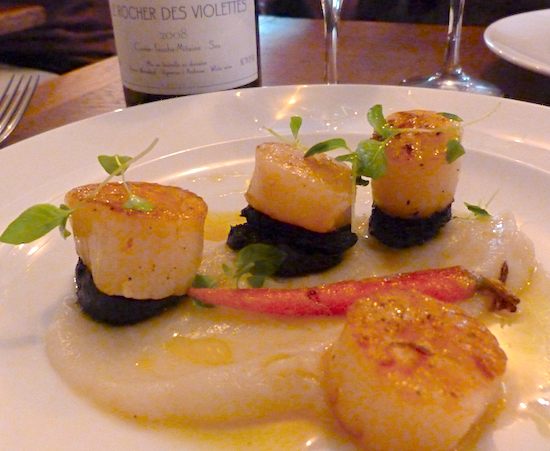 Roasted scallops at Albion. Photo: MZ Johnston
My favorite were the St. Jacques; again, a daring and winning flavor combination of tender, moist scallops atop slices of Boudin Noir with a Jerusalem artichoke purée.
We didn't indulge in the cheese plate, though several around us did. It certainly seemed better than most, with a varied cheese selection of Brillat-Savarin, Roquefort and a small-production, raw milk Etivaz from the Swiss Alps, served with homemade chutney and green salad. One to share for the table would be an excellent idea paired with a nice glass of Vacqueyras or Syrah from the Pays d'Oc.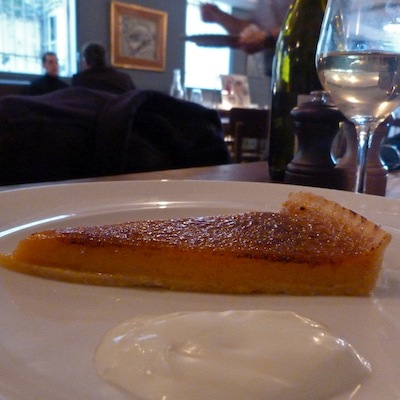 Orange and lemon curd tarte with unsweetened crème fraîche at Albion. Photo: MZ Johnston
For dessert we ordered the excellent tarte of orange and lemon curd (as only the English can make) in a delicate, thin and crispy pastry finished under the broiler (it seems) to produce a lovely brown top layer not unlike a crème brûlée. Served with a house-made, unsweetened crème fraîche, this was, in a word, heaven.
I chatted a bit with both Hayden and Matt about Albion. Hayden described their adventures in remodeling—the room is their design entirely—and Matt explained the seasonal menu. Both spoke about the unruffled, timely service. It is abundantly clear that they like and respect each other after "practicing for 8 years," as they put it, while working together at the always-packed St-Germain-des-Prés bar and resto, Fish.
With this very strong beginning, it sure looks like practice makes perfect . . . and the coffee is good, too.
PRACTICAL INFORMATION: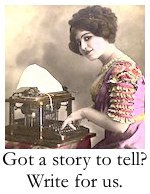 Albion (Facebook page)
Tél: 01.4246.0244
80, rue du Faubourg Poissonnière, Paris 10th
Métro: Poissonnière, line 7
Open Tuesday through Saturday
Lunch 12-2pm
Dinner 7-10pm
Cave à vins in the afternoons
Prices:
Entrées €6.50—€8
Plats: €12—€22
Cheese: €12
Desserts: €7-€8
PHOTO CREDITS: All photos ©Marie Z. Johnston

Marie Z. Johnston was taught well by her Parisienne maman to appreciate good food, good wine and the good people who nurture it, sell it and serve it at restaurants around the world. Click on her name to learn more about the French Market Maven and a list of other stories she's written for BonjourParis.

Subscribe for
FREE

weekly newsletters with subscriber-only content.
BonjourParis has been a leading France travel and French lifestyle site since 1995.
Readers' Favorites: Top 100 Books, imports & more at our Amazon store
Books we like, including the new Veuve Clicquot offering…please click on an image for details.
Thank you for using our link to Amazon.com…we appreciate your support of our site.
Leave a reply
Your email address will not be published. Required fields are marked *