Made to Order Profiteroles at Maison Philippe Conticini
Is there anything better than a profiterole that's soft on the inside, crunchy on the outside, and bursting with delicious flavors? I think not.
What if I tell you that you could have all that and more, with made-to-order profiteroles at Maison Philippe Conticini's minute bar? The pâtisserie celebrated a success with its millefeuille bar in 2021, and is now offering a new take on a traditional dessert fit for royalty.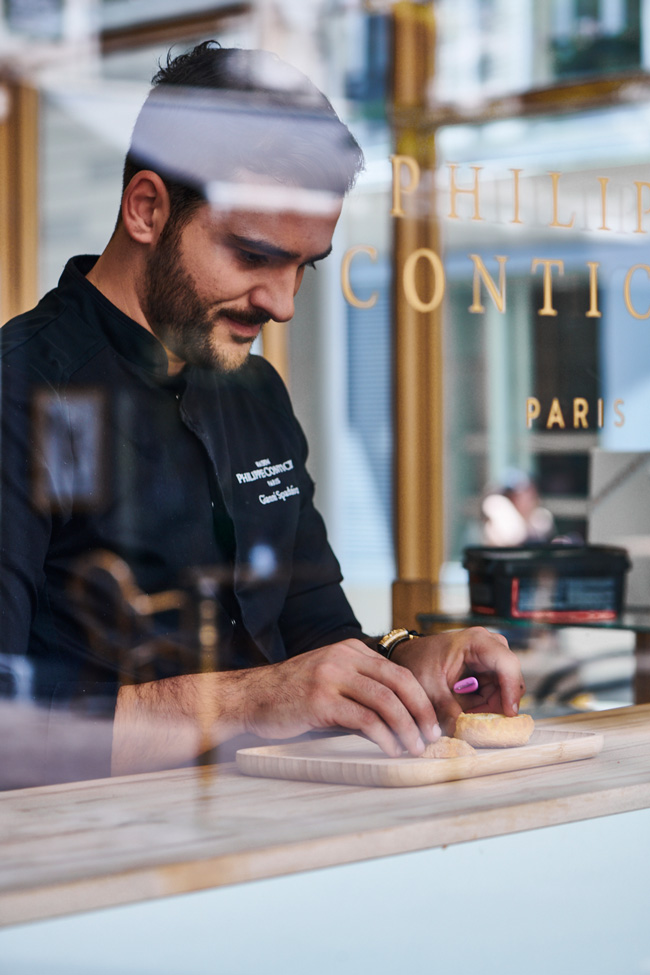 At Maison Philippe Conticini, all profiteroles are made with choux pastry covered in cane sugar to give them that yummy caramelized crunch. For the fillings, you can choose between four variations: exotic passionfruit, scrumptious strawberries, creamy bourbon vanilla and rich chocolate – all prepared right in front of your very eyes.
We can't help but share with you the full menu:
Passionfruit ice cream with whipped cream and fruit sauce with pieces of mango
Strawberry ice cream with strawberry pieces, vanilla whipped cream, topped with strawberry sauce and fresh strawberries
Bourbon vanilla ice cream from Madagascar with vanilla whipped cream, topped with fleur de sel caramel sauce and caramelized pecans.
66% chocolate ice cream with chocolate whipped cream, topped with chocolate sauce and chocolate hazelnut streusel
How much? €7.90 per unit
Where to get them? Philippe Conticini's store in the 3rd arrondissement: 31 Rue Notre Dame de Nazareth, 75003, Paris.
Don't miss out! Indulge yourself with these delightful balls of goodness, and let us know what you think.
Available every Saturday from June 25th to July 16th 2022.
Lead photo credit : Made to order profiteroles, courtesy of Maison Philippe Conticini
More in Maison Philippe Conticini, Minute bar, Paris pastry, pâtisserie, Philippe Conticini, profiterole
---
---