Le Loir dans La Théière: Where to Eat in the Marais District
In the heart of Paris's historic Marais neighborhood on one of the city's most charming streets Rue des Rosiers, sits a café inspired by the fairytale Alice in Wonderland. The dormouse from this famed children's story comes to life in what feels like a Mad Hatter's Tea Party once you enter the door of Le Loir dans La Théière. In the middle of this whimsical tea café cum restaurant translated to "The Dormouse in The Teapot," the story of Alice in Wonderland is told through a playful wall illustration. The remaining walls are covered in vintage posters from art and fashion exhibitions.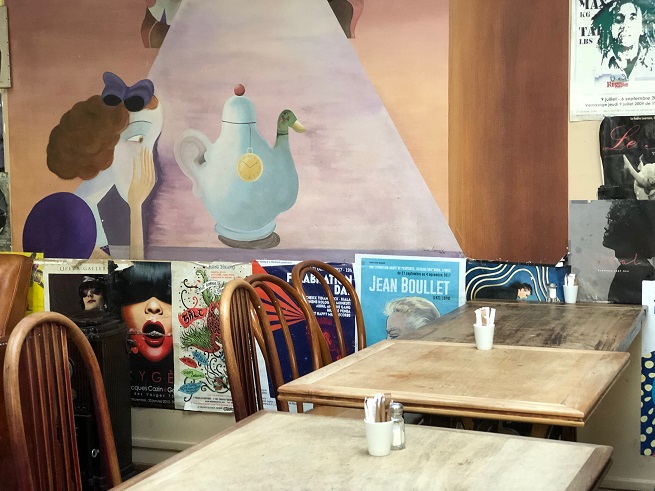 Since 1996, Paul Boccia and his family run this bohemian eatery where stories are told from another era. With plenty a cozy couch to sink into and wooden tables and chairs to make you feel at home, prepare for a freshly cooked meal of seasonal produce. The daily specials at Le Loir dans La Théière are prepared by the owner himself, while his son Thomas ensures that you are both comfortable and well nourished.
What takes the cake at Le Loir dans La Théière is the cake itself. The two pâtissiers are true masters at their craft!Save room for one of their heavenly desserts, including the famous lemon meringue and chocolate fondant. With a dozen homemade cakes to choose from, you'll have plenty of options to satisfy your sweet tooth.
Weekend brunch is one of the best in Paris, just be sure to arrive before noon as the secret is out. Open every day from 9am to 7:30pm, this fabled spot lives up to its reputation as one of the Marais's most hip haunts.
3 Rue des Rosiers, 75004 Paris
Hours: Monday to Sunday 9am-7:30pm
Lead photo credit : Le Loir dans La Théière
---
---