Food Shopping in Paris: The City's Best Covered Markets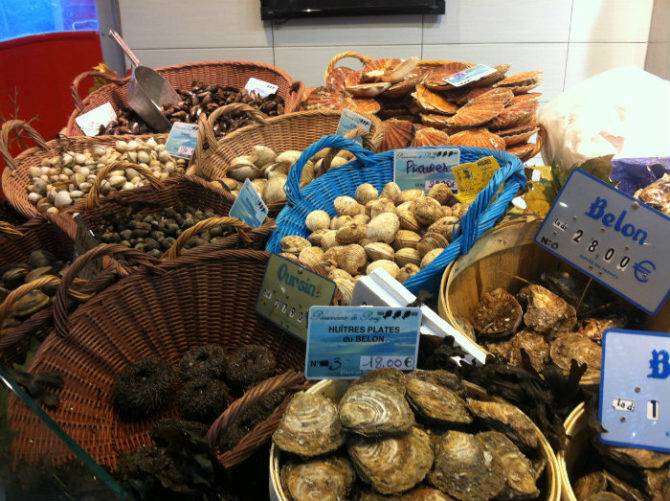 Of the over 80 food markets in Paris, the majority are outdoor events, set up certain days of the week on neighborhood streets and charming central plazas under brightly covered canvas covers. While the open-air markets offer a more typical Paris market experience, the remaining covered markets are often home to exciting specialty and regional products as well as a growing number of stands that embrace the city's nascent food movements. In addition to the interesting array of products you'll find at covered markets, these spaces also offer the benefit of extended hours. While outdoor markets are usually only open 2-3 times a week and only in the morning, covered markets are often open 5 days a week and not only in the morning, but in the late afternoon as well. (The markets, or certain stands therein, will sometimes close down from lunch until late afternoon– approximately 1-4pm.) Increasingly, these vendors have become early adopters of Paris food trends– from freshly squeezed juices to craft beer outposts. You'll find inspired bakers and butchers, fishmongers, and cheese sellers dedicated to showcasing the highest quality products. These covered markets are also impressive architectural structures, and symbols of a unique cultural heritage. (A winning example of this preserved patrimony is the
Carreau du Temple in the 3rd arrondissement
, which has morphed into a cutting-edge cultural center after a large-scale renovation.) But above all, Parisian covered markets are a window into the local culinary scene. Here's a selection of markets you won't want to miss as you eat and drink your way through the city. Marché couvert de Passy Open Tuesday-Saturday 8:00 AM-1:00 PM & 4:00-7:00 PM, Sunday 8:00 AM-1:00 PM 1 Rue Bois le Vent, 75016 Located in the chic 16th arrondissement, this market may be off-the-beaten-path for most Parisians or Paris explorers, but the space definitely deserves a detour. Upon entering this cosy covered market, your attention will be captured by the outstanding cheese vendor, whose selection is extensive and carefully curated. A wealth of French cheeses, along with certain foreigners (think lovely British Stiltons and Cheddars), make for a fun and filling Paris food shopping adventure. Stop by the excellent fishmonger to choose from a selection of fresh fish, featuring lesser known, not over-fished varieties that reflects the vendor's sensitive understanding of how to ethically source seafood. Marché des Enfants Rouges Open Tuesday-Saturday 8:30 AM-7:30 PM, Sunday 9 AM-5:00 PM  39 Rue de Bretagne, 75003 Set aside a lunch hour to explore this totally unique market, which is made up of aisles of lunch counters serving specialties from France and abroad. Italian, Japanese, North African and British cuisine make up the international meal options, with a few typically French stalls mixed in to remind you that you're still in Paris. The oldest of Paris's covered markets- the original structure was built in 1628- the market takes its name from a neighboring orphanage- l'hospice des Enfants Rouges- that red-cape clad orphans called home. Now the market is home to fresh baked goods, stellar sandwiches, and southern France specialty socca are stand outs at Alain's stand, who uses only organic ingredients and has a wink and a smile for every customer. A new addition to the markets pairs fish and chips with a nice selection of natural wines, combining English surf with French turf. Marché couvert de Beauvau Open Tuesday-Saturday 9:00 AM-1:00 PM & 4:00 PM-7:30 PM, Sunday 9:00 AM-1:30 PM  Place d'Aligre, 75012 Next to locals favorite Marché d'Aligre, Marché couvert de Beauvau completes a market trifecta in the 12th arrondissement. Along with the outdoor Aligre market, and the amazing specialty cheese, chocolate, and foreign food shops, the covered Marché Beauvau rounds out this epic food shopping mecca. The architecture of the market– which was rebuilt in 1843 after the original structure was destroyed during the revolution– is impressive on its own. Built by French architect Marc-Gabriel Jolivet, the rooftop is made to ressemble an overturned wooden boat. Once a hay market, now the Marché couvert de Beauvau is dedicated entirely to food. Taste a few organic olive oils at Sur les Quais which specializes in artisanal oils and vinegars along with organic ingredients of all kinds. The Italian vendor takes pride in high quality products from his motherland, including beautful smoked mozzarellas and homemade pasta. While there, stop by
Jojo & Co
 for French and Anglo inspired freshly baked goods including brioches, granola, lemon cakes and cream filled pastries. Marché couvert Saint-Quentin Open Tuesday-Saturday 8:00-8:00, Sunday 8:30-1:30  85Bis Boulevard de Magenta, 75010 While this may not be one of the most impressive covered markets structurally speaking, the Marché Saint Quentin does hold some hidden treasures. Start your visit with a stop at the Portugeuse stand, where the friendly vendor sells a variety of fresh Portugeuse pastries, inlcuding an outstanding pastel de nata. After grabbing your market snack, head to the specialty beer store which has something for beer lovers of all kinds. The knoweldgeable staff has taken care to stock local favorites as well as brews from abroad, reflecting Paris's growing appreciation for craft beer. Photo credit: Rue de Chabrol and the…
SUBSCRIBE
ALREADY SUBSCRIBED?
BECOME A BONJOUR PARIS MEMBER

Gain full access to our collection of over 5,000 articles and bring the City of Light into your life. Just 60 USD per year.

Find out why you should become a member here.

Sign in

Fill in your credentials below.
Of the over 80 food markets in Paris, the majority are outdoor events, set up certain days of the week on neighborhood streets and charming central plazas under brightly covered canvas covers. While the open-air markets offer a more typical Paris market experience, the remaining covered markets are often home to exciting specialty and regional products as well as a growing number of stands that embrace the city's nascent food movements.
In addition to the interesting array of products you'll find at covered markets, these spaces also offer the benefit of extended hours. While outdoor markets are usually only open 2-3 times a week and only in the morning, covered markets are often open 5 days a week and not only in the morning, but in the late afternoon as well. (The markets, or certain stands therein, will sometimes close down from lunch until late afternoon– approximately 1-4pm.)
Increasingly, these vendors have become early adopters of Paris food trends– from freshly squeezed juices to craft beer outposts. You'll find inspired bakers and butchers, fishmongers, and cheese sellers dedicated to showcasing the highest quality products.
These covered markets are also impressive architectural structures, and symbols of a unique cultural heritage. (A winning example of this preserved patrimony is the Carreau du Temple in the 3rd arrondissement, which has morphed into a cutting-edge cultural center after a large-scale renovation.)
But above all, Parisian covered markets are a window into the local culinary scene. Here's a selection of markets you won't want to miss as you eat and drink your way through the city.
Marché couvert de Passy
Open Tuesday-Saturday 8:00 AM-1:00 PM & 4:00-7:00 PM, Sunday 8:00 AM-1:00 PM
1 Rue Bois le Vent, 75016
Located in the chic 16th arrondissement, this market may be off-the-beaten-path for most Parisians or Paris explorers, but the space definitely deserves a detour. Upon entering this cosy covered market, your attention will be captured by the outstanding cheese vendor, whose selection is extensive and carefully curated. A wealth of French cheeses, along with certain foreigners (think lovely British Stiltons and Cheddars), make for a fun and filling Paris food shopping adventure. Stop by the excellent fishmonger to choose from a selection of fresh fish, featuring lesser known, not over-fished varieties that reflects the vendor's sensitive understanding of how to ethically source seafood.
Marché des Enfants Rouges
Open Tuesday-Saturday 8:30 AM-7:30 PM, Sunday 9 AM-5:00 PM 
39 Rue de Bretagne, 75003
Set aside a lunch hour to explore this totally unique market, which is made up of aisles of lunch counters serving specialties from France and abroad. Italian, Japanese, North African and British cuisine make up the international meal options, with a few typically French stalls mixed in to remind you that you're still in Paris.
The oldest of Paris's covered markets- the original structure was built in 1628- the market takes its name from a neighboring orphanage- l'hospice des Enfants Rouges- that red-cape clad orphans called home. Now the market is home to fresh baked goods, stellar sandwiches, and southern France specialty socca are stand outs at Alain's stand, who uses only organic ingredients and has a wink and a smile for every customer. A new addition to the markets pairs fish and chips with a nice selection of natural wines, combining English surf with French turf.
Marché couvert de Beauvau
Open Tuesday-Saturday 9:00 AM-1:00 PM & 4:00 PM-7:30 PM, Sunday 9:00 AM-1:30 PM 
Place d'Aligre, 75012
[Editor's note: This popular market is currently closed to repair the damage caused by a fire in early July 2015.]
Next to locals favorite Marché d'Aligre, Marché couvert de Beauvau completes a market trifecta in the 12th arrondissement. Along with the outdoor Aligre market, and the amazing specialty cheese, chocolate, and foreign food shops, the covered Marché Beauvau rounds out this epic food shopping mecca.
The architecture of the market– which was rebuilt in 1843 after the original structure was destroyed during the revolution– is impressive on its own. Built by French architect Marc-Gabriel Jolivet, the rooftop is made to ressemble an overturned wooden boat. Once a hay market, now the Marché couvert de Beauvau is dedicated entirely to food. Taste a few organic olive oils at Sur les Quais which specializes in artisanal oils and vinegars along with organic ingredients of all kinds. The Italian vendor takes pride in high quality products from his motherland, including beautful smoked mozzarellas and homemade pasta. While there, stop by Jojo & Co for French and Anglo inspired freshly baked goods including brioches, granola, lemon cakes and cream filled pastries.
Marché couvert Saint-Quentin
Open Tuesday-Saturday 8:00-8:00, Sunday 8:30-1:30 
85Bis Boulevard de Magenta, 75010
While this may not be one of the most impressive covered markets structurally speaking, the Marché Saint Quentin does hold some hidden treasures. Start your visit with a stop at the Portugeuse stand, where the friendly vendor sells a variety of fresh Portugeuse pastries, inlcuding an outstanding pastel de nata. After grabbing your market snack, head to the specialty beer store which has something for beer lovers of all kinds. The knoweldgeable staff has taken care to stock local favorites as well as brews from abroad, reflecting Paris's growing appreciation for craft beer.
Photo credit: Rue de Chabrol and the Marché Saint-Quentin by FredoB/ Wikipedia
Lead photo credit : Seafood at the Marché couvert de Passy by Emily Dilling
---
---
Comments