Favorite Restaurants in Paris: Our Experts Share Recommendations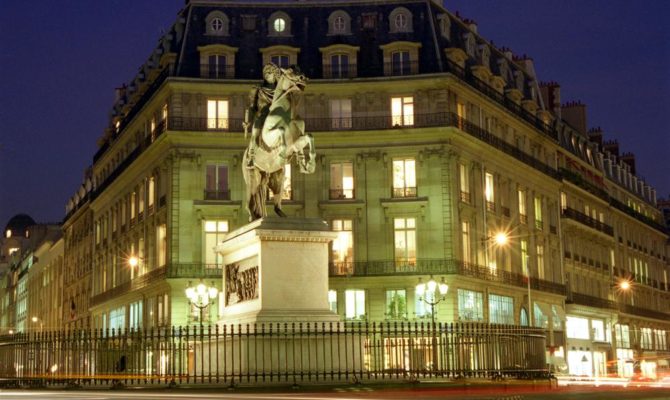 It's no secret that people travel to Paris for the food. From small neighborhood bistros to gastronomic temples of haute cuisine, the restaurant choices are mind-boggling. No wonder so many readers write us for recommendations! Here, we're happy to share some favorite restaurants as selected by our expert team of contributors. These aren't necessarily the newest, nor the trendiest, but they are tried-and-true favorites. Bon appétit!
Bistrot Victoires
In the center of Place des Victoires stands a regal equestrian statue of Louis XIV. The horse's head points down Rue Catinat; let it guide you to end of that street and the Bistrot Victoires. Each day this local favorite is bustling with workers from the Banque de France, which guarantees good quality and prices that can't be beat. My favorite lunch is the Tartine Savoyarde – an open-faced sandwich with melted cheese, potatoes, lardons and onion. A glass of the house red fits perfectly and you won't find a more authentic, everyday meal in Paris.
6 Rue de la Vrillière, 1st arrondissement
— Corey Frye is an editor/writer and a sought-after Paris tour guide.
Café Bullier
It is a common misconception that people who are not "foodies" don't care about good food. This is not true! My culinary tastes are simple, but I do have my preferences. My favorite restaurant is Café Bullier. The food (which is unpretentious, traditional French cuisine) is always good; the service is professional, friendly, and kind. A short walk away from the Jardin de Luxembourg, Café Bullier is a comfortable place to spend an afternoon or an evening, enjoying the simple pleasures of la bonne cuisine française in a relaxed, congenial atmosphere.
22 Avenue de l'Observatoire, 14th arrondissement, website: www.cafebullier.com
— Janet Hulstrand is a writer, editor and teacher based in Essoyes, a beautiful little village in the Champagne region.
Halle Saint Pierre
My friend Charlie has a theory about what makes a meal memorable. According to him, it's not just food or the hype or the number of stars in the guidebooks, but the chemistry of company gathered 'round the table. And, in my book, the view.
Whenever I need a break from the worries of the world, I trek it to Halle Saint-Pierre's cozy café in Montmartre's fabric district. Housed in a former 19th-century food market, the museum is similar in spirit to Switzerland's Collection de l'Art Brut and Baltimore's American Visionary Art Museum, featuring works by self-taught and outsider artists.
This place has everything. Historic building? Check. View? Check. Sacré Coeur's dome shines in through the huge windows like a giant sugar confection. Blue skies suit the blindingly white basilica, though she also glows after dusk. Affordable? Check.
It's the perfect place to take a break after hiking up and down the hill or seeing one of the museum's thought-provoking exhibitions. Art lines the walls in the café, too. Sample the house red and the homemade quiche and gaze up to your heart's desire.
Or work on your novel. No one's going kick you out. It's Paris, after all.
Musée Halle Saint Pierre, 2 rue Ronsard, 18th arrondissement, website: www.hallesaintpierre.org
— Theadora Brack is a Paris-based writer who has a regular column, called "My Life in Paris," in France Today magazine.
Hostellerie de l'Oie qui fume
To prolong my stays in Paris (and my finances), I live like a very aging student: baguettes in the Luxembourg Gardens and cafe crèmes standing at the bars of my favorite cafes. It stands to reason then that sadly I won't be found in a Michelin-starred restaurant in a swanky hotel, so if beautifully set tables and impeccable wine waiters are what you want (and why not?), stop reading now.
My restaurant, L'oie Qui Fume, in Rue de la Huchette is slap bang in the much derided 'Little Athens' tourist area in St Michel.
I was there two years ago when three course menus were 10 and 15 euros. My son and his new wife were there in October when I think they had added a euro to the basic menus. Starters are varied: salads, escargots, onion soup; main courses include steak, tartiflette, bœuf bourguignon, and mussels. Desserts or cheese to follow.
The restaurant is cozy and crowded enough to overhear the next table's conversations–often more interesting than your own. The covered terrace on the pavement has heaters for colder evenings and red checked table cloths. The owner and staff are friendly. The food is good and excellent value.
The restaurant is what it is: cheap and cheerful but a notch above the others on Rue de la Huchette. Only one word of advice– don't go in evening dress…
59 quai de la Tournelle, 5th arrondissement, website: www.facebook.com/oiequifume
— Marilyn Brouwer is an established freelance writer and regular contributor to Bonjour Paris
Le Grand Véfour
When asked about my favorite restaurant I usually reply, "the next one I'm eating at!" It really depends on mood, type of food, atmosphere and budget. But, when the pressure's on, I have to admit my favorite Paris address is definitely Le Grand Véfour. Guy Martin is at the door to meet and greet guests, old and new. This talented self-taught chef, born and raised in his beloved Savoie region, has been at Véfour since 1991 where he once notched three Michelin stars and now, strangely, only has two. Some mistake surely?

Not only the exquisite food, traditional dishes with Martin's exciting modern twists, the historic atmosphere is enchanting – my favorite table has a discreet golden plaque dedicated to Maria Callas – "from this table the diva could see everyone, and not be seen," according to Mâitre d'Hotel Flavien Develet. You may prefer Napoleon & Josephine's, Victor Hugo's, Balzac's, Colette or Jacques Brel's.
17 Rue de Beaujolais, 1st arrondissement, website: www.grand-vefour.com
— Margaret Kemp is a regular contributor to Bonjour Paris and Financial Times How to Spend It.
Le Mouffetard
Bonjour, Croque Madame! The sunny yellow yolk of Le Mouffetard's traditional tartine greets me from my plate. Le Mouffetard opens early– 7:30! — so this quintessential Paris café is a good alternative to a hotel breakfast. Enjoyed by locals and travelers alike, the onion soup, the confit de canard and the cassolettes never disappoint. If traveling alone, you will be comfortable here. From the outdoor tables you can take in the street theater of this steep cobbled market. Le Mouffetard is Juliette Binoche's hangout in Krzysztof Kieslowski's Bleu, part of his famed Three Colors Trilogy.
116 rue Mouffetard, 5th arrondissement, website: www.lemouffetardrestaurant.fr
— Hazel Smith experienced an epiphany at the Musée d'Orsay, and is now a mature student of art history at the University of Toronto.
Le Reminet
Just in the shadow of Notre Dame, Le Reminet is elegant, friendly, and the only place I can think of where you can get a three-course lunch of innovative French cuisine on white tablecloths with the world reflected in gilded mirrors—all for 16 euros. Reservations are smart, as the restaurant is small (and popular!). Dinner is great for a romantic candlelit evening, but more of a splurge than the can't-be-beat lunch (available Monday-Friday), although Le Reminet often has specials on La Fourchette.
3 rue des Grands Degrés, 5th arrondissement, website: www.lereminet.fr
— Meredith Mullins is an internationally exhibited fine art photographer and instructor based in Paris.
Les Maquereaux
Les Maquereaux is hands down my fave restaurant in Paris. Who doesn't want to perch themselves at a gorgeous bar with a crisp glass of Chablis and seafood tapas of ceviche, huîtres or poulpe (prepared dans son bouillon, mais oui)? Did I mention Les Maquereaux is on a péniche, stationed just outside Hotel de Ville?! With a clever open-top / glass roof to protect you from grey days (rain? never, in Paris), and an option to do a tour of the Seine in a mini boat with a captain, it's the tops!
The mini-boat tour (limited to 6 people), followed by oysters and champagne on Les Maquereaux, is a very reasonable 50 euros. They also have a downstairs, so they have capacity to host wedding / corporate events. Plus, there's a yoga class followed by a seafood lunch. In 2018, they're setting up babysitting services (so parents can eat while their kids play downstairs). NOT shabby!
Quai de l'Hôtel de ville, 4th arrondissement, website: www.lesmaquereaux.com
— Daisy de Plume is the founder of THATMuse, a company running "Treasure Hunts at the Museum", which now has 25 themes across the Louvre, Musée d'Orsay, Streets of Paris, British Museum and Victoria & Albert in London.
Pirouette
Pirouette is a modern gem located just north of Les Halles. Since its opening in 2012, it has been creating in itself a destination. With an ever changing menu of refined French cuisine, it's the perfect spot for a girls' lunch or romantic dinner. Set menus make it reasonable with a 2-course lunch at €20, a three course dinner at €42, or a six-course dinner at €62.
5 Rue Mondétour, 1st arrondissement, website: www.restaurantpirouette.com
— Kasia Dietz is a handbag designer and freelance writer originally from New York.
PNY
My favorite restaurant in Paris may not be your traditional French bistro, but if you're craving a burger and a beer then PNY is the best place in the city. You'll probably have to queue with the Parisian bobos to get a table, but once you're in, it's worth it. The menu has something for everyone, including I have been told, the best veggie burger in town, as well as homemade desserts, a good selection of craft beers, and a couple of tasty little cocktails for just 6€. The service is always friendly, prices are fair, and I'm happy to report that the portions are big, so you might have to think about splitting that dessert…
Multiple locations, website: www.pny-hamburgers.fr
— Nicola Leigh Stewart is a lifestyle journalist who after living in London and Madrid has finally settled in Paris.
Lead photo credit : Place des Victoires at night by Ted Drake/ Flickr
---
---
Comments