Ecole Ferrandi, Le Forvm & Cinecitta Studios Buzz
Ferrandi
Founded in 1920, Ecole Ferrandi, French School of Culinary Arts, located between Montparnasse and Saint-Germain-des-Prés, is the top culinary college with impressive list of graduates: Eric Frechon, Anne-Sophie Pic: Pierre Hermé: Eric Guérin: William Ledeuil: Michel Roth, Guy Savoy, Thierry Marx, Adeline Grattard: Eric Briffard. The list is long, the courses tough.
"But, very rewarding", says chef Blandine de Dreux-Brézé, the former journalist, who traded print for cookery and, after restaurant experience, set up her own successful Paris catering company.
Ferrandi's campus covers 20,000 square feet of teaching space with 9 fully equipped professional kitchens, 7 pastry laboratories, 2 bakeries, 104 full-time teachers, Sous Vide lab, Oenology and tasting laboratory, Students also learn restaurant service skills and management. There's an 80-seater demonstration auditorium, multimedia resource center and 2 working restaurants with kitchens.
Impressive!
"Courses are developed in co-operation with professionals, who also contribute their expertise in the classroom, to meet the standards the industry has come to expect from Ferrandi", explains Adrienne Burton Lorite, International Project Manager. "It's very interesting during weekdays when things are in full swing and the site is bustling with pastry, bread baking and cooking activity!", she adds.
Get a taste of future greats in the restaurants: a well kept secret.
Book well ahead for a taste of things to come. And, from time to time there are Dîners des Chefs when established star chefs are invited to work alongside students and in collaboration with their "chefs formateurs".
The menus showcase the chefs styles and techniques, when time allows they give demonstrations before the dinners are prepared. Last week Alexandre Couillon and David Toutain were invited. Toutain's leaving Agape Substance and, at the time of writing, nobody knows where he's going so find him on Twitter.
Who are the students?
Mostly French high school/college-age but, there are also openings for older and international students for intensive, three- to ten-day courses, taught in English, during the summer. Ms Burton Lorite says that 96% of the students find work soon after graduation and will have completed work experience during their courses.
Classes include Fundamental Techniques, visits to Rungis market, French regional cuisine, bread-baking, pastry, French wines, and two separate sessions of 3 or 5 days are for serious macarons making, ending with a macaron buffet presentation.
With emphasis on the classics, weekly visits by chefs such as Yannick Alléno, William Ledeuil and Thierry (molecular) Marx, balance the old with the new. Classes do have a professional spin, so check with Ms Burton Lorite then you won't be freaked when asked about your knife skills!
In December, The 58th annual Meilleur Apprenti Cuisinier (MAF) awarded top prizes to young Ferrandi talents Tancréde Delhoste (apprentice at Les Cocottes de Christain Constant) and Erwan Ledru, apprentice at Ministère des Affairs Etrangères, and to their chefs/trainers Christophe Darney, Sylvain Meilland and Jean-Claude Chanroux.
Ferrandi evolves the better to showcase not only the history of French cuisine, but also the future. "With access to a global network of professional contacts, Ferrandi provides multiple opportunities for motivated students, of all ages, to launch their culinary careers", says Ferrandi's President Joël Robuchon.
Ferrandi,
School and Restaurants,
28 rue de l'Abbe Gregoire 6th
M: Sainte-Placide
T: 01 49 54 28 00
22nd January Culinary Masterclass Molecular Demo.
by Thierry Marx – Book Now.
Cocktails by Le Forvm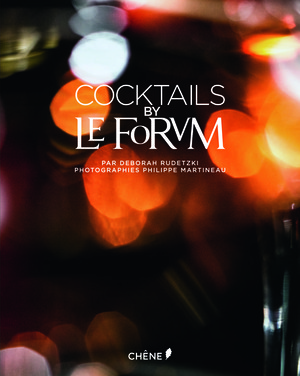 "Who is Gene Snyder?" I ask the waiter sporting an "I Love Gene Snyder" badge on the lapel of his black suit at Le Forvm. "You don't know Gene Snyder, he's our mascot!"
Le Forvm, one of Paris's iconic cocktail bars, hosted a book signing for Deborah Rudetzki's just published, "Cocktails by Le Forvm", with photos by Philippe Martineau.
But, getting back to Mr. Snyder, the barman informs BUZZ that he was born in the US of America, in the fabulous state of Kentucky, at Louisville General Hospital, on January 28, 1958. Accomplished sportsman, epicurean, connaisseur of spirits and cocktails, he became a client of Le Forvm a few years ago, blaming law school, so boring Snyder needed a constant flow of cocktails to keep him motivated.
To-day, Snyder's a journalist, reporter and inveterate traveller with a weakness for birds, of the feathered variety, especially toucans! He searches the world for new species, shares his vision of life with whomever he meets. Currently, he spends down- time promoting the Forvm and its' bartenders.
Snyder's also a cocktail, at Le Forvm and in Ms Rudestzki's excellent book. Bourbon: Orange Bitters: Maple Syrup: serve in an old fashioned glass, well iced, surrounded with Froot Loops, the toucans' favourite cereal!
Cocktails by Le Forvm
Deborah Rudetski – Photographs by Philippe Martineau
80 Cocktails for 80 Years of Le Forvm
Editions Chêne – 19€90
Bar Le Forvm,
4 boulevard Malesherbes, 8th
Cinecitta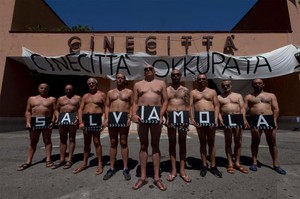 The dream factory studios, Hollywood on the Tiber, read, Cleopatra, Ben Hur, The Agony and the Ecstasy, Casanova, Zeffirelli's Romeo and Juliet.
Cinecitta has a place in the history of world cinema. Martin Scorsese shot Gangs of New York there, but, if it is to thrive and survive, it has to change and attracting major movie moguls is not easy. Plans for a Theme Park and hotels have met with disgust and demonstrations by Cinecitta staff.
Whatever the future holds and, if you love movies, check out Regards Croisés, at Studio du Patio-Opera, a brilliant photographic tribute, by Gianluca Gamberini and Emanuele Scorcelletti, to the legendary film studios.
And, year round, book lunch, tea or dinner on the terrace, a breath of fresh air in the city. Thru' 19th January 2013.
Le Patio-Opera,
5 rue Meyerbeer, 9th
T: 01 40 98 00 92
More in Cinecitta, Ecole Ferrandi, Le Forvm, Paris restaurants, restaurant, Restaurant reviews
---
---