Don Juan II: The Only Michelin-Starred Cruise on the Seine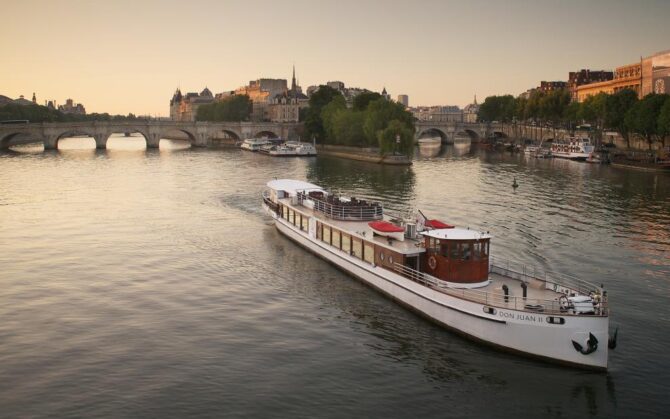 There are Seine river cruises, and then there's the Don Juan II. Moored at Passerelle Debilly opposite the Eiffel Tower, this historic Art Deco yacht is kitted out with fireplaces, framed paintings and a wood-paneled bar from where you can order a flute of Champagne before your dinner cruise. Designed by the Maison Pierre Frey, it's all elegance- down to the gold-colored curtains framing the windows. What's more, there are only 12 tables (maximum capacity of 38 guests) so it's an intimate affair.
But let's talk about the food, shall we? It's a truth universally acknowledged that river cruises have mediocre, ho-hum cuisine (after all, the view is the star of the show). Yet on the Don Juan II, the food is so good, it's a distraction- you end up paying more attention to your plate than the stunning scenery out the window.
That's because Chef Frédéric Anton is at the helm. He's the culinary maestro who holds three Michelin stars at Le Pré Catelan in the 16th, and one star at Le Jules Verne, the gastronomic hot spot atop the Eiffel Tower. In fact, he's also been awarded a Michelin star for the Don Juan II- making it the only Seine river cruise to hold such an honor.
What's on the dinner menu? It's a glorious culinary parade with dishes staggered so they served in front of each major landmark: the Musée d'Orsay, the Monnaie de Paris, Notre-Dame, Hotel de Ville, the Conciergerie and the Louvre. Ingredients are seasonal, so the menu reflects what's being grown at the moment. To wit: amuse-bouches of fried artichoke with anchovy cream, a flan-like marvel with fennel and caviar topped with elderflowers, a crab delicacy resembling an apple meringue, the signature langoustine ravioli topped with a golden jelly, and pan-fried lamb with morel mushrooms in a Jura wine sauce. To cap off your feast, the chocolate soufflé with pistachio ice cream is sublime.
DETAILS
Don Juan II
The multi-course dinner is 240€. Wine pairing is extra.
Boarding at the Port Debilly (Paris 16) starting at 7:45 pm until 8:15 pm.
Departure at 8:30 pm with a return to the quay at 10:30- 11 pm.
Tel: +33 (0)1 83 77 44 40
Email: [email protected]
View this post on Instagram
Lead photo credit : Photo courtesy of the Don Juan II
More in Don Juan II, Frédéric Anton, Seine river cruise, Yachts de Paris
---
---
Comments