Discover New Artisans with Le Food Trip's Updated Paris Food Passport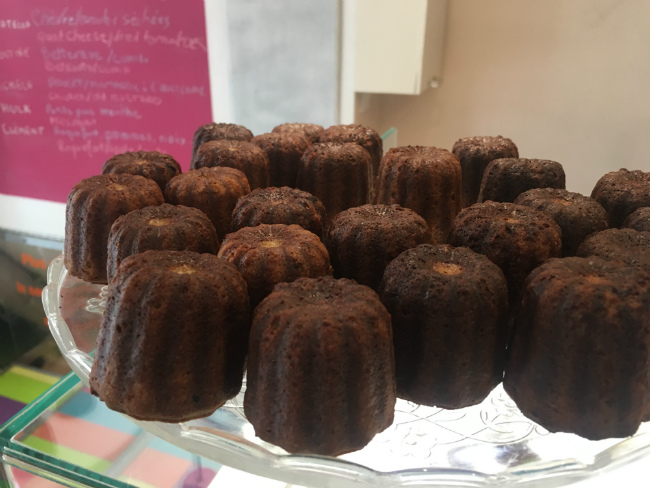 Faithful readers may remember our article about an innovative start-up called Le Food Trip, which offers a food passport to eat your way around Paris on a self-guided tour. Discover new gourmet products and culinary experiences by following the detailed map of the city's food-centric districts. Step into a participating store, exchange one of your "Food Trip Tasting Coupons" to try a specialty product, and the owner or shopkeeper will share insightful stories. It's a great way to learn new addresses and authentic insider tips, while strolling neighborhoods like the Marais and St Germain, and historic market streets like rue Montorgueil and the Rue des Martyrs.
In recent news, Le Food Trip has launched a new version of the passport, teaming up with some new artisans– which makes for an interesting culinary discovery even for long-time residents of Paris. In the Marais district, there are two stand-outs. Aux Deux Canelés (72 rue de la Verrerie) offers a delicious selection of sweet and savory canelés, the traditional vanilla-accented, rum-infused cake from Bordeaux.
On an atmospheric side street just a stone's throw from the Pompidou Center, Monsieur Benjamin (63 rue Saint Martin) is all about macarons. Sure, you've heard of Ladurée and Pierre Hermé, but these interesting flavor combinations (like coffee-sesame, Bailey's, cheesecake), crafted by a Meilleur ouvrier de France, will have you swooning. Fun to note: This is a self-proclaimed "art pastry shop," not a pâtisserie.
Hankering to taste a real French escargot? Another noteworthy address is Comptoir 43, situated at 43 rue de l'arbre sec– just across from Les Caves du Louvre.
Across the river in Saint Germain, you can sample bites from La Coop, which sources Beaufort cheese from a small cooperative in Savoy. Psssst. They have a secret cheese cellar downstairs… It's de rigueur to pair your cheese with wine, so follow your Food Passport over to 3 rue Saint Sulpice where Rouge ou Blanc, a lovely independent wine shop, will offer a glass of wine. The passionate cavistes are a wealth of information and will gladly help you choose a bottle for your next dinner.
Details: Order your Food Passport online (price is 35 euros for 6 tastings, 45 euros for 12 tastings), then pick it up at the designated boutique. The detailed maps include explanations of the featured artisans, along with fun anecdotes. There is also an app you can download to help with geolocalizing the Food Trip's partners. For more information, visit www.le-food-trip.com/en
Photo credit : Canelés at Aux Deux Canelés. Photo: Bonjour Paris
Leave a reply
Your email address will not be published. Required fields are marked *