Detox at Paradis Du Fruits or CRU, Akrame's Atelier Vivanda, Get a Room @ Atmospheres Hotel or Le Marignan & Jean Millet's V-Day Gourmandise
Feeling bloated after the happy holidays? Paradis du Fruits Roots have the answer, pop in to PDFR in Paris, or Lyon, and order "Le Carot'Detox orange with carrot and ginger"(7€) or "Shot Minceur", a glass syringe packed with vitamins to add to any of the numerous alcohol or alcohol free cocktails (1€90 + the cost of the cocktail, about 5€90).
There's a colouful evolution at Paradis du Fruits Roots, celebrating 30 years of juicing, with the incredible in-put of uber-designer Philippe Starck. Prepare to be amazed at bright colours, bold Murano chandeliers, glass fronted bars, plasma screens, gardens, covered terraces, subtle sounds, buzzing places to arrange a rdv with Ashton or the ladies who do.
Winter accents are on organic herby soups and mouthwatering tartines. Choose a formula, say, Paradis Terrestre: Paradis Celeste: Paradis du Paradis and compose salads with chicken, salmon, cheese, fish of the day. All new salads include: Céviche aux deux saumons dans son tacos croquant, sur mix de salade (papaye verte, roquette, carottes, tomates, fenouil, soja) crevettes tempura, tarama et tzatziki.
Savoury waffles are topped with tomates-mozza: salmon fumée, fresh herbs. Order just a dessert Big Baba, or house cheesecake with a shake, incredible ice-creams. Alcohol? Yes. Margaritas, Mojitos, all kinds of cocktails, with or without vitamains and fruits, and a short world wine list for Ashton.
"The earth is a garden, Paradis du Fruit is its' kitchen", says Claude Louzon, PDG and co-founder.
"Welcome to the new generation Paradis du Fruit, spaces where nature meets urban culture".
Paradis du Fruits,
47 avenue George V, 8th
Metro: George V
T: 01 47 20 74 00
Open 7/7 12 noon til 2am
and Paradis du Fruits Roots at:
1, rue des Tournelles, Paris 4,
32, avenue de Wagram, Paris 17,
10, boulevard des Batignolles, Paris 17,
112, cours Charlemagne, Lyon Confluence.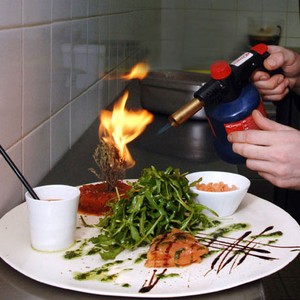 Kate Moss and Co. love CRU, where very little is cooked and the concept is by an ELLE Deco stylist.
The terrace decor's green and pleasant, just pop in for a glass of wine, fish carpaccio, tartare of legumes. Cru means raw tartares, carpaccios, salads and home-made desserts.
7 rue Charlemagne, 4th
M: Saint-Paul
T: 01 40 27 81 84
Early dinner from 6.30
Brunch Sunday
Shut Sun night-Mon
And also: Don't miss Ma Cocotte: Philippe Starck's latest design wacky brasserie.
Talk of the Town,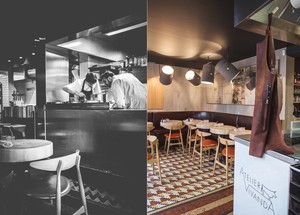 Book ahead for Akrame Benallal's Atelier Vivanda, launched just opposite his eponymous Michelin star canteen in the posh 16th arrondissement. By the time you finish there'll be a line outside, Parisiens, not noted for their patience, actually waiting. Zoot! Beef from the US of A, the delightful Nicolas Tissier (ex-Thoumieux) heads the open kitchen. Enjoy Le Croquavor, hamburger revised and corrected. Friday is Roast Chicken night, but order ahead. Starter, Main, Veg, Dessert 35€ + wine
Atelier Vivanda,
18 rue Lauriston, 16th
M: Victor Hugo/Charles de Gaulle Etoile
Shut Sat-Sun
T: 01 40 67 10 00
Get a Room.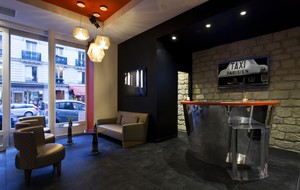 At the new left-bank Atmosphères Hotel, Paris, where each traveller is the hero. 56 rooms, 6 Junior suites and 2 apartments based on 6 themes, the six atmospheres that reflect the essence of Paris named: Nature, Monuments, By night, Urban, Macaron, Palace. Atmosphères, ubiquitous art meets architectural innovation with spa, sauna, fitness suite, business lounge and free wi-fi.
Mid-way between a boutique design hotel and a contemporary photography gallery, Atmospheres offers a unique stay amidst the permanent display of Thierry des Ouches's work on Paris.
31 rue des Ecoles 5th
T: + 33 1 43 26 56 02
From 190€-700€
Or at Le Marignan, the shiny newly transformed, right-bank hotel, just off the Champs Elysées, located on the Golden Triangle between Avenue Montaigne and Avenue George V. Interior design by Pierre Yovanovitch is bold, black and beautiful. The restaurant, and tres chic bar, is open 7/7 and in- room dinning is available 24/7. + Alaia just launched a flagship store right opposite !. Costes "must visit" L'Avenue brasserie is on the corner!
Hotel Marignan,
12 rue de Marignan, 8th
T: + 33 1 40 76 34 56
Diary Date: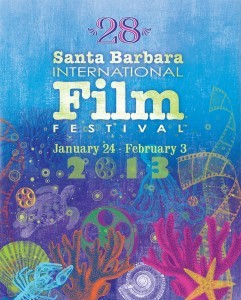 If you're lucky enough to be on the American Riviera aka Santa Barbara, don't miss the 28th SBIFF the Festival.
Check out the section, "Screen Cuisine" which includes Spinning Plates USA, Directed by Joseph Levy and featuring Grant Achatz: three restaurants: "a 150-year-old family restaurant still standing only because of the unbreakable bond with its community; a fledgling Mexican restaurant whose owners are putting everything they have on the line just to make enough to survive and provide for their young daughter," and Achatz's Alinea, Chicago. Achatz discusses why he attempts impossible tasks: "Because I know that nobody else out there is going to do it, it's absurd that it takes 5 people 12 hours to prepare one bite!"
And A Year in Burgundy, directed by David Kennard – 6 Burgundy winemakers are followed for a year.
"One year with the people who make the wine like nowhere else in the world". It'll give you goose bumps.
January 24-February 3.
Be mine sweet Valentine.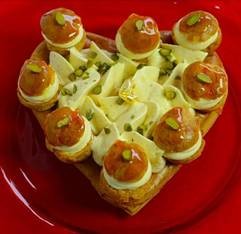 This exquisite Saint-Honoré, revised and corrected by uber-patissier Denis Ruffel, is available at:
Price: 18€
Chocolatier – Salon de thé Jean Millet,
103, rue Saint Dominique, 7th
T: 01 45 51 49
Shut Monday
Mail
More in Atelier Vivanda, Atmosphères Hotel, Hotel Marignan, Paradis du Fruit, Paris restaurants, restaurant, Restaurant CRU, Restaurant reviews
---
---