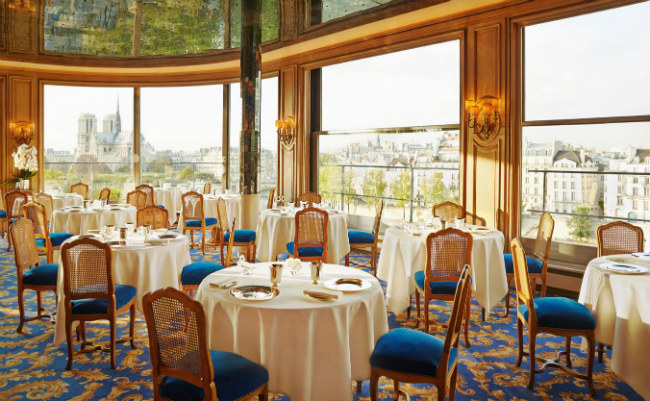 La Tour d'Argent
Philippe Labbé is the talented new executive chef at Paris's oldest restaurant (1582). La Tour d'Argent has incredible views over the Seine, Notre Dame, and the Île de la Cité, plus bee hives on the roof! There's a bright new look, a new logo, a new carpet, tableware and menu– to be accompanied with wines from the cellars overseen by English head sommelier David Ridgway.
Heading the dining room are Stépane Trapier and his dream team who cut, carve flambé and discuss new/traditional dishes in perfect harmony. "I gave Philippe Labbé carte blanche to create a new menu with new flavors and less calories," explained lean and healthy looking André Terrail, the third generation owner. Labbé, formerly at La Chèvre d'Or in Eze; Shangri-La, Paris and L'Arnsbourg at Baerenthal – looking around the incredible room – said, "My memory of this icon of French gastronomy goes back to eating here and meeting Claude Terrail (André's father). I'm proud to be here today, with my team, to reinterpret the culinary zeitgeist of the maison."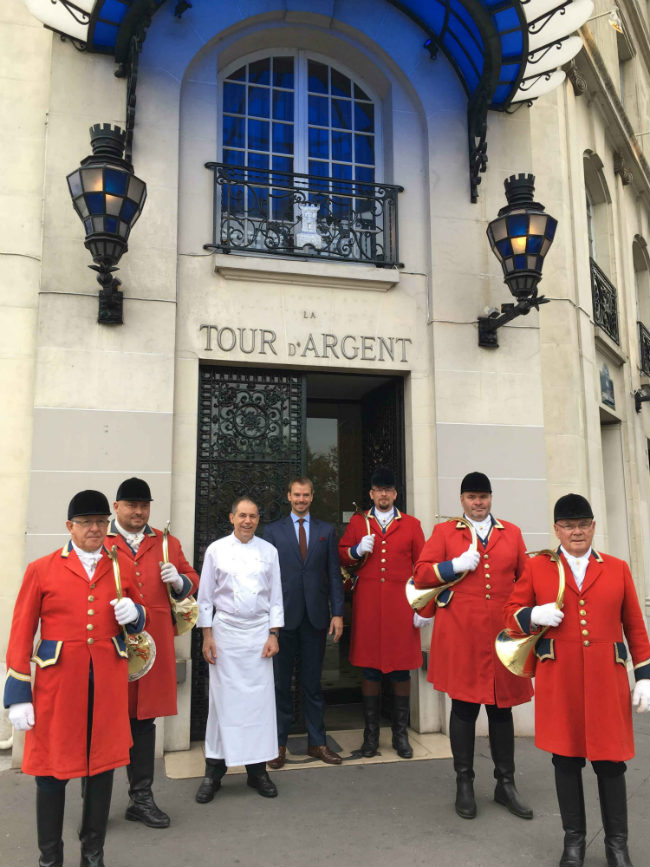 The signature duck is now served in five sublime services (195€) and lunch costs 105€. To understand Labbe's impressive talent choose the "Imagination de Philippe in six plates" (350€), Menu Re-Tour de Chasse (240€), or go A La Carte. As Claude Terrail used to say, "il n'est rien de plus seriéux que le plaisir." And – as we go live – Guide Gault&Millau has awarded the restaurant 4 toques in the 2017 guide. And watch for the TDA boulangerie/snack bar – opening opposite – anytime soon.
15 Quai de la Tournelle, 5th. Tel: 01 43 54 23 31. Metro: Pont Marie (Line 7). Closed Sundays & Mondays. www.tourdargent.com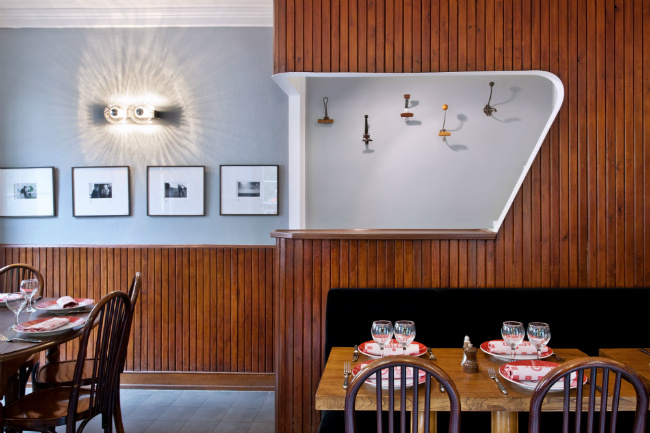 This picture perfect neo-traditional address with zinc bar dates to 1956 and was acquired in 2006 by Frédéric Hubig-Schall whose excellent restaurants include La Marée Jeanne seafood restaurant, Jeanne A, Jeanne B and Sassotondo. The concept is generosity, a warm welcome, celebs (Jean Nouvel, Margaret Kemp) get their own artisan knives – M. Jagger if you're reading this there's one waiting for you! The menu highlights classics of French cuisine with a modern twist say, marinated herring, soup of the day, tartare or foie gras starters, followed by excellent Boeuf Bourguignon or plump Brittany Saint-Jacques with chestnut purée.
Wine is a passion with Hubig-Schall, so take his advice and discover his precious vintages. You can't come to Astier and not delight in the famous, "all-you-can-eat" cheese platter –   perfect French fromages – the tray left at your table. Finish with Paris-Brest /Baba au Rhum, Chantilly cream /Tarte Tatin or Grand Marnier soufflé. Chez Astier calories don't count! Average spend 35-45€ + wine. Plat du Jour 15€.
44 rue Jean Pierre-Timbaud, 11th, Tel: 01 43 57 16 35. Metro: Parmentier (Line 3). Open every day. http://www.restaurant-astier.com/en/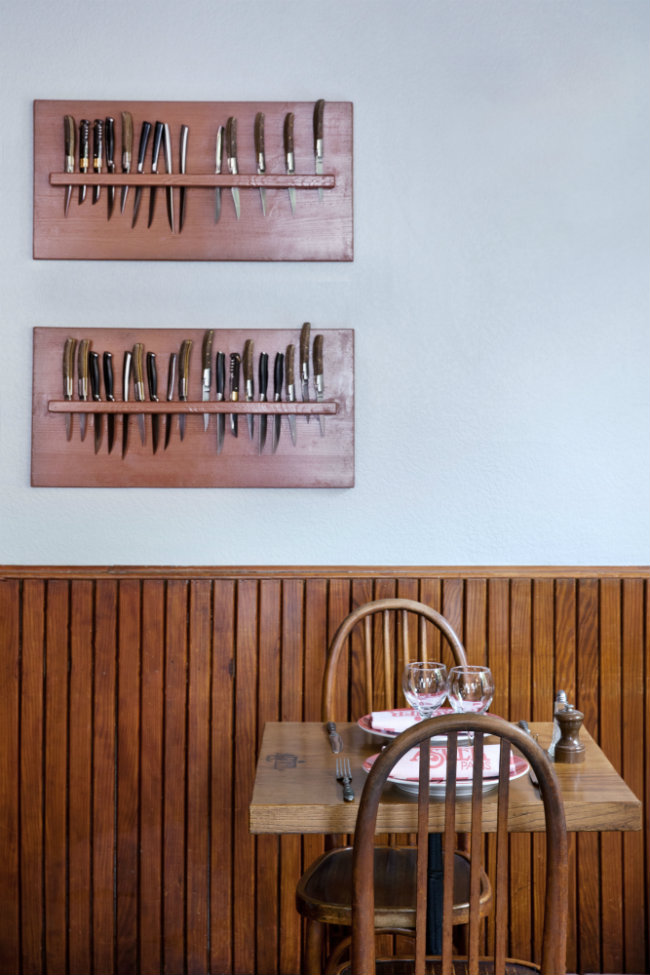 Les Bouquinistes
The Maisons Guy Savoy is an eclectic mix of excellent eateries established over the years by the charismatic chef. Opposite the Pont Neuf, Les Bouquinistes – named after the booksellers installed along the banks of the Seine – has a hip new look created by Savoy, house head chef Stéphane Perraud, director Laurent Jacquet and artist Fabrice Hyber. "The concept is to enjoy a meal within a work of art," explained Savoy. "Fabrice Hyber locked himself in Les Bouquinistes for two weeks and this is the result – we've been 'Hyberised!' " The space is now a mind bending graffiti paradise with a nod and wink to Savoy's life in gastronomy – a work of art they call "Menu-Mental." Lunch and Dinner from 29-36€. Tasting menu 78€ + wine. Choose from 7 starters, 7 mains and 7 desserts including the brioche which you can buy at Gôut de Brioche (54 rue Mazarine)– entirely dedicated to the flaky sweet and savoury feuilletés.
53, Quai des Grands Augustins, 6th. Tel: 01 43 25 45 94. Metro: Pont Neuf (Line 7). Open every day. www.lesbouquinistes.com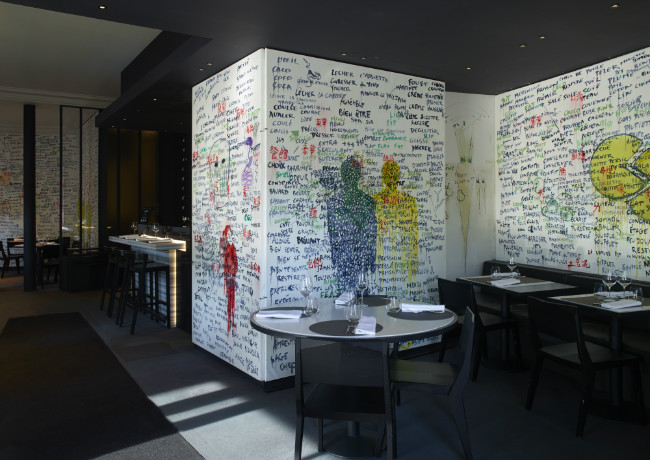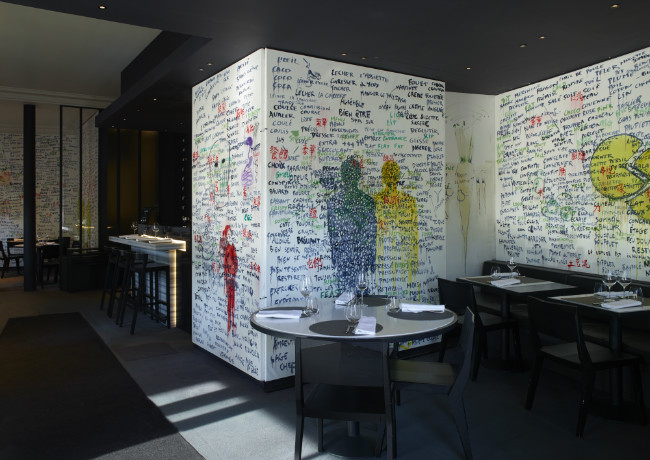 Le Violon d'Ingres
Christian Constant's elegant, Left Bank, Michelin-starred flagship restaurant, minutes from the Eiffel Tower, features classic French dishes prepared with simplicity and an emphasis on market ingredients. Some highlights include superb Oeufs Mollets with brioche toast soldiers. There's foie gras ravioli or foie gras/ gingerbread breadcrumbs. Perfect sea urchins, in their shells, sit on creamy scrambled egg. Mains include plump spatchcocked Wood Pigeon and Almond crusted seabass/Quatrehomme cheeses and vanilla, salty butter caramel soufflé. Lunch from 45€ – Dinner 110€ – A La Carte 63-80€.
Christian Constant's new book "Christian Constant's Poultry" is now out in English (24€95). Learn secrets from the superchef who's taught more chefs than you've had hot dinners! Eric Frechon, Alain Pegouret, Jean-François Piege, Yves Camdeborde, Pierre Sang Boyer & Co. "Nothing tastes better than chicken for Sunday lunch," says CC.
 135 rue Saint Dominique, 7th. Tel: 01 45 55 15 05. Metro: Ecole Militaire (Line 8). Open every day. http://www.maisonconstant.com/violon-ingres/en/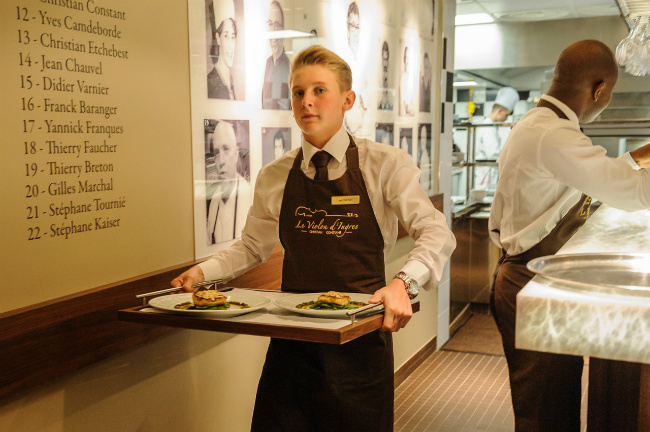 Polpo
This seaside chic seafood brasserie-sur-mer houseboat is moored on the banks of the Seine, near Île de la Jatte, with stylish decor by architect Laura Gonzalez of Pravda Arkitekt (also behind Manko on the avenue Montaigne). Book ahead for Sunday Brunch Buffet Terre-Mer (39€ – 17€ children). Lunch from 19.50€ and enjoy panoramic views over the Seine with L'Happy – 6 oysters + 2 glasses of white wine (19€). There's sharing dishes of terrines, crispy prawns, fish cakes, linguine with clams, fresh salads, Chausey Islands mussels and succulent meat; try the juicy prime rib-cut Irish to share. Signature, grilled whole lobster / fries, truffle pasta. Desserts include Baba Polpo, lemon meringue Pie, pancakes and an epic millefeuille.
47 Quai Charles Pasqua, 92300 – Levellois Perret. Tel: 01 41 34 32 86. Metro: Pont de Levallois-Bécon (Line 3). Open every day. http://www.polpo-brasserie.fr/en/