Cookery lesson in Paris, with Allison Zinder
There is something very special about being transported back to France through a home cooked meal that incorporates the tastes, smells and flavors that make French food so well loved. Yes, it is true that in France we do have many marvelous products at our fingertips in the markets, the poissonneries (fish shops) and the boucheries (butcher shops), but the world is getting smaller. You can now find most products in your home town super markets or they can be easily substituted with what is available. So, the next time that you are in France, consider the best way to find inspiration and skill to master the art of French cuisine by taking a cooking class. My first (ever) cooking class was this past week with Allison Zinder. I had met Allison through a mutual friend at a small gathering. She is a charming young woman. When I learned that she was offering private cooking classes I needed only a second to sign up. It was a great idea and it was great fun. What I particularly like about Allison, is that she has an immense amount of patience with the most inept of us. She is ready to explain basic tasks and considers all questions worthy. These are great characteristics for a good instructor. Allison started us out with a potimarron and chestnut squash soup. The potimarron is a famous French heirloom squash whose name derives from potiron (pumpkin) and marron (chestnut). The squash has naturally an aromatic chestnut like taste and the addition of the chestnuts enhances this flavor. When you are in the markets, they are the adorable small pumpkins available during the summer and fall. (Our traditional pumpkins can easily be substituted.) We then learned to prepare a rôti de veau (veal roast) au citron confit et gingembre (lemon confit and roasted ginger). Never having tackled a veal roast I was delighted to learn that it is not a difficult challenge particularly with Allison's suggestions on sauces from the slightly exotic, using the citron confit et gingembre, to more traditional ideas using mushrooms. Those fluffy flourless chocolate cakes with the gooey insides are the rage and who would have guessed they are so easy to prepare? Allison pared the little darlings with an Earl Grey crème anglaise, yum! We learned about the "germ" inside of the garlic and how to remove it along with the bitter edge that is transferred to the dish being prepared. I now know that I do not need the large and expensive "bain marie" to make custards and where to buy the best cooking chocolate in Paris. Already the kitchen has become a friendlier place. Allison has been teaching culinary arts in Paris for the past seven years in private institutions and in the national French apprentice system. She is involved in culinary translation and she writes articles about Paris' gastronomic history for the Société Culinaire Philanthropique in New York. In what limited free time she has, Allison leads historic walking tours through eastern Paris and is the author of the website "Paris on the Edge". If you love to eat, check out this website for interesting recipes and food facts. The best part of our morning's adventure in culinary arts was to join the other attendees for a tasty lunch accompanied by a nicely pared wine, thanks to Allison's expertise. Come to Paris, sign up for a cooking class and meet new friends from around the world. The best part of all, is that you can do it all again when you return from your trip and share a little bit of France with your friends and family. Bon Appetite ! photos by Loui Franke Loui Franke is author of
Parisian Postcards: Snapshots of Life in Paris
Paris on the Edge
Website and contact information for
Allison Zinder
SUBSCRIBE
ALREADY SUBSCRIBED?
BECOME A BONJOUR PARIS MEMBER

Gain full access to our collection of over 5,000 articles and bring the City of Light into your life. Just 60 USD per year.

Find out why you should become a member here.

Sign in

Fill in your credentials below.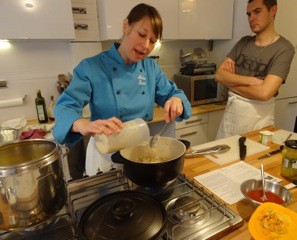 There is something very special about being transported back to France through a home cooked meal that incorporates the tastes, smells and flavors that make French food so well loved. Yes, it is true that in France we do have many marvelous products at our fingertips in the markets, the poissonneries (fish shops) and the boucheries (butcher shops), but the world is getting smaller. You can now find most products in your home town super markets or they can be easily substituted with what is available. So, the next time that you are in France, consider the best way to find inspiration and skill to master the art of French cuisine by taking a cooking class.
My first (ever) cooking class was this past week with Allison Zinder. I had met Allison through a mutual friend at a small gathering. She is a charming young woman. When I learned that she was offering private cooking classes I needed only a second to sign up. It was a great idea and it was great fun. What I particularly like about Allison, is that she has an immense amount of patience with the most inept of us. She is ready to explain basic tasks and considers all questions worthy. These are great characteristics for a good instructor.
Allison started us out with a potimarron and chestnut squash soup. The potimarron is a famous French heirloom squash whose name derives from potiron (pumpkin) and marron (chestnut). The squash has naturally an aromatic chestnut like taste and the addition of the chestnuts enhances this flavor. When you are in the markets, they are the adorable small pumpkins available during the summer and fall. (Our traditional pumpkins can easily be substituted.)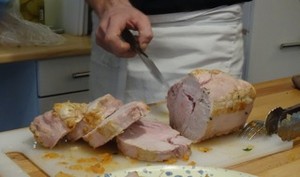 We then learned to prepare a rôti de veau (veal roast) au citron confit et gingembre (lemon confit and roasted ginger). Never having tackled a veal roast I was delighted to learn that it is not a difficult challenge particularly with Allison's suggestions on sauces from the slightly exotic, using the citron confit et gingembre, to more traditional ideas using mushrooms.
Those fluffy flourless chocolate cakes with the gooey insides are the rage and who would have guessed they are so easy to prepare? Allison pared the little darlings with an Earl Grey crème anglaise, yum!
We learned about the "germ" inside of the garlic and how to remove it along with the bitter edge that is transferred to the dish being prepared. I now know that I do not need the large and expensive "bain marie" to make custards and where to buy the best cooking chocolate in Paris. Already the kitchen has become a friendlier place.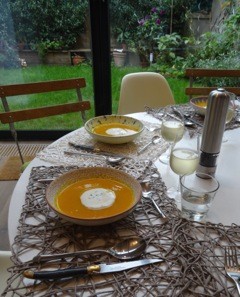 Allison has been teaching culinary arts in Paris for the past seven years in private institutions and in the national French apprentice system. She is involved in culinary translation and she writes articles about Paris' gastronomic history for the Société Culinaire Philanthropique in New York. In what limited free time she has, Allison leads historic walking tours through eastern Paris and is the author of the website "Paris on the Edge". If you love to eat, check out this website for interesting recipes and food facts.
The best part of our morning's adventure in culinary arts was to join the other attendees for a tasty lunch accompanied by a nicely pared wine, thanks to Allison's expertise. Come to Paris, sign up for a cooking class and meet new friends from around the world. The best part of all, is that you can do it all again when you return from your trip and share a little bit of France with your friends and family. Bon Appetite !
photos by Loui Franke
Loui Franke is author of Parisian Postcards: Snapshots of Life in Paris
More in Allison Zinder, cooking school, culinary, Paris cooking class
---
---