Sometimes You Just Need a Cartoon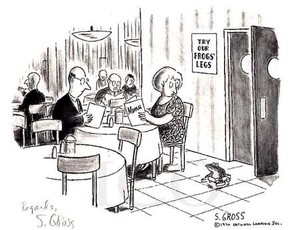 Life these days can sometimes be a bit grim – Ebola, ISIS, gridlocked politics, war and explosions and deaths of loved icons such as Maya Angelou and Joan Rivers and Robin Williams, national and personal dramas. So come join me to take a rest from all that next week – and SPEND AN EVENING WITH THE INTERNATIONALLY RENOWNED NEW YORKER CARTOONIST SAM GROSS, who will arrive from New York to appear at an informal meet and greet at the Library Mohammed Arkhoun at 74-76 Rue Mouffetard at 7:00 PM on Thursday, November 6 and entertain with stories from his over 50 years as a cartoonist at publications such as the National Lampoon, Esquire and the New Yorker and a comrade of the likes of Addams Family creator Charles Addams. I couldn't miss this opportunity to go back to my neighborhood where I spent last July turning 70 – and at the same time hear from my Paris ex pat friend Michelle Gross' father – the man who created such iconic images as the snail in love with a tape dispenser or the legless frog wheeling himself through restaurant kitchen doors in one of those wagons for the handicapped, right past two diners under a wall sign that says "try our frog legs". No, Sam is not always warm and fuzzy. But he is hilarious. So, come join me at the library next week. I'm jumping across the pond Monday night to arrive in Paris on Tuesday for a spur of the moment three day break in my favorite town where I will join this famous and funny man from New York whose father arrived from Lithuania with the name Mordecai Putkovic and walked out of Ellis Island metamorphasized into the more pronounceable Max Gross and named his son – born in 1933 – Samuel Harry Gross – after two uncles in the diamond business. Sam's creative history is inextricably connected with Europe – so this is a kind of homecoming. He worked in New York for his CPA father during tax seasons until he could establish himself as a cartoonist – which interestingly happened first in Europe and only then back home. Sam's first published cartoon was, in his words, a "scholarly looking guy" in a 1954 issue of the Saturday Review, being interviewed by the police and saying: " It all started when my phi beta kappa key fit into the bank vault." Funny stuff. A German publisher produced Sam's first book in 1955 when Sam was a private in the U.S. Army. It was called "Cartoons from the GI". After returning to the U.S., Sam and his wife saved up enough to live for a year – and then went back to live in Germany where he already had some professional recognition. They travelled periodically to Paris where he sold "filler" cartoons to Periscope and finally was able to sell many cartoons to a "little man in a grey suit who was across from the Elysee Palace" who published two magazines – Les Rires and Fou Rire. Only after that did he eventually start selling regularly back in the U.S. He is still a prolific cartoon producer – working every week on new drawings. For example, grabbing some of my New Yorkers from their storage box, I found on page 74 of the January 20, 2014 issue a cat on a stool with a skein of yarn wound around his arms – the end of which extended into a mouse hole – with a brother cat saying: "Have you no shame?" So now he is back where it all began – in what I like to fantasize is "my" neighborhood – down the street from where George Orwell lived when he was "
Down and Out In Paris
" and just a few blocks from where Hemingway wrote and lived and drank during the days he wrote of in "
Moveable Feast
." His presentation will be as enjoyable and quirky as his cartoons. Entry is free. See you there.
SUBSCRIBE
ALREADY SUBSCRIBED?
BECOME A BONJOUR PARIS MEMBER

Gain full access to our collection of over 5,000 articles and bring the City of Light into your life. Just 60 USD per year.

Find out why you should become a member here.

Sign in

Fill in your credentials below.
Life these days can sometimes be a bit grim – Ebola, ISIS, gridlocked politics, war and explosions and deaths of loved icons such as Maya Angelou and Joan Rivers and Robin Williams, national and personal dramas.
So come join me to take a rest from all that next week – and SPEND AN EVENING WITH THE INTERNATIONALLY RENOWNED NEW YORKER CARTOONIST SAM GROSS, who will arrive from New York to appear at an informal meet and greet at the Library Mohammed Arkhoun at 74-76 Rue Mouffetard at 7:00 PM on Thursday, November 6 and entertain with stories from his over 50 years as a cartoonist at publications such as the National Lampoon, Esquire and the New Yorker and a comrade of the likes of Addams Family creator Charles Addams.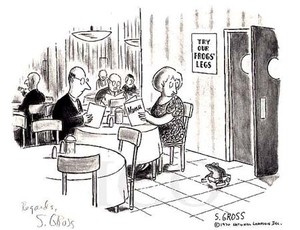 I couldn't miss this opportunity to go back to my neighborhood where I spent last July turning 70 – and at the same time hear from my Paris ex pat friend Michelle Gross' father – the man who created such iconic images as the snail in love with a tape dispenser or the legless frog wheeling himself through restaurant kitchen doors in one of those wagons for the handicapped, right past two diners under a wall sign that says "try our frog legs".
No, Sam is not always warm and fuzzy. But he is hilarious.
So, come join me at the library next week.
I'm jumping across the pond Monday night to arrive in Paris on Tuesday for a spur of the moment three day break in my favorite town where I will join this famous and funny man from New York whose father arrived from Lithuania with the name Mordecai Putkovic and walked out of Ellis Island metamorphasized into the more pronounceable Max Gross and named his son – born in 1933 – Samuel Harry Gross – after two uncles in the diamond business.
Sam's creative history is inextricably connected with Europe – so this is a kind of homecoming.
He worked in New York for his CPA father during tax seasons until he could establish himself as a cartoonist – which interestingly happened first in Europe and only then back home.
Sam's first published cartoon was, in his words, a "scholarly looking guy" in a 1954 issue of the Saturday Review, being interviewed by the police and saying: " It all started when my phi beta kappa key fit into the bank vault."
Funny stuff.
A German publisher produced Sam's first book in 1955 when Sam was a private in the U.S. Army. It was called "Cartoons from the GI".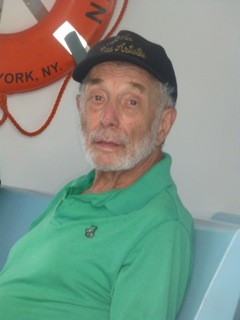 After returning to the U.S., Sam and his wife saved up enough to live for a year – and then went back to live in Germany where he already had some professional recognition. They travelled periodically to Paris where he sold "filler" cartoons to Periscope and finally was able to sell many cartoons to a "little man in a grey suit who was across from the Elysee Palace" who published two magazines – Les Rires and Fou Rire. Only after that did he eventually start selling regularly back in the U.S.
He is still a prolific cartoon producer – working every week on new drawings. For example, grabbing some of my New Yorkers from their storage box, I found on page 74 of the January 20, 2014 issue a cat on a stool with a skein of yarn wound around his arms – the end of which extended into a mouse hole – with a brother cat saying: "Have you no shame?"
So now he is back where it all began – in what I like to fantasize is "my" neighborhood – down the street from where George Orwell lived when he was "Down and Out In Paris" and just a few blocks from where Hemingway wrote and lived and drank during the days he wrote of in "Moveable Feast."
His presentation will be as enjoyable and quirky as his cartoons. Entry is free. See you there.
More in cartoon, event, Paris events, Sam Gross
---
---