Christian Louboutin Nail Bar at Mandarin Oriental Paris
"Everything has beauty, but not everyone sees it"-  Confucius This summer the Christian Louboutin Nail Bar takes up its quartier d'été at Mandarin Oriental Paris, offering couture manicures in hiphop colors. Adding to the luxury, Bar 8 Mandarin Oriental mixologists are shaking and stirring limited edition cocktails to match (€27). Choose between L'Escatin, a non-alcoholic drink with carrot juice, pineapple, spicy ginger and peach syrup; The Bengali, a perfect pink mix of vodka, lemon, raspberry purée and egg white; or The Baraboum, a deep blue elixir including curacao, vodka, liqueur Saint Germain and champagne. Poised on lush red velvet banquettes, in the discreet lobby alcove, the Spa du Palace team begin the mani with an oshibori (hot towel) infused with drops of Bikini Questa Sera Perfume Oil, Blonde Twister or Trouble In Heaven – soothing and perfuming the skin. Then cuticles are tidied, nails filed, polished and painted with Base Loubi, varnished with the color of your choice from the
sell-out Pop collection
. A coat of Gloss Loubi for the finishing touch. And, as you would expect, Louboutin's pigment-rich, ultra-glossy formula combines intense, long-lasting color – the stiletto-capped bottles are contemporary works of wow-factor art. Christian Louboutin, expelled from school at age 16, took a job backstage at the Folies Bergère, running errands – and dreamed of designing shoes for the dancers. In the early 1980s he learned the ins and outs of the shoe business working with über shoemaker Charles Jourdan. By 1992, with money earned from freelance designing, Louboutin opened his first tiny Paris boutique at 19, rue Jean-Jacques Rousseau, Palais Royal. Madonna, Princess Caroline of Monaco, Sarah Jessica Parker, Jennifer Lopez became clients and the rest, as they say, is shoe-biz history. During a visit to the Musée National des Arts d'Afrique et d'Océanie, avenue Daumesnil, he became irritated by a notice banning women wearing stilettos, for fear of damage to the antique wood flooring! This played on his mind – inspired his designs. "I wanted to defy," Louboutin said. "To create something that broke the codes, made women feel confident and empowered." He famously "borrowed" some red nail polish from his assistant, painting the sole of a shoe he was working on to make it more vibrant. Thus, the signature aspirational Louboutins were created! Louboutin manicures, overlooking the green and pleasant gardens of the chic Parisian Palace, capture the sparkling mood and excitement of early summer to perfection. Need to Know: Post manicure – pop into the Cake Shop to
check out the Saint Honoré, the newest creation by Adrien Bozzolo, MO's talented head pastry chef
(€8). I'm a fan! From June 18 – July 7, 2018 Monday – Friday – 17h to 20h30 & Saturday from 16h – 20h30. Christian Louboutin Manicure: 30min / 45 € For 2 – €120 with 2 cocktails: Reservations at Mandarin Oriental Spa, Paris, T: 01 70 98 73 35 257, rue Saint-Honore, 1st Metro: Concorde
[email protected]
SUBSCRIBE
ALREADY SUBSCRIBED?
BECOME A BONJOUR PARIS MEMBER

Gain full access to our collection of over 5,000 articles and bring the City of Light into your life. Just 60 USD per year.

Find out why you should become a member here.

Sign in

Fill in your credentials below.
"Everything has beauty, but not everyone sees it"-  Confucius
This summer the Christian Louboutin Nail Bar takes up its quartier d'été at Mandarin Oriental Paris, offering couture manicures in hiphop colors.
Adding to the luxury, Bar 8 Mandarin Oriental mixologists are shaking and stirring limited edition cocktails to match (€27). Choose between L'Escatin, a non-alcoholic drink with carrot juice, pineapple, spicy ginger and peach syrup; The Bengali, a perfect pink mix of vodka, lemon, raspberry purée and egg white; or The Baraboum, a deep blue elixir including curacao, vodka, liqueur Saint Germain and champagne.
Poised on lush red velvet banquettes, in the discreet lobby alcove, the Spa du Palace team begin the mani with an oshibori (hot towel) infused with drops of Bikini Questa Sera Perfume Oil, Blonde Twister or Trouble In Heaven – soothing and perfuming the skin. Then cuticles are tidied, nails filed, polished and painted with Base Loubi, varnished with the color of your choice from the sell-out Pop collection. A coat of Gloss Loubi for the finishing touch. And, as you would expect, Louboutin's pigment-rich, ultra-glossy formula combines intense, long-lasting color – the stiletto-capped bottles are contemporary works of wow-factor art.
Christian Louboutin, expelled from school at age 16, took a job backstage at the Folies Bergère, running errands – and dreamed of designing shoes for the dancers. In the early 1980s he learned the ins and outs of the shoe business working with über shoemaker Charles Jourdan. By 1992, with money earned from freelance designing, Louboutin opened his first tiny Paris boutique at 19, rue Jean-Jacques Rousseau, Palais Royal. Madonna, Princess Caroline of Monaco, Sarah Jessica Parker, Jennifer Lopez became clients and the rest, as they say, is shoe-biz history.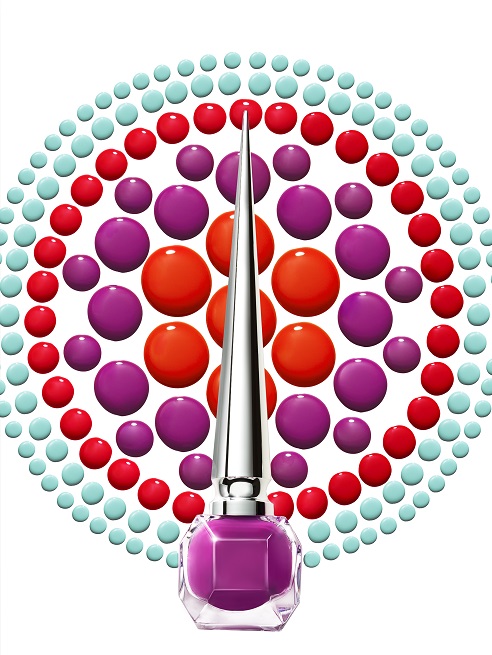 During a visit to the Musée National des Arts d'Afrique et d'Océanie, avenue Daumesnil, he became irritated by a notice banning women wearing stilettos, for fear of damage to the antique wood flooring! This played on his mind – inspired his designs. "I wanted to defy," Louboutin said. "To create something that broke the codes, made women feel confident and empowered."
He famously "borrowed" some red nail polish from his assistant, painting the sole of a shoe he was working on to make it more vibrant. Thus, the signature aspirational Louboutins were created!
Louboutin manicures, overlooking the green and pleasant gardens of the chic Parisian Palace, capture the sparkling mood and excitement of early summer to perfection.
Need to Know:
Post manicure – pop into the Cake Shop to check out the Saint Honoré, the newest creation by Adrien Bozzolo, MO's talented head pastry chef (€8).
I'm a fan!
From June 18 – July 7, 2018
Monday – Friday – 17h to 20h30 & Saturday from 16h – 20h30.
Christian Louboutin Manicure: 30min / 45 €
For 2 – €120 with 2 cocktails:
Reservations at Mandarin Oriental Spa, Paris,
T: 01 70 98 73 35
257, rue Saint-Honore, 1st
Metro: Concorde
[email protected]
Lead photo credit : Christian Louboutin by Pascal Chevallier
More in palace hotel
---
---