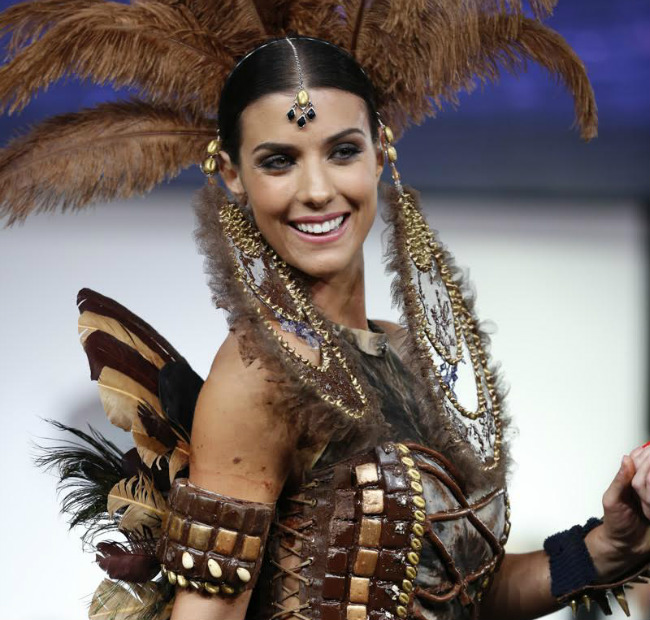 Mark your calendars for the end of October! The Salon du Chocolat is the world's largest event showcasing chocolate and cocoa. The sweet concept was created in 1994 by two passionate entrepreneurs, Sylvie Douce and François Jeantet, who fell in love with chocolate and each other!
Twenty one years later, the show is a popular success, in France and around the world– with 20 sell-out events from Europe to NYC, Shanghai via Tokyo, Moscow and London. The salon promotes knowledge and expertise in chocolate, from bean to bar. This year's themes? "Cocoa expressions" and "chocolate innovations."
The event hosts many high-end international chocolatiers and is a unique opportunity to taste and discover eclectic chocolate in all its forms, such as Christelle Brua's amazing dancing bear made in collaboration with artist/sculptor Richard Orlinski. (She's the the pastry chef at Pré Catalan.)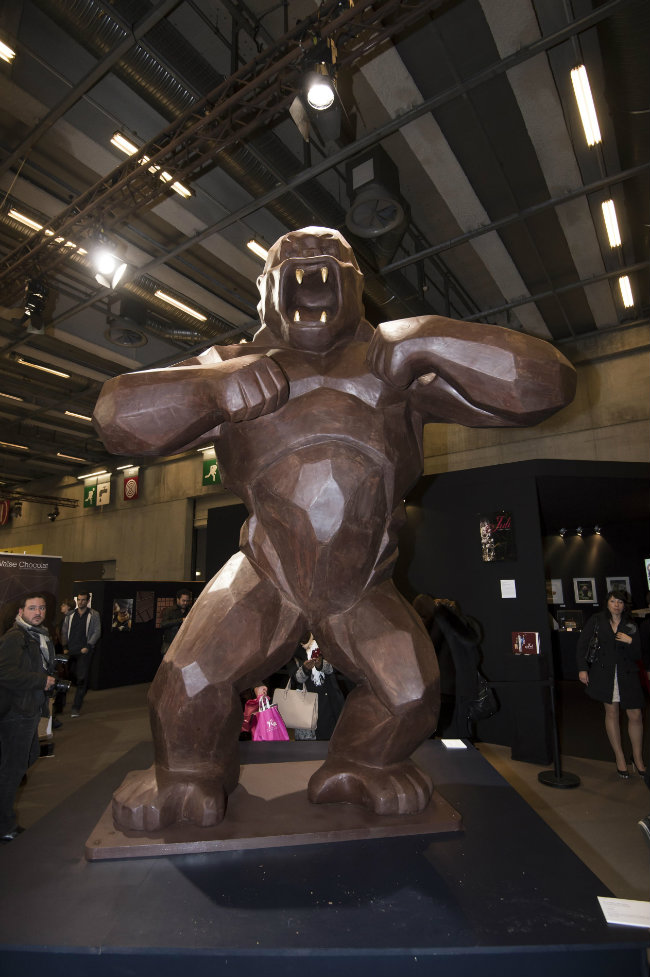 At the end of October, head to the Porte de Versailles, where 220 chocolatiers, pastry makers and confectioners, along with top chefs, pastry chefs and cocoa experts never fail to intrigue visitors with chocolate recipes, workshops, conferences and, of course, tastings!
Sylvie Douce and François Jeantet's novel concept: chocolate is a luxury item as is fashion; why not bring together the talents of chocolatiers and fashion designers to create couture chocolate dresses at a fashion show?
Incredible! Exquisite couture outfits, made and inspired by chocolate, will be presented during the Gala Evening on 27th October (by invitation only).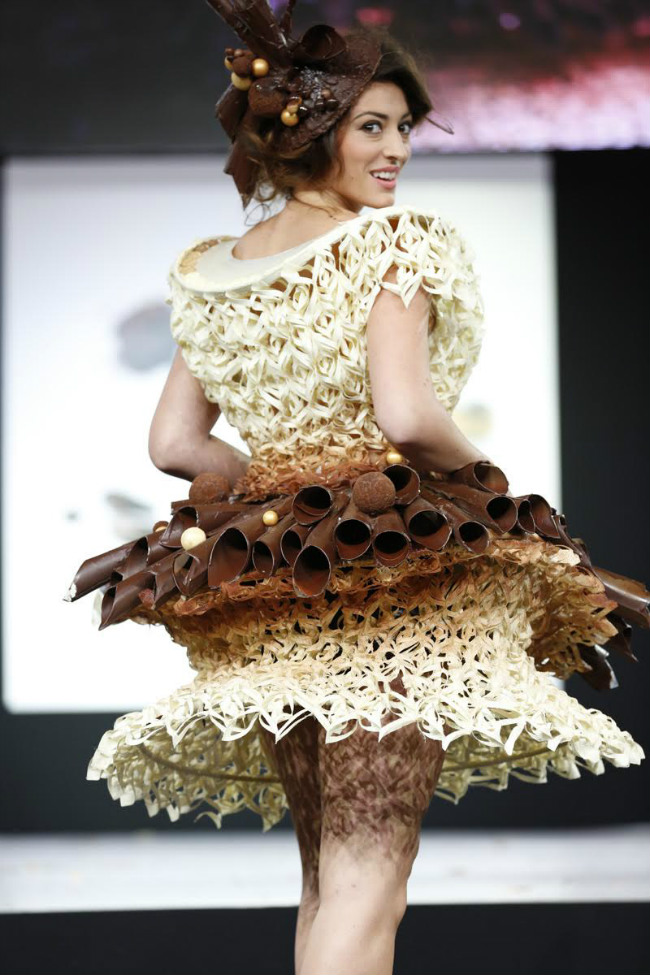 Visitors to the Salon will discover these exceptional creations during the daily runway show at 5:00pm and at a dedicated exhibition. The Chocolate Makers and Design duos for the 2015 Fashion Show include: Christelle Brua (Le Pré Catalan, Paris) & stylist Reouven Zana; Le Chocolat de H & Tae Ashida; Joël Patouillard & Manon Bresson-Cancel; Philippe Bernachon & Florencia Sorensen; Stéphane Bonnat & Valérie Pache; Vincent Guerlais & Joanna Winblad; Patrice Chapon & Tara Byakko; Nestlé & Benjamin Bout – alias Ben Brass; Arnaud Larher & Marion Bartoli; Eddie Benghanem & Joffrey Mongin; Jacques and Vianney Bellanger & Anne-Lise Duriez Grandjean.
Don't miss exciting creations by choco high priest Jean-Paul Hévin; chocolate stilettos anyone? And also a new "BtoB" (Bean To Bar) village space dedicated to gathering together a selection of key suppliers highly involved in the chocolate and cocoa industry.
The "Chocolate Awards," organized by the Club des Croqueurs de Chocolat in partnership with the Salon du Chocolat, pay tribute to the best chocolatiers and the most remarkable chocolate in the world. The 2015 "Chocolate Awards Ceremony" is Thursday, 29th October at 4:00pm at the Cacao Show space.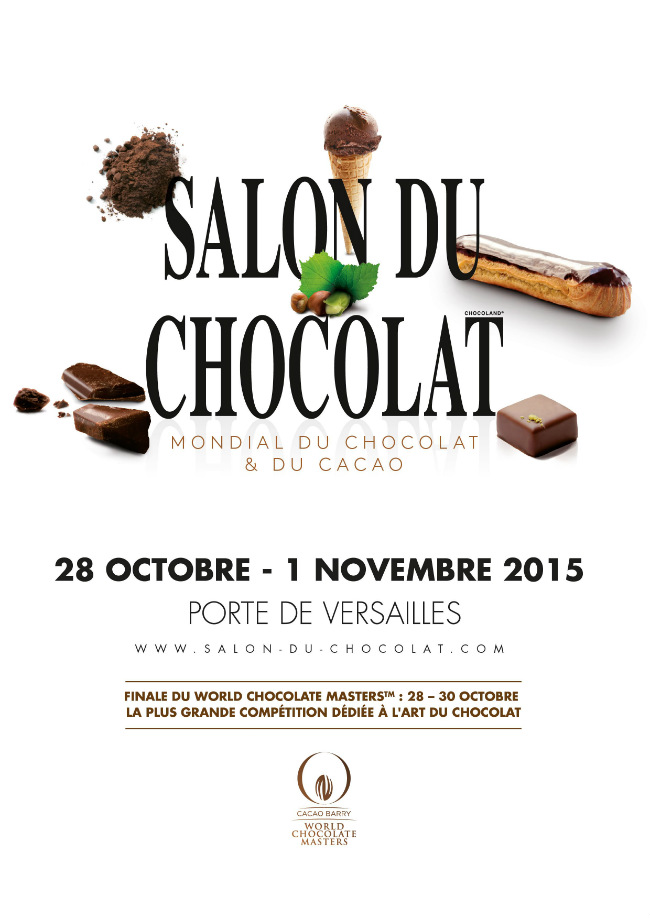 And, new for 2015: the Salon du Chocolat hosts the Final of World Chocolate Masters: organized by Cacao Barry. From 31st October to 1st November, the competition space becomes a large podium featuring live demos and educational conferences featuring the world of cocoa. From the 17 competing countries, watch USA's Dan Forgey clash copper choco pans with UK's Alistair Birt and France's Vincent Vallée.
This delicious show runs from 28th October-1st November in the heart of Paris' Porte de Versailles Exhibition Center. Entry Fee €14. For more information, visit http://www.salonduchocolat.fr/infos.aspx
But where can we eat while we're there?
Don't hesitate to reserve at Le Gastroquet (closed Sunday) five minutes from the hustle and bustle of Port de Versailles. Julien Logereau (nephew of retired chef Jacques Cagna) runs this family gastroquet with passion and professionalism. "It's a traditional cuisine; we have a freezer, but it's only for the home made ice-cream!" he says. Lunch (26-30€) includes a glass of wine and coffee. At 33 euros, the Menu Gastroquet is a great value and could include Mushroom and French bean salad; Grilled salmon/roast chicken/grilled entrecôte; Cheese, walnut salad; plus a desert du jour/truffles. Pair your meal with Chateau Lanessan (Logereau only has 48 bottles, so rush there) Haut Medoc 2003. Delbos-Bouteiller, Bordeaux. You're not only drinking wine, you're drinking history!