BUZZ: Tramshed, Bloomsbury Bar, London, Barbara Rihl's It-Bag, Paris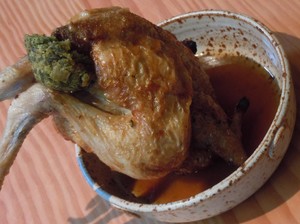 All did not begin well at Tramshed, Brit chef/owner and cookery writer Mark Hix's latest opening on Rivington Street, Shoreditch.
"I don't know if we can serve you food", winges the waiter, after we are seated. "Why not, you are a restaurant?" Snippy raises eyebrows, informs us they're having problems with the gas. Which is not much of a gas, gas, gas. He reluctantly takes orders, shows us the vegetarian menu as if it's a confidential document, and flounces off to the kitchen. No sign of Hix.
But, who cares. The decor's off the charts. Dorset born Hix obviously has friends with benefits, artist Damien Hirst must be his bestie. Holy cow who wouldn't want Hirst's Cock n'Bull, frozen in formaldehyde, perched high above diner's heads, in their restaurant? The piece is part of the 'Natural History' series, Hirst's seminal collection of preserved animals.
Another painting entitled 'Beef and Chicken' (2012) daubed specifically for the restaurant. Installed at mezzanine level, depicts the 1990's cartoon characters 'Cow and Chicken' (Cartoon Network).
The space is gigantic, as you would expect from an erstwhile tramshed. While waiting there's plenty to do, read the papers, order some snax at the long bar, pop down to the gallery and view Nick Waplington's porno/erotic "The Artifice of Eternity", quite appropriate under the circumstances. Shoot up to the mezzanine the better to admire Roberta the aforementioned bull, order a bottle of white Tramshed Collovray Burgundy (£23.50) or red Malbec La Flor, Argentina £30.
Meanwhile, when it arrives, the food is splendid, products impeccably sourced, as in the starter of Moyallon bacon and Burford Brown Egg salad. Roast Woolley Park Farm free-range chicken and chips (triple fried, touch of goose-fat) follow, as does Mighty-marbled Glenarm sirloin steak and chips, scrumpy-fried onions. Chicken or steak salad, for the ladies who do. Westcombe Cheddar, crackers and chutney for the toy-boy. Ron's apple and goosberry pie with custard. Oakchurch Farm strawberries, clotted cream.
All's well that ends well then. Under 10's eat free from the Calves' menu between 4-6pm Monday to Friday and noon-6pm at weekends. Tramshed's just one of the quirky fun restos in the eclectic Shoreditch area.  Deffo no jacket required, dress code's more full on funky T-shirt, baggy shorts for him Goth for her, and Havianas. Still no sign of Hix.
Tramshed,
32 Rivington Street,
London EC2
Undergound: Liverpool Street,
T: + 44 207 749 0478
Average Spend £28 + wine
Takeaway Available Mon-Fri 11am-7pm
Open 7/7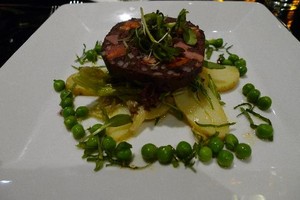 The lovely people at Bloomsbury St. Bar & Restaurant are not only celebrating Her Maj's Diamond Jubliee but, from their archives, the best of British food. Chef Redmond Hayward (ex-Remond's) suggests you choose starters from Wartime Pumpkin Soup (1940) Prawn Cocktail with Avocado (1960) Garlic Portobello Mushrooms on Toast (1980). Mains include Bubble & Squeak with creamy leeks (1940)? Don't ask, mostly made from leftovers, a war bride's recipe when food was rationed, now given best-man status in the land of plenty. Fish and chips (1950). Bakewell Tart, Apple crumble, Strawberry and Pimm's Trifle. A flute of Mercier Brut NV bubbles (£9.50) for the war-bride. A glass of Savigny Les Beaune (£7.50) for the best-man. Or, how about a nice cup of rosie lee (tea)?
Bloomsbury St. Bar & Restaurant,
9-13 Bloomsbury Street, WC1,
T: + 44 208 817 0944
Underground: Tottenham Court Road
Two courses £19.50 – three £25. + A La Carte.
Open 7/7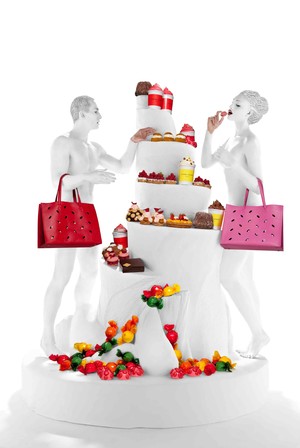 Have you noticed Pierre Hermé is now a luxury brand? Buy his mouthwatering macarons, chocs, ice-creams, jams etc. and they come packaged in stylish shiny white stencilled bags you keep long after the goodies are gobbled.
With this in mind designer Barbara Rihl (who happens to be Madame Hermé) has re-created the original concept in a soft leather rainbow of ten macaron colours. Adam & Eve sacs/cabas will be available from September you may want to order in advance as they're limited edition and you'll feel a fool without one on the prairies of Paris.  Grab one on their website.

Subscribe for
FREE

weekly newsletters.
BonjourParis has been a leading France travel and French lifestyle site since 1995.
Readers' Favorites: Top 100 Books, imports & more at our Amazon store
We update our daily selections, including the newest available with an Amazon.com pre-release discount of 30% or more. Find them by starting here at the back of the Travel section, then work backwards page by page in sections that interest you.
Current favorites, including bestselling Roger&Gallet unisex fragrance Extra Vieielle Jean-Marie Farina….please click on an image for details.
Click on this banner to link to Amazon.com & your purchases support our site….merci!
Leave a reply
Your email address will not be published. Required fields are marked *