Berthillon and Beyond: The Best Ice Cream in Paris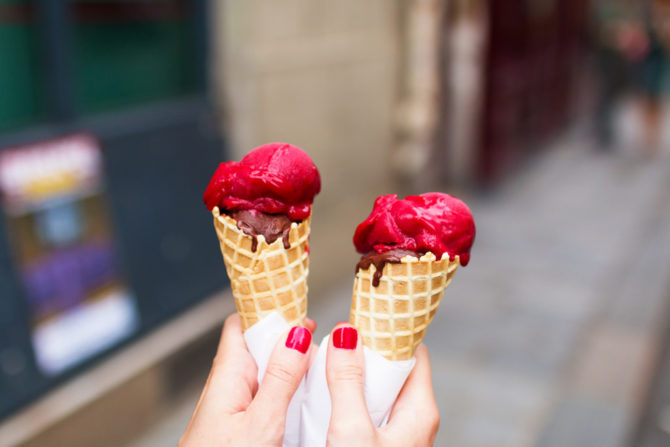 One sure sign that summer has arrived in Paris? The charming ice cream carts (chariots à glace) popping up in parks and on sidewalks. When the sun's shining and the weather's perfect, Parisians start lining up for a cone. Just as these city-dwellers have a favorite croissant, they also have a favorite glacier– often depending on the neighborhood where they live. Readers have asked us: what's the best ice cream in Paris? And we're happy to oblige. Here's a round-up of some of our favorite spots for artisanal ice cream in the City of Light. After all: I scream, you scream, we all scream for ice cream! [Do you have a favorite ice cream shop in Paris? Share your recommendations in the comments section below.]
Berthillon: Perhaps best known of all the Paris ice cream makers, Berthillon is an institution on the L'île Saint-Louis. A number of the island's restaurants also serve Berthillon flavors. If you're on the go, just order from one of the shop/eatery windows. Of the 60 parfums, we absolutely adore the caramel made with salted butter.
Pierre Geronimi: We recently had the opportunity to taste Pierre Geronimi's delicious ice cream and sorbet at Galeries Lafayette Haussmann and now we're hooked. First opened in Corsica, this gourmet ice cream company sources top-notch ingredients (like Corsican honey, blueberries, even savory ones like mustard, pine nuts, and basil) to fashion delightful creations. They've opened their first Parisian shop at 5 rue Férou in Saint Germain, and you can also find it at Galeries Lafayette Gourmet. Tip: A scoop of strawberry sorbet in a glass of champagne is absolutely divine.
La Tropicale: Located on Boulevard Vincent-Auriol in the 13th arrondissement, La Tropicale is an artisanal company which makes small batches of delicious ice creams with seasonal ingredients. The flavors are original and often interesting pairings like "strawberry mint", "lemon absinthe" and "coconut sesame". We love the tea-cardamom flavor. La Tropicale also has ice cream carts which you can find at various events and locations in Paris.
Chocolat Chapon: Situated on the Rue du Bac not far from La Grande Épicerie, Patrice Chapon is one of the best chocolate-makers in Paris. (Come to the shop to sample the heavenly chocolate mousse from the "Bar à Mousses aux Chocolats".) But did you know that Chapon also used to make ice cream for the Royal Court at Buckingham Palace? In the summer months, there's an ice cream cart on the sidewalk and we highly recommend it.
Une Glace à Paris:  For a decadent treat in the historic Marais, head to the Rue Sainte-Croix de la Bretonnerie where two award-winning chefs and seasoned restaurateurs– Emmanuel Ryon (Meilleur Ouvrier de France Glacier 2000 and World Pastry Champion) and Olivier Ménard (pâtissier chez Pierre Hermé and Harrods in London)– have created a sublime spot.
Pozzetto: There's usually a line outside for some of the most delicious gelato in Paris (two locations are just meters away from each other: 39, rue du Roi de Sicile and 16, rue Vielle du Temple in the Marais). The pistachio flavor is a tried-and-true favorite.
Martine Lambert: A popular destination on the Rue Cler, the beloved market street in the 7th arrondissement, Martine Lambert has been making high quality ice cream since 1975. The secret to the taste? A daily delivery of unpasteurised milk and cream straight from a farm in Normandy…
Grom: One of the world's best Italian gelato makers. Enough said. Multiple locations in Paris including Saint-Germain, the Marais, and Latin Quarter.
À la Mère de la Famille: Did someone say praline ice cream with caramelized hazelnuts? One of the city's best-loved chocolateries– in existence since 1761–has released a new ice cream flavor just in time for the summer. The best part of all? You can buy an entire tub of it for indulging at home.
Lead photo credit : Berthillon, ©Ayça Hande Ergitürk
Leave a reply
Your email address will not be published. Required fields are marked *
Comments