Banca, London, Champs Elysees Plaza, Paris, News from Guy Martin Buzz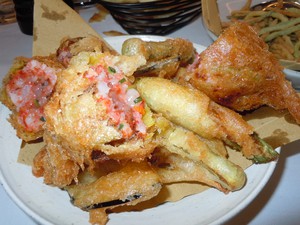 Banca, the recently opened Italian, located in the former NatWest bank building, is attracting a cool London crowd.  They're ultra high networth individuals and Banca looks set to become their new HQ. Greeters and staff, ultra chic in "uniforms" by Joseph, seague into the scene, bit like a film set. Am I really here?
"Roma wasn't built in a day", says Antonio, presenting the wine card before we even have a chance to look at the menu. The sommeliers want to construct a selection of the best Italian wines in London. "But we are taking our time", he adds.
Banca's, witty designers have guarded the original copper vaults, no one, as yet, has complained you'd need to rob one because of the prices! Behind two bars chefs prepare hot and cold dishes, eat inside or on the patio in warm weather. Note the bread oven, best bread basket in W.1, warm moist basil, focaccia, michetta, pan brioche, breadsticks etc. and, no extra charge. Scandalous the way they get away with that in London town.
To the right of the entrance, where once a John Major lookalike managed your moolah, the long bar serves bellinis, glasses of prosecco. The above mentioned wine list has every decent year of the super-Tuscan Sassicaias, however, Antonio says the red Gravina Bianco Botromagno 2011 from Puglia at £26: is excellent and the White Gavi de Gavi Bastasiolo 2011 at £25, "wonta breaka de banca". There's also a section by the glass and divine Negroni, Americano, Rossini cocktails.
Indossando I bianci (wearing the whites) is Gabriele Milani. His Northern Italian dishes include a tasty starter of slow cooked egg with polenta, wild mushrooms and truffles: sumptuous salad of native lobster, peach and mint. Or, fresh  vegetable minestrone, good for bread-dipping. Excellent Acquarello risotto with artichoke, gurnard (fish) and parsley oil.  Gluten free pasta, matched with tomato and basil sauce. Try the nicely spiced deep fried courgette flowers stuffed with chopped prawns, although it's a starter it could work well as a main with a side of baby spinach/ and 36 month parmesan. (see photo)
To finish off the bread, which does become addictive, fresh soft goat cheese from Piemonte: Taleggio and Gorgonzola from Lombardy: or Castelmagno, that whiffy year-old hard cow's cheese. Desserts include refreshing fresh basil infused peaches and frozen vodka granita.
GQ Editor Dylan Jones said he had his best cannelloni ever, says Banca's serving "properly good food". See you there.
Banca Ristorante Italiano,
30 North Audley Street, W1K 6ZF
Underground: Marble Arch,
T: 0207 647 2525
Shut Sunday
Meanwhile Back in Paris: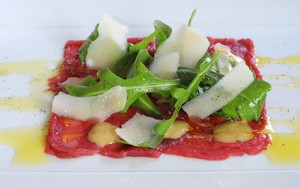 "When I created Sensing a few years ago, I wanted it to be an ephemeral work in progress, I was curious, wanted to experiment freely with different ways of serving and cooking contemporary food in a design atmosphere, so different to Le Grand Vefour", explains Guy Martin. "It's time for a change and I'm now exploring Italian gastronomy with the same concept in mind", he says.
Decor's ultra modern and Fabrizzio La Mantia's still in the kitchen alongside Michela Giusti, with the adorable Sophie Jousseaume front of house. Delicious signature dishes include: Burrata delle Puglia e prosciutto San Daniele: Ravioli de blette: Safran risotto: Espadon rôtie, aubergines à la sicilienne. Finish with Gàteaux de Mantova, saboyan au marsala. Viva Italia!
Guy Martin, Italia,
19 rue Brea, 6th
Metro: Vavin
T: 01 43 27 08 80
Lunch 50€ including wine, water & coffee
Dinner A La Carte or Tasting Menu 85€ with wine pairings 110€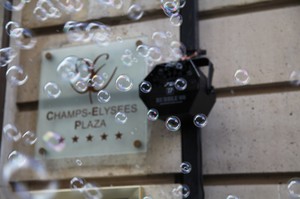 At Le 35, just behind the Champs Elysées, champagne tastings are a neat autumn theme to note if you want a few flutes of bubbles, delicious selection of chef Vincent Bouchers spin on tapas/canapés. Sip La Maison de champagne Louis Roederer, Veuve Cliquot or Bollinger, James Bonds' favourite fizz, to the beat of a cool jazz band.
Lunches and dinners at the Plaza's Le Keller restaurant are themed with the champagne, so if you miss the soirées, catch up with a romantic lunch or dinner.
Or, get a room! There's 35 designer chambres and suites, jacuzzi baths, Hermès freebie products, boutique décor and sumptuous breakfasts. Why not order champ with breakfast?  Lovely way to start the day.
Champs Elysées Plaza,
35 rue de Berri, 8th
Metro: George V
Soirées Dégustation Champagne Bar Le 35,
Average spend for tasting and tapas 28€
6th September, 4 October, 8 November, 6 December
Reservation essential
Valet parking
T: 01 53 53 20 20

Subscribe for
FREE

weekly newsletters.
BonjourParis has been a leading France travel and French lifestyle site since 1995.
Readers' Favorites: Top 100 Books, imports & more at our Amazon store
We update our daily selections, including the newest available with an Amazon.com pre-release discount of 30% or more. Find them by starting here at the back of the Travel section, then work backwards page by page in sections that interest you.
Current favorites, including bestselling Roger&Gallet unisex fragrance Extra Vieielle Jean-Marie Farina….please click on an image for details.
Click on this banner to link to Amazon.com & your purchases support our site….merci!