Alain Milliat's Bistro & La Cantine Du Troquet Buzz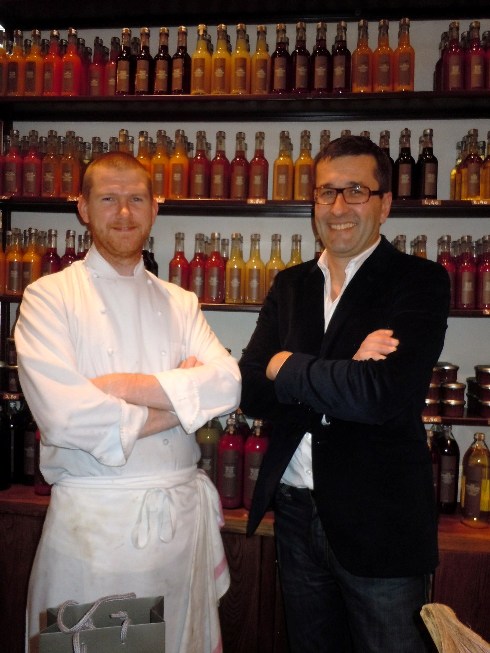 The reason behind Alain Milliat's good looks is probably his lip-smacking healthy juices! From the family's orchards, all over France, the world, come the mostly organic ingredients for a collection that Milliat keeps adding to, and taking away from with the change of the seasons.
Juices, nectars, jams and purées are displayed like library books in the recently launched contemporary bistro like; atmosphere's left-bank informal. Sit upstairs or down, let mixologist Sandrine create a cocktail, with or without alcohol. "The restaurant/boutique's a showcase for our products, we want feedback from all the customers, professional clients", explains Milliat.
The blackboard menu changes daily. It's created by Brit-chef Jon Irwin, who worked with Andrew Turner in London and Pierre Gagnaire and Akrame Benallal in Paris.
"Lunch dishes changes daily, the dinner weekly", says Irwin. He says his cooking is influenced by all the greats he's worked for. Oeuf cuit 62°, the risotto de Quinoa noir. Saumon cuit a basse temperature.
Canette, betterave crapaudine et pistache. And Jon's mum's crumble recipe for dessert, revised and corrected with caramel et beurre salé, glace fenouil. And of course, chef's making best use of the juices and nectars.
"There are good years and bad, just as for wine-making", he explains. "Nectars like Red and White peach, raspberry, are produced once a year, during the harvest, when the fruit has a perfect balance of flavour", he explains.
In 1997, when Milliat concocted the first six juices, he contacted 60 Relais&Chateaux somméliers to taste his product, give their opinions. "They were so positive they would use my juices it gave me confidence to continue", he recalls.
Today, there's more than 36 nectars and juices. Recently Milliat has also added jams and fruit purées. "Some juices are obtained after pressing (Pippin apples, carrots) or after centrifugation or refining (tomato). Some are filtered (Grape, Pippin Apple) others sieved to remove big pieces (Autumn Pear, Cox's Apple). A pure juice does not contain any additives, colouring, or preservative", Milliat insists.
If he could have just one? "It's Cox Orange Pippin, my signature juice", he smiles. Asked what he's working on now, he replies: "I'm not telling you!" he laughs.
For breakfast Milliat suggests, Summer Pear Nectar or Chardonnay White Grape Juice.
Red or Yellow Tomato juice for brunch/lunch. Sweet/sour flavours for cocktails, such as Green Tomato and Rose Grape Juice. "And, for cooking, flavour fruit slads with Strawberry Mara des Bois Nectar, use Pure Morello Cherry Juice to deglaze meat juices or add a dash of Mandarin Juice to your cakes", he suggests.
Alain Milliat, Orlienas,
159, rue de Grenelle, 7th
Metro: La Tour Maubourg, Line 8
T: 01 45 55 63 86
Wi-Fi
Shut Sunday-Monday
Afternoon tea
Starter + Main + Dessert 28€ Lunch – 36€ Dinner + wine/juice/nectar
Boutique open 10am-22hrs
Restaurant 12-14hrs – 20-22hrs
Downstairs can be privatised.
Order on line:
Also at:
Plaza Athénée
Grand Epicerie, Bon Marché
Royal Monceau,
Les Tablettes de Jean-Louis Nomicos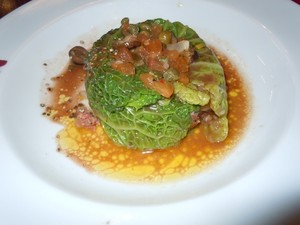 "Fifteen years I've been a genereux", says chunky, hunky, chef Christian Echtebest, taking a break from the buzzing open kitchen of  his left-bank "La Cantine de Troquet" He's been open two days and its' packed and noisy.
Echtebest, a smiley welcoming man, is one of Generation Constant, that exclusive band of chefs who trained under Christian Constant.
After a stint at Le Crillon, with chef Constant and Dominique Bouchet, this rugbyman, from the Basque region, set up his first Troquet (slang for bistro or bar) and, along with other Generation Constant chefs such as Yves Camdeborde and Thierry Breton created La Bistronomie, read, hip new wave eating.
They filled their neo-bistrots over and over sending out fresh produce, traditional with a modern spin. No tablecloths, menus, nor reservations. Daily changing dishes were noted on blackboards, erased as they sold out.
"My Troquet favourite dishes are all about the pig, my grilled pig's ears are my signature", Echtebest licks his lips. "Charcuterie comes from my friend Eric Ospital. Fish arrives daily, so do the vegetables. We hand-cut potatoes for the chips. Even potatoes have their season, I can't stand anything frozen", he insists. A small jar of Piment d'Espelette arrives with the Guacamole starter, good fresh bread, and the helpings are generous. Discover the white, red and rosé Irouléguy, Harri Gorri Brana 2007 (38€).
Other starters include vast plates of charcuterie, Le Jambon 3 Fermes, grilled pig's ears, Terrine de Boudin. For the ladies who do there's Salade Caesar de la Cantine. Pumpkin soup or chicken soup with croutons and parmesan: Oeuf Mayo: Crevettes à la plancha..
Every main sent out looks gobsmackingly gorgeous: Fish grilled à la plancha: Swordfish: Dos de Lieu (plaice) Dorade or St. Jacques with celeri purée. Taste the chips, please!
Trenchermen will love the steaming, traditional, Saucisse, lentilles, the Echine de Cochon "Ibaiona.
Cheese is from artisan Dominique Fabre. Generous desserts include Macaron café praliné: Clafouti aux fruits: Grosse Merangue, crème Chantilly, Tarte Orange chocolat.
There's a great deal of laughter from the open kitchen. Echtebest comes out, greeting his friends – word of mouth works fast amongst neo-foodies. Virginie and Benoit are in charge of the salle. Behind the beautiful zinc bar, by Nectoux even clients seem to be lending a hand. It's that kind of atmosphere.
"We did quite a bit of work on the kitchen, put in bookshelves (which display vintage and current Michelin guides)". "I want Troquet to be an extension of my home (he lives down the road at Cambronne), people can come from early 'til late".
So, just to keep you in the loop, Echtebest sold the rue Boivan Troquet to his former second. He still owns La Cantine de Troquet, 101, rue de l'Ouest, 14th no reservations, no telephone.
His Troquet, Dupliex is located right across from the eponymous metro. Lucky locals, a jewel just opened on their doorsteps. However, this Troquet is worth schlepping across Paris for.
La Cantine du Troquet, Dupleix,
53 Boulevard de la Grenelle 15
Metro: Dupleix
Open 7/7 Breakfast from 7hrs/11am
Service from 12hrs-22.45
Average Spend 33€ – 3 courses
Terrace
Wine from 5€
T: 01 45 75 98 00
No site: No reservations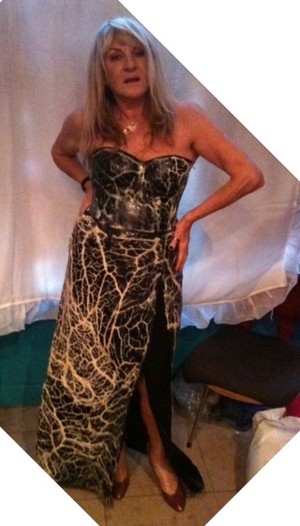 The 4th Edition of Paris des Chefs was a resounding success. Did Frédérique Grasser Hermé steal the show? Falling out of a body hugging strapless gown, she did a Joe Cocker numero (You Can Keep Your Hat On) with actor Franҫois Berleand and two hunky guys from the Chippendales. Shimmering across the stage was she imitating Lady Gaga in her dress made from pure pig? "Tout est bon dans le cochon", say the French. Did FEGH cook her "crepine de porc" robe after the show? Who knows.
"Don't call me Lady Gaga", she pleaded. "I'm Lady Gala!".
See you there next year.
Karil Lopez (ex-Frechon) is in the open kitchen. Damien's in the salle of their authentic neo-bistro. Valentine's dinner can't get much better than this:
The Menu:
Royale de foie gras, petite salade de lentilles à l'huile de truffe
et velouté de lentilles
Royal-style foie gras, lentil salad with truffle oil and velvety lentil soup
~~~~~
Noix de Saint-Jacques meunière, tétragone mi-cuite
et bouillon de champignons mousseux
Sautéed scallops "meunière", New Zealand spinach
and foamy mushroom broth
~~~~~
Caille rôtie au romarin, mousseline de céleri au saté
et sauce aigre douce
Roast quail with rosemary, fine mousse with
sweet-and-sour satay sauce
~~~~~
Macaron au chocolat et croustillant noisette, glace à la vanille gousse
Chocolate macaron with hazelnuts, vanilla ice cream
Menu unique du mardi 14 février 2012
55 euros par personne (hors boisson)
13 rue Mademoiselle 15th (Metro: Commerce)
T: 01 42 50 35 29

Margaret Kemp is a Cordon Bleu graduate who spent a year traveling the world, working and watching in the kitchens of top chefs from Sydney, Australia via Bangkok, Hong Kong, California, New York and France. She reports for BonjourParis on the latest European trends, restaurants and hot spots. Please click on her name to see her weekly stories dating back to 2003 . . . et merci, Margaret.
Merci

, les abonnés

premium

,

nous vous apprécions

.
BonjourParis has been a leading online France travel and French lifestyle site since 1995.
Top 100 France-themed books & more: Readers' Favorites.
The best of Paris and France restaurants in your hands…please click on an image for details.
Nothing but the best for you, including "French Bistro," the new release by the owner of popular Bistrot Paul Bert in Paris.
Thank you for using our link to Amazon.com…your purchases support our site.
Leave a reply
Your email address will not be published. Required fields are marked *