A Fancy (Organic) Feast for the World Leaders at COP21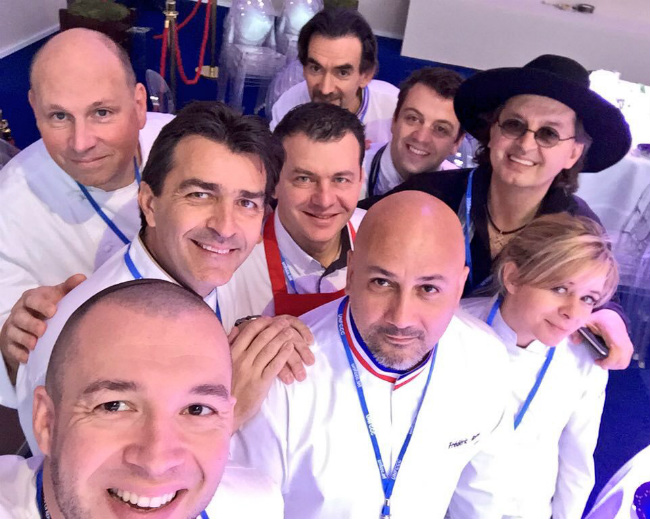 The Paris Climate Talks, the United Nations Conference on Climate Change (COP21), kicked off in Paris yesterday with nearly 150 heads of state assembled at Le Bourget for the much talked-about event. There is much at stake (read more coverage from Le Monde and The Washington Post).
How to start things off on the right foot? Welcome these politicians, in true French fashion, with an elaborate Opening Ceremony feast concocted by the country's finest star chefs. As reported by Le Monde, yesterday's COP21 lunch menu highlighted organic, local products like turnips, as nearby Freneuse used to be the "turnip capital," and scallops from the Baie de Seine, adorned with flowers cultivated in Courances, near Paris.
The brigade of champion chefs was nine Michelin stars strong: Yannick Alléno (Pavillon Ledoyen in Paris), Alexandre Gauthier (La Grenouillère, in the north of France), Nicolas Masse (Sources de Caudalie near Bordeaux), Marc Veyrat (La Maison des bois) and Christelle Brua, head pastry chef at Le Pré catelan.
Here's the full, droolworthy menu served on the Elysée Palace's Sèvres porcelain service: turnip soup; suprême de volaille served with a herb-dotted risotto, confit of stuffed celery, and cream of spinach; organic Reblochon cheese from the Savoie region; and, for dessert, a Paris-Brest (what else but this traditional Parisian pastry?)
Photo credit : The chefs behind the COP21 meal via Twitter/@ggomez_chef
Leave a reply
Your email address will not be published. Required fields are marked *