Les Puces de Saint-Ouen: A Celebration at Paul Bert Serpette Market
Since age 5 when he followed maman around "les puces," Jean-Cyrille Boutmy has been passionate about antiques, art, and vintage bric-a-brac. So, hardly surprising that he admired the Paul Bert Serpette Antiques Market, in Saint-Ouen just north of Paris, so much that in 2014 he acquired it from the Duke of Westminster (1951-2016).
Boutmy, a tall elegant entrepreneur, is founder and CEO of Studyrama, the independent media group. On weekends, he browses the maze of alleys, stalls and boutiques — greeting the 350 dealers by name, and adding finds to his collection. "Paul Bert Serpette is the only permanent marketplace in the world offering such an eclectic range of rare artworks, objects, and furniture," he thinks. "You must get lost in the alleyways," he insists.
So, the fabulous history of "les puces" continues its evolution. Back in 1870, Paris rag-and-bone men moved outside the city limits for public health reasons, settling between the fortifications and the first houses of Saint-Ouen village where, each Sunday, they displayed their wares on the cobblestones. By 1908 the "Flea Fair" could be accessed by metro. Today, each of the many markets (Dauphine, Biron, Vernaison etc.) has their own identity and style.
Eat, drink, chill at Ma Cocotte (where I recently saw Monsieur Boutmy, Alain Ducasse, and I think that was Lenny Kravitz!) It's St. Tropez in Saint-Ouen, where Philippe Starck created a unique neo-brasserie, an urban red brick château, fronted with fragrant tubs of rosemary, terraces, "flea market chic furniture," and a buzzing open kitchen.
Start with a signature cocktail, with or without alcohol (€15). Then choose between the starters of, say, Tomato Trilogie + burrata – a tangle of roquette (€16); Pissaladière onion tart (€14); Daurade, grapefruit, ginger, coriander, Thai herb ceviché (€21)– paired with a glass of aromatic Macon Prissé (€7). Meaty mains "of the moment" include L'Entrecôte Angus Argentine served with hand cut chips, sauce béarnaise and mesclun salad (€38); Beef tartare, classic or over easy (€19); Sausage and mash (€18); delicate cod steamed, sauce Tom Yam (€24); and my favorite, Fish & Chips Portobello (€22). To finish on a sweet note, try the yogurt, pineapple and passion fruit sorbet (€9); Red fruit Pavlova (€12); Lemon & Lime Tart (€9); and a flute of Maillard Rosé champagne (€15).
Need to Know
Come celebrate the annual open night Paul Bert Serpette "Puces, Mon Trésor" on Thursday 19th September, 2019 from 7 pm. At this time, the market, hosts the most eccentric party in the world.
With a cast of antique aficionados, interior designer and Paris dandy Vincent Darré will be Ambassador of the evening. Track down that fabulous 70s rug, vintage furniture, clothes, exquisite jewelry, or crystal chandeliers. (Stuart Chard at Hedley's Humpers will cheerfully schlep it all home for you.)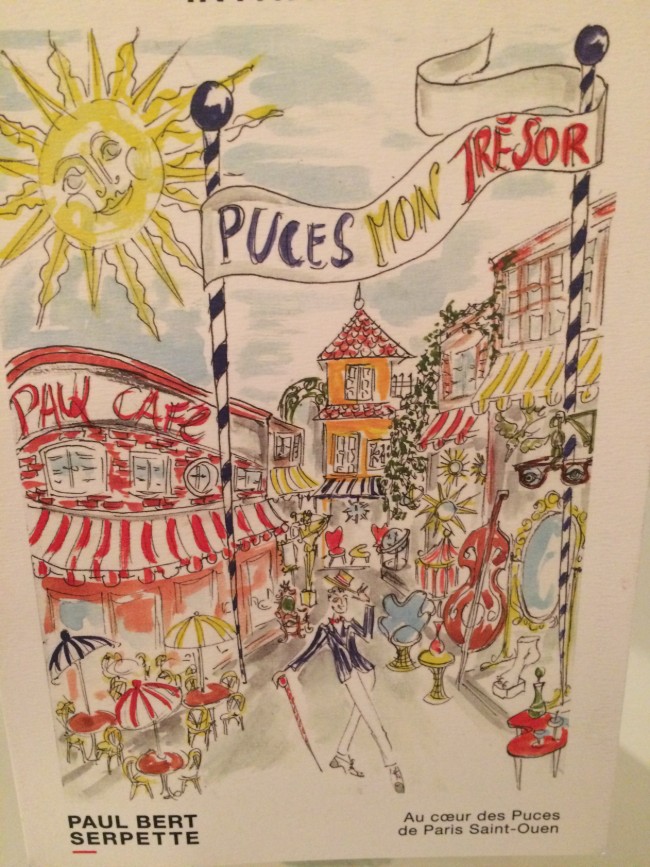 DETAILS
Ma Cocotte:
106 rue de Rosiers, 93400, Saint-Ouen
Metro: Clignancourt (Line 4)
Valet Parking
Lunch Menu €19.90, Menu Ma Cocotte €29.90 + Wine
Tel: + 33 (0)1 49 51 70 00
Paul Bert Serpette:
Open Saturday 9h-18h, Sunday 10h-18h, Monday 11h-17h. Head for 96-110 rue des Rosiers & 18 rue Paul Bert, Saint Ouen.
Lead photo credit : Connaissez-vous le Marché Paul Bert Serpette?
Leave a reply
Your email address will not be published. Required fields are marked *
Comments