Marche aux Puces de Paris at St-Ouen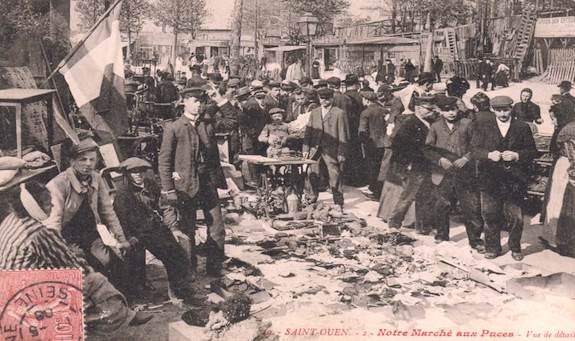 Marché aux Puces de Paris/St-Ouen
The Largest Paris Flea Market
The world-famous Marché aux Puces de Paris/St-Ouen (flea market of Paris at St-Ouen) consists of a consortium of flea markets with 3,000 stalls and shops that sell everything from fine antiques, furnishings and jewelry to clothing and bric-a-brac.
The Marché aux Puces, as the collection of markets is typically called, began in the late nineteenth century near its current location when scavengers assembled to sell junk collected from trash cans—in fact, they were quixotically referred to as pêcheurs de lune ("moon fishermen") for their overnight "fishing" expeditions. They gathered just within the Paris walls and soon plenty of cash was exchanged, attracting pickpockets, thieves, pawnbrokers and other unsavory characters.
In about 1908, vendors disbanded under pressure from law enforcement and municipal tax authorities. To escape tax penalties, they scattered to three locations located just outside the city walls: Porte de Clignancourt in the Paris 18th, Porte de Montreuil in the Paris 20th and Porte de Vanves in the Paris 14th that are now the three largest Paris flea markets.
Today the St-Ouen market at the Porte de Clignancourt includes 14 separate markets built in the years since and the collective is recognized as one of the largest flea markets in the world. A professional association manages the property that covers about 15 acres with respected dealers, artists, tchotchke-sellers and restaurateurs. If you use a smartphone, search your favorite sources for a variety of available apps.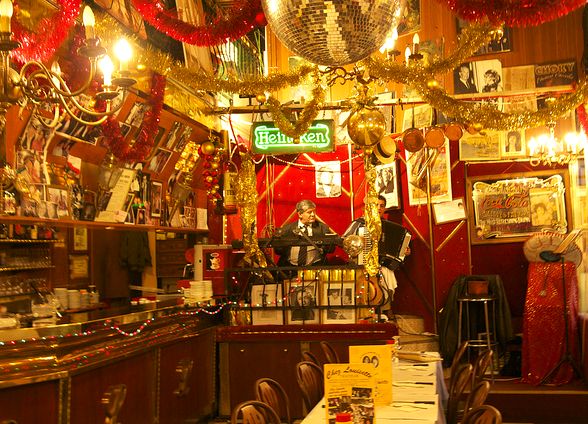 On market days Saturday through Monday, this particular area of the Paris 18th arrondissement is vibrant, multiculturally diverse and crowded. There are several casual restaurants; most are best for a crêpe or snack at best. The longtime favorite is Chez Louisette, a retro-style lively bistro with bands performing classic French songs. If you like accordion music and musical sets featuring hits by Edith Piaf, this is a fun stop for a glass of wine and light nibbles.
The larger, more sophisticated dealers have grand showrooms; other markets contain stalls where bric-a-brac vendors are likely to close early on slow days or in inclement weather. Monday afternoons are traditionally the best day for bargain seekers when numbers are down and shopkeepers want to make a sale, but keep in mind that some dealers close to all but professional buyers with advance appointments on Mondays.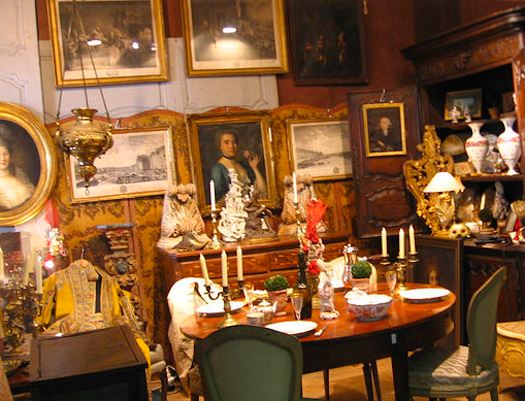 Prepare for your visit
If you think you'll need cash, grab it near your hotel or apartment and avoid using the ATMs anywhere near the market. Don't bring your passport; most vendors accept Visa and Mastercard credit cards. You can get a map at the main business office and at some stands, or before leaving you can print a copy of this brochure with map.
Serious dealers go very early in the morning and you should, too. Take the Métro line 4 to Porte de Clignancourt and follow the crowds up and across the large concrete overpass. Take care to pass the unlicensed street vendors you'll pass along the way and don't be fooled as many visitors who stop, thinking they shopped the official market. We urge special caution here because this is where the slick pickpockets do their work on confused tourists unfamiliar with the area. Keep your camera and bag tightly under your control and politely wave off anyone who tries to stop you and keep moving.
Enter the official market and proceed along the main artery, avenue de la Porte de Clignancourt, then head left at rue des Rosiers to reach separate markets, which tend to run into each other without distinction.
Are there really deals to be had? Will a vendor take you for a ride? Cela dépend. It depends on your knowledge and understanding of what you're hoping to buy. If you are a savvy collector who knows her stuff, is fluent in French and well versed in the art of haggling, you may do well. But it's a worthwhile experience even if you don't speak French and want to spend a few hours exploring and perhaps shopping for souvenirs. If you're seriously shopping for something expensive and rare, you'd do well to hire a private guide who specializes in such matters.
Like all Paris markets, all prices are negotiable. You'll have a better chance of negotiating with these seasoned vendors if you spend some time chatting with the vendors (many speak English) and sincerely admiring the merchandise.
Many claim the best finds are found in Marché Vernaison, 99, rue des Rosiers, and its smaller next-door neighbor, Marché Antica, where over 200 vendors sell Provençal cookware, antique toys, French Empire-era clocks, Oriental rugs, sepia postcards, old perfume decanters, Art Nouveau vases and much more.
Other "don't miss" Marché aux Puces de Paris/St-Ouen markets:
The official website lists and describes all of the markets. Some highlights include: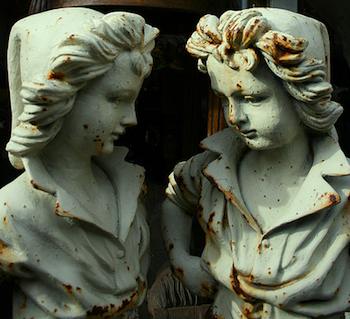 Marché Biron, 85, rue des Rosiers, has seemingly infinite pieces of country-style wood furniture. It also carries gilded King Louis XV and King Louis XVI, French Empire-style furniture.
Marché Cambo, 75, rue des Rosiers, is a good place to browse, but it is easily missed because looks like a warehouse tucked behind Marché Biron.
Marché Malassis, 142, rue des Rosiers, sells furniture, 18th- & 19th-century objects, silver items, and Asian pieces.
The newest market, Marché Dauphine at 140, rue des Rosiers is one of the largest markets within the Marché aux Puces and has everything from rare antiques to ornamental furniture pieces, to books and prints, vintage clothing, rugs, and even garden pots.
Marché Serpette, 110, rue des Rosiers and Marché Paul Bert at 18, rue Paul Bert have a huge selection of furniture, paintings, mirrors, vintage clothing, art deco furniture, kitchenware, and much more.
PRACTICAL INFORMATION:
Marché aux Puces de Paris/St-Ouen
Paris 18th
Métro: 4, Porte de Clignancourt
Bus: 56, 60, 85, 95, 137, 166, 255
Open:
Saturday 9am-6pm
Sunday 10am-6pm
Monday 11am-5pm (vendors stop sales for lunch breaks and many dealers are only open for advance appointments)
PHOTO CREDITS: Antique postcard, public domain image; Chez Louisette ©elaineh; Antiquaire. Photo: iris_iris and Rusting bust. Photo: sarahs97
Janet deAcevedo Macdonald is a former Paris resident.
More in cultural differences, Flea markets France, marche, marche vanves, market, Neighborhood, Paris, Paris sightseeing, Paris tourism, Paris tourist tips, Shopping, sightseeing, Vanves Flea Market, Vanves market
---
---