Maison Kitsuné Opens Its Second Boutique in Paris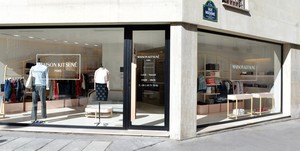 Maison Kitsuné is a collaborative brand between Gildas Loaëc, creative director of the band Daft Punk, and the architect Masaya Kuroki, who made a switch to fashion design. Bringing together music, fashion and design, Kitsuné is a unique concept of trendy and modern luxury. The success of the brand stands on the pure fact that they're not trying to create something new but rather master the standards. Redefining "classics" with distinguished clothing for men and women, the Maison Kitsuné lines designed by Masaya, combine the philosophy of tradition with a modern attitude and a Parisian twist. Nothing is too tight or too loose – but just right for today's environment, which calls for fresh proportions, structured volumes, and refined materials. There's a lot of care given to the quality of fabrics and the tailoring of the garments. Just as much care has been given to the interior design of their newly opened boutique at 38 rue Madame. After settling in the 1st arrondissement with its Parisian boutique on rue de Richelieu and its Café Kitsuné tucked away in the gardens of Le Palais Royal, Maison Kitsuné officially opened its second boutique September 25th. Just steps away from Le Jardin du Luxembourg and Saint-Germain-des-Prés, the new Maison Kitsuné boutique, conceptualized by design and architecture firm Numéro111, boasts a gentle ambiance with hues of beige and powder pink, which compliments Maison Kitsuné's eye-catching French flair. The design complements the clothes and the other way around, which makes it for a harmonious space. The fine elements of structured materials, such as rattan, leather and marble, complement the boutique's exceptional elegance and sophisticated identity. The concept for this intimate space is part living room and part boutique, infused with homelike elements, creates a welcoming and friendly atmosphere. Above all, the new Maison Kitsuné boutique is an invitation to relax in a setting that unites the worlds of music and clothing. If you're not flying to Paris any time soon, you should check their flagship store in New York or any of the 150 retailers including Barneys. Maison Kitsuné Paris at Rue Madame 38, rue Madame 75006 PARIS T: +33 1 53 71 76 62
Email
Opening Hours: 11h – 19h30 Mon – Sat
SUBSCRIBE
ALREADY SUBSCRIBED?
BECOME A BONJOUR PARIS MEMBER

Gain full access to our collection of over 5,000 articles and bring the City of Light into your life. Just 60 USD per year.

Find out why you should become a member here.

Sign in

Fill in your credentials below.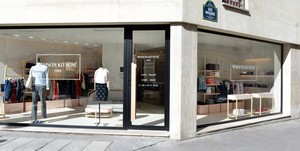 Maison Kitsuné is a collaborative brand between Gildas Loaëc, creative director of the band Daft Punk, and the architect Masaya Kuroki, who made a switch to fashion design. Bringing together music, fashion and design, Kitsuné is a unique concept of trendy and modern luxury.
The success of the brand stands on the pure fact that they're not trying to create something new but rather master the standards. Redefining "classics" with distinguished clothing for men and women, the Maison Kitsuné lines designed by Masaya, combine the philosophy of tradition with a modern attitude and a Parisian twist. Nothing is too tight or too loose – but just right for today's environment, which calls for fresh proportions, structured volumes, and refined materials. There's a lot of care given to the quality of fabrics and the tailoring of the garments.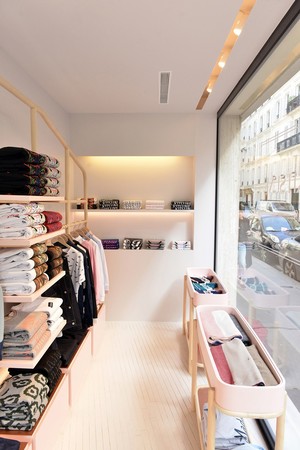 Just as much care has been given to the interior design of their newly opened boutique at 38 rue Madame. After settling in the 1st arrondissement with its Parisian boutique on rue de Richelieu and its Café Kitsuné tucked away in the gardens of Le Palais Royal, Maison Kitsuné officially opened its second boutique September 25th. Just steps away from Le Jardin du Luxembourg and Saint-Germain-des-Prés, the new Maison Kitsuné boutique, conceptualized by design and architecture firm Numéro111, boasts a gentle ambiance with hues of beige and powder pink, which compliments Maison Kitsuné's eye-catching French flair.
The design complements the clothes and the other way around, which makes it for a harmonious space. The fine elements of structured materials, such as rattan, leather and marble, complement the boutique's exceptional elegance and sophisticated identity. The concept for this intimate space is part living room and part boutique, infused with homelike elements, creates a welcoming and friendly atmosphere.
Above all, the new Maison Kitsuné boutique is an invitation to relax in a setting that unites the worlds of music and clothing. If you're not flying to Paris any time soon, you should check their flagship store in New York or any of the 150 retailers including Barneys.
Maison Kitsuné Paris at Rue Madame
38, rue Madame
75006 PARIS
T: +33 1 53 71 76 62
Email
Opening Hours:
11h – 19h30
Mon – Sat
More in fashion, Maison Kitsuné
---
---