Nuit Blanche 2018: Discover the Constellation Porte Dorée and St Louis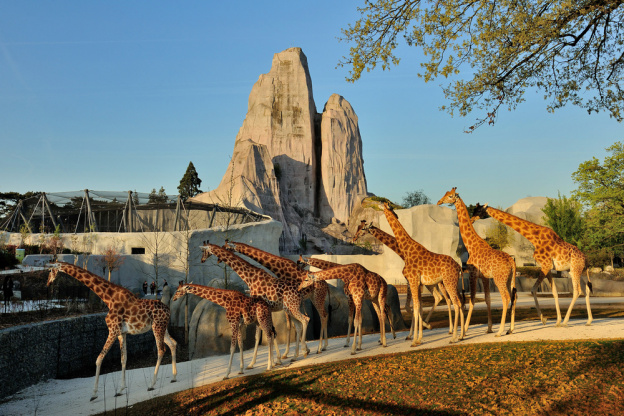 Arts et Sciences: It's the theme for Paris's 17th edition of Nuit Blanche! On the first Saturday in October, in all parts of the city, artists will be proposing installations, exhibitions, concerts, and performances that explore all facets of contemporary art and offer a new view of the city. Each year the city appoints a curator to do with Paris as s/he wishes from 7 pm to 7 am on Nuit Blance. (Yes, this Saturday, 6 October!) Transport is free (some wonderful installations may just be planted for you on the metro this year) and plenty of cafes and bistrots will pull all-nighters with you. This is the second in a series of Nuit Blanche articles published on Bonjour Paris. To read them all, click here.
It's no time for shut-eye: 2018's curator is UniverScience art director Gaël Charbau, who has created four constellations in both inner and outer arrondissements of Paris:
–          Porte Dorée
–          La Villette
–          St Louis
–          A central stretch from Invalides to Grand Palais/Palais du Tokyo
To win the THATMuse Challenges posted on social media see the end of this piece!
CONSTELLATION PORTE DORÉE
MUSÉE DE L'IMMIGRATION (Palais de la Porte Dorée)
293, Avenue Daumesnil 75012 Paris (Metro Porte Dorèe, Michel Bizot)
Magic of the Ordinary, Installation by Benjamin Loyauté
For the first time Porte Dorée and the Musée de l'Immigration is included in Nuit Blanche, and how better to be celebrated than by artist, academic and filmmaker Benjamin Loyauté? Loyauté, who's frequented Syria both before and during the current conflict, visited displaced Syrians and refugees to make a film about them. Struck by Middle Eastern fondness for sweets where souk stalls were once abundant with street candy carts, Loyauté invented a new sweet in the shape of an Eye Idol, a 4th century Assyrian archaeological amulet (incidentally discovered by Agatha Christie's husband, Max Mallowan, in 1937). Syrians give affectionate pet names to their sweets, so Loyauté has named his Louloupti. A version of the Nuit Blanche installation, the 'Magic of the Ordinary' appeared in the 2016 London Design Biennale. Of Louloupti, he says "I wanted to find the most humble, modest object which can link all Syrians together. I chose the shape because it's a small archaeological object that predates Islam. I wanted to talk about the deep culture, the history, the living heritage, to emphasize the ancient civilization of Syria." Beautiful, isn't it?
THATMuse Challenge: Anyone who's been on one of our Louvre or British Museum treasure hunts (or who may have read France Today's Empty Quarter piece on the Louvre) will know what a Lamassu is. An ancient Mesopotamian protective genie, five-legged so that he looks still from straight on, and from the side is walking. Please find a well-lit corner of the Palais de la Porte Dorée and with a bit of photo-gymnastics figure out how to pose with one human body and 5 legs, as you hashtag #NuitBlanche and #THATMuse  
MOVING URBAN JUNGLE, Metro Line 1
Porte de Vincennes, installation by Florian Viel
We've written about hidden treasures behind the Serre in Jardin des Plantes, but this Nuit Blanche Paris is topping such green glory magic with Florian Viel's travelling Green House! Various cars on metro line 1 will have a moving jungle meant to challenge our perception of the experience of public transport. Mingling plants with the crowd, Viel is taking urban green one step further by inviting performers to become one with the plant, in a sort of "becoming nature," which removes the human from its presumed superiority." Paris is one of more than 70 cities worldwide that have pledged to become 'carbon neutral' by 2050, meaning we'll produce no more climate-changing emissions than we offset, such as planting carbon-absorbing trees. In March the city adopted a climate action plan that aims to make Paris entirely powered by renewable energy. Perhaps Viel's Nuit Blanche plant performance installations will be permanent in the not-too-distant-future!
THATMuse Challenge: Take your most urban metro shot and hashtag #CarbonNeutral #NuitBlanche and #THATMuse
Parc Zoölogique de Paris (Vincennes Zoo)
Avenue Daumesnil 75012 Paris (Metro Porte Dorèe)
The Secret of the Rock, Sound & Light Installation by Philippe Quesne 
Who doesn't want a night wander in the largest Cubist sculpture in Paris to a soundtrack combining voices, melodies and of course the murmur of nocturnal real animals? For the first time the Parc Zoölogique, aka the Vincennes Zoo, will participate in a Nuit Blanche.  Continuing on the NB theme of Arts et Sciences, the famous 1934 'Grand Rocher,' built by Charles Letrosne of reinforced concrete, will be the backdrop to the natural itinerary created by former theater & opera set designer Philippe Quesne. An insect collector as a child, Quesne tends to create a scenography used as an ecosystem to which he immerses his actors. Now the Zoo is his stage. With mysterious lighting plunging us into a lucid dream whose dramaturgy evokes science fiction narratives à la Jules Verne, where "the universe of mankind approaches that of nature," kids and adults alike will enjoy their night stroll.
THATMuse Challenge: Nocturnal Jaguars and Tigers, of which the Vincennes Zoo has its share, hunt at night. Do your best Tiger claw and perhaps contribute to Quesne's soundtrack with a roar for your post with #NuitBlanche and #THATMuse hashtagged to win your hunt!
CONSTELLATION ST LOUIS
The center of town will be filled with Nuit Blanche treasures, from Hugo Schiavi sculptures on the parvis of Hôtel de Ville to a fashion show in Townhall's Salle de Fête, from a lightshow inside St Eustache, to a Fantôme des Halles trinkets by Bertille Bak found outside the Bourse de Commerce. The Collège des Bernadins is open with monumental works by Abdelkader Benchamma in the 5th arrondissement and Korean artist Min Oh has video installations at Cité Internationale des Arts. Because there is so much going on centrally, and because we have plenty of street treasure hunts in the 4th, 5th and 6th arrondissements, we are only depositing one central Nuit Blanche treasure:
BIBLIOTHEQUE FORNEY
1, rue du Figuier 75004 Paris (metro St Paul or Pont Marie)
Theatrum Doloris. A Burning Stage, installation by Hugo l'ahelec
Theatrum Doloris, Hugo L'ahelec's Nuit Blanche piece addressing religion, ritual, the sacred and ceremony juxtaposed with the culture of entertainment, sets the scenery between a funerary wake and stage machinery. From high mass to carnival, L'ahelec has ladder-like jungle-gym installations with large sheaths of purple and pink sails hanging in the medieval courtyard of the Hotel de Sens. Heavily restored, but originally built in 1519, the Hotel de Sens blends architectural features from both Gothic Flamboyant (that divine porch in particular, as well as those turrets crowned with conical roofs) and the French Renaissance. Nineteenth century residents were varied, from a warehouse, lodgings, laundry to a canning factory. The Bibliothèque Forney, founded in 1886 by industrialist Samuel-Aime Forney, moved to Hôtel de Sens in the 1920s. Specializing in the Decorative Arts, this library has 23K volumes, 50K exhibition catalogues and 4K Newspaper titles.    
THATMuse Challenge: Take a night shot of the whole façade of Bibliothèque Forney and on your photo circle/ draw an arrow pointing to the 1830 revolution cannonball found in its façade (just above that 2nd window from the left on the top floor). Hashtag #THATMuse and #NuitBlanche and you've earned your points!
THATMuse staffers Daisy de Plume and Alexandra Aldersley are highlighting a few of their favorite Nuit Blanche events this week on Bonjour Paris, setting small treasure hunt challenges per constellation. The team who hashtags their treasure hunting answers the most (throughout the night, Sat 6 Oct), could win a free Treasure Hunt at the Louvre for up to 5 people (entry tickets not included, valid for 6 months). So watch this space for our articles to plan your Nuit Blanche route…
TO QUALIFY:
–          Follow @THAT_Muse_ on Twitter & Instagram
–          Hashtag #NuitBlanche #THATMuse on all posts so we can track your treasure hunting challenges (embedded in this week's BP articles)
–          Tag away throughout the night & email [email protected] with subject heading Nuit Blanche and the number of posts you did to win your Classic Treasure Hunt au Louvre!
Lead photo credit : Photo courtesy of Parc Zoologique de Paris
Leave a reply
Your email address will not be published. Required fields are marked *