This winter, the Théâtre du Châtelet again offered a blockbuster revival of "An American in Paris". The theater, fresh from its two and a half years of renovations, was able to offer new support to the production through cutting-edge technology, the return of diva Leanne Cope from The Royal Ballet in her starring role, seamless inventive staging, sparkling costume design, and increased accessibility and comfort for theater-goers. You can read Kasia Dietz's glowing review of the production for Bonjour Paris here.
Along with other viewers, my husband and I loved the performance. Even more, however, we adored a bonus offering to those of us who had reserved seats for the production. An email announced that, for ticket-holders of the evening performance only, a one-hour tap dance lesson, 90 minutes prior to the evening performance, could be purchased for the bargain price of 15 euros per person, shoe rental included. My husband and I, both in our late 70s, immediately signed up. We had tried an introduction to ballet class prior to a performance of New York City Ballet a few years before and it had been a lot of fun – but nothing could promise more delight than a taste of tapping with the pros. Add a Parisian teacher and professional rehearsal room to the mix, and we were sold. We signed up as soon as we spotted the invitation, aware that the max number who could be accommodated (30) might be reached quite quickly.
Our mid-December evening began with the challenge of reaching the theater in the midst of the transportation strikes. Bus 72 was repeatedly packed and twice we were unable to even board. Finally we flagged down an available taxi, only to find that was just a first step. The ride across Paris, that normally would have taken 30 to 40 minutes on the bus, required more than an hour, as we inched through bouchons at Alma, Concorde, Pont Neuf. We arrived at Châtelet in time to locate the rehearsal studio behind the theater and search through shoes until we each found our perfect fits.
Thirty of us – all ages, sizes, shapes, backgrounds, dance histories – formed three long lines facing the front of the room. Some of us had come with a friend or partner; others were jumping in solo. Victor Cuno, top teacher at SwingTap, Ecole de Claquettes, introduced himself and Marius, his adorable son. They were to be our guides for the evening, Victor calling the moves, offering feedback, accompanying us on the piano as we mastered each section of the routine we were to learn, and encouraging us throughout, Marius demonstrating and leading, his father occasionally joining him.
We began with single taps and counting, adding some sounds to mark the rhythm. A few repetitions, some gentle nudges to those among us who were too tight and others who were too loose, and we were soon in unison. The piano joined us and we realized we were tapping!
As the lesson marched along, we learned steps, routines, new melodies and rhythms and, by the end of what was a bit over the scheduled sixty minutes, we had all put together enough steps and music to form an actual routine. Along with our teachers and others in the class, we both shed extra clothing as our bodies warmed up, and the sheer joy in the music and movement called for nothing but the essentials.
After the class, we made it to the theater in time for the performance, along with regret that we would not be in Paris long enough to sign up for Victor's 14-session "saison de claquettes". We will be looking into possibilities for another single class opportunity before we arrive for our next trip and for chances to follow up at home. We agreed that our introduction to "les claquettes" was one of the most fun and rewarding things we have yet done in Paris. We are grateful to Théatre du Châtelet and to Victor and Marius Cuno for offering us this discovery. Discover more at www.swingtap.com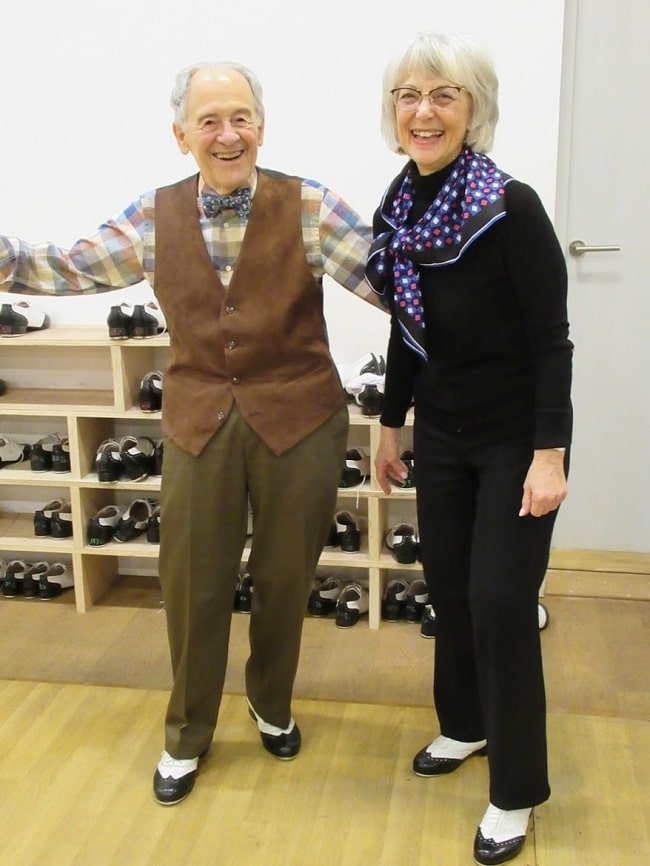 Lead photo credit : Image credit: Unsplash, dolodol
Leave a reply
Your email address will not be published. Required fields are marked *
Comments