Alvin Ailey Dancers Rock Paris: Interview with Yannick Lebrun on Life as a Professional Dancer
In mid-July, world-famous dance company, the Alvin Ailey American Dance Theater, brought its strength, spirit, and inimitable power to the city of Paris.
The company performed at La Seine Musicale in Boulogne-Billancourt to delighted Parisian audiences. The company's "popularity ensured a full house for the opening programmes," wrote the Financial Times. It was their 5th time since 2006 performing in the City of Light. The company is on its European tour through September 10th.
(If you're travelling around Europe, and eager to see a performance, you can view their full tour schedule here.)
The company is known for the outreach work, as well as their bold, unique performances. Their philanthropic reputation is one that followed them to Paris as well, where they taught master dance classes to underserved communities in Paris. NPR chronicles their Paris outreach efforts here.
One of Ailey's star dancers is Yannick Lebrun. He is a native of French Guiana, an overseas department of France, and an official French territory. (Lebrun spoke with Bonjour Paris sister publication, France Today magazine, last year.) 
Lebrun took time out of his busy performance schedule for an interview with Bonjour Paris to share his tips for healthy living, his highlights with Ailey, his excitement for performing at La Seine Musicale in Paris, and much more.
BP: What diet and wellness habits do you have that help you maintain a strong, healthy body for dance?
YL: I'm not on a very strict diet. I've always enjoyed eating and trying different types of food. However, making sure I start every day with all the vitamins I need has always been key for me. I also carry lots of healthy snacks and fruits with me in my dressing room, and during rehearsal. Working out (lifting weights, cardio, swimming) outside of my work schedule is also very important to me to be able to maintain a strong and solid body. We travel with a physical therapist every tour and season. In certain cities, the company will provide a massage therapist as well, which really helps to prevent injuries or aids in recovery during long tours and very physical ballets. I also love taking baths after my performances.
BP: How do you manage balancing a rigorous rehearsal, performance, and tour schedule all at once?
YL: The Ailey company tours so much that people often ask me how I manage to travel, rehearse, perform…repeat, repeat – season after season. Well, we do have time off while on tour, and thank God each dancer gets a certain amount of performances off, which means I'm not on stage every night. First, I think about how I can avoid getting injured or sick. Health and wellness always comes first, making sure I see my physical therapist 3 to 4 times a week at least, getting enough rest, exercising. Also after 9 years in this company I've been able to learn how to work efficiently, especially while rehearsing on tour.
BP: What has been one of your highlights as a member of the Alvin Ailey American Dance Theater?
YL: During my first year with Alvin Ailey while on tour in Washington D.C., we had the opportunity to meet and shake President Barack Obama's hand after the performance. I wish I could relive that moment.
Also, I will never forget the day when the Artistic Director Robert Battle called me in his office last year and showed me that I was on the poster, the official face of the Alvin Ailey American Dance Theater for NY City Center season 2016-US tour 2017. I was overwhelmed by so many emotions. I thought about growing up in a place far away in South America (French Guiana), where it was impossible for me as a young boy to even dream of becoming a professional dancer with the most acclaimed dance company in the world. It still feels so surreal and I'm so honored.
BP: What is one of your career goals you would like to accomplish in the next 10 years?
YL: One of my career goals I'd like to accomplish would be to inspire even more people wherever I go, bring dance to communities and children who don't have necessarily have access to the art. I also want to keep traveling to as many places as possible to get inspired for future projects and grow as a human being. 
BP: What are you excited about for this year?
YL: This year I was excited about performing in a brand new theater in Paris, "La Seine Musicale," from July 4th until July 22nd. I'm also looking forward to the new ballets coming this next season.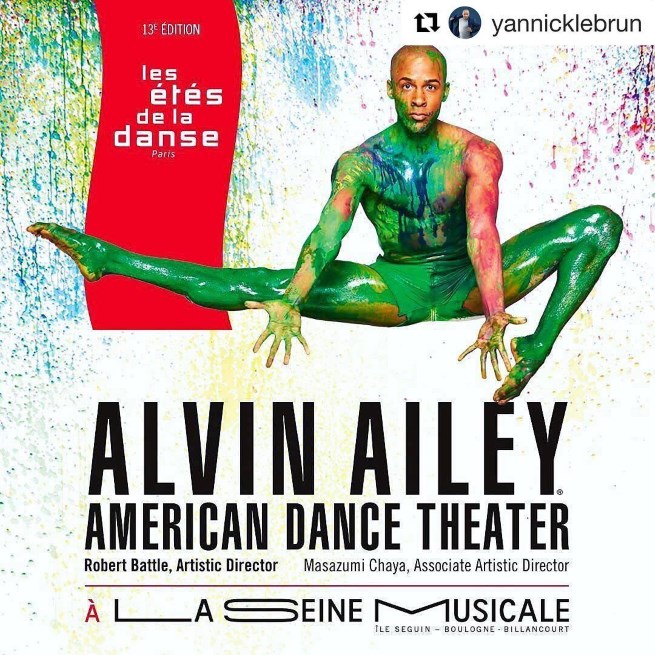 BP: What advice would you give to someone who wants to have a career in dance?
YL: First, you must truly love dance. Stay passionate and believe in yourself. Training and staying open to different dance styles are so important. Finally, to work hard and understand that success doesn't come right away, it takes patience and perseverance. Trust that you're unique and you have that special gift that no one else has.
Lead photo credit : Alvin Ailey American Dance Theater's Yannick Lebrun / photo credit: Andrew Eccles
Leave a reply
Your email address will not be published. Required fields are marked *