Luc Besson's "Anna": Yes, But is it Trash ?
Give director Luc Besson credit: as bad or unsatisfactory or otherwise turkey-ish as his films may be, there's always something interesting about them. First, he's very canny in casting voluptuous young stars: Milla Jovovic was his fetish in several films, Scarlett Johansson starred in Lucy, Anne Parillaud in Nikita. Now Sasha Luss stars as the eponymous Anna, a Russian government assassin and top model on the side. Like those other actresses she has the eyes, cheekbones and athletic-sensuous body that evoke a mix of Vogue, Playboy and manga. Much of the film lacks a plot, is instead a voyeuristic biopic of our Russky pussky. Ms Luss doesn't act badly, has a real presence that holds our interest, and is dead gorgeous to look at. (Sort of a guilty pleasure in the context of Besson's recent MeToo-like difficulties)
The male leads are less interesting. In the past, Besson relied on actors like Jean Reno and Bruce Willis. Luke Evans as Tchenkov, Anna's fellow Russian spy (and sometimes lover) is serviceable, but not much more, while Cillian Murphy as his CIA counterpart (and Anna's other sometimes lover) has a feline attractiveness and menace which almost redeem the typical American B-movie performance, but not quite. Eric Godon as the brutal, Putinesque baddy isn't bad but not nearly as deliriously villainous as Gary Oldman from Besson's Leon.
The real co-star is Helen Mirren, as Olga, the middle-aged intelligence officer who is Anna's immediate superior. Ms. Mirren brings a crusty anti-charm to her role, genuinely intimidating but perversely sympathetic. Sometimes Olga seems to be mentoring Anna, other times bent on getting her killed. She turns out to have an agenda of her own, the one real interest in terms of both character and narrative development. More generally, the film comes alive whenever Ms. Mirren is on screen.
Besson's other talent is for visuals. Whether staging action scenes, framing shots, or setting up arresting compositions, he's a confectioner of movie eye-candy. In Anna, he cranks up his skills for the beginning and the ending. The movie's start is a series of sequences showing the Russian authorities fearsomely suppressing some apparently US-sponsored intrigue. This has the power of some of the scenes in The Death of Stalin and even the Godfather films. It may also be meant to be the catalyst for all that follows, though this remains murky.
The ending is also well done and exciting in a gut-bucket action-movie way. Besson obviously wanted his audiences to leave the theatre with an adrenalin high. The climax takes place in Paris's Parc Monceau, and involves armed showdowns and double and triple-crosses. It's a pastiche of countless Hollywood thrillers, Scorsese's The Departed, assorted Tarantino films, and Besson's own past films … cheesy as hell, but it works.
In between the compelling beginning and ending, oh what a long, dragged-out, and drearily exploitative middle. We get Anna's life story, beginning as a poor, abused girlfriend of a foul-mouthed lout. This section is hard-going grotty realism but it has some life to it. Besson makes a real effort to portray the rougher edges of Russia's post-Communist lower depths. When Anna joins the world of spies it's less genuine, and seems to have come out of old Hollywood depictions of the Evil Empire. Besson doesn't seem to realize that the KGB changed its name to the FSB—or else his huckster intuition knows that "KGB" still resonates with people in a way "FSB" doesn't.
When top-modeldom is chosen as Anna's cover the action moves to Besson's home turf of Paris. We're treated to a parallel narrative: a send-up of fashion and the chi-chi milieu Anna has crashed, and her bloody career killing state enemies (why they're state enemies is never made clear). Besson frequently reverses chronology to show us what really happened behind the scenes. This effectively underlines the criss-crossing manipulations of the world he creates, but just as effectively kills any forward narrative momentum.
Besson squanders the Parisian material, for there's yet another interesting aspect to this odd director: his perennial, quixotic attempt to be a Real Hollywood Filmmaker. Every bit of Anna's dialogue is in English, but it's doubly hokey: first because of the stilted script (written by Besson, perhaps with the help of Google Translate) and then because of the not-quite-natural-sounding articulation of the mostly European cast.
Anna is definitely not art, and it's sad when we remember the young Besson who captivated audiences with films like Subway, Le Grand Bleu, and The Fifth Element. Anna has the meretricious goodies we enjoy in the summertime and, as mentioned above, some interesting remnants of Besson's talent, but unlike less pretentious commercial fare, it leaves a bad taste in your mouth. His achievement is to have made the Eurotrash Extravaganza a genre all his own.
Production: Europacorp
Distribution: Europacorp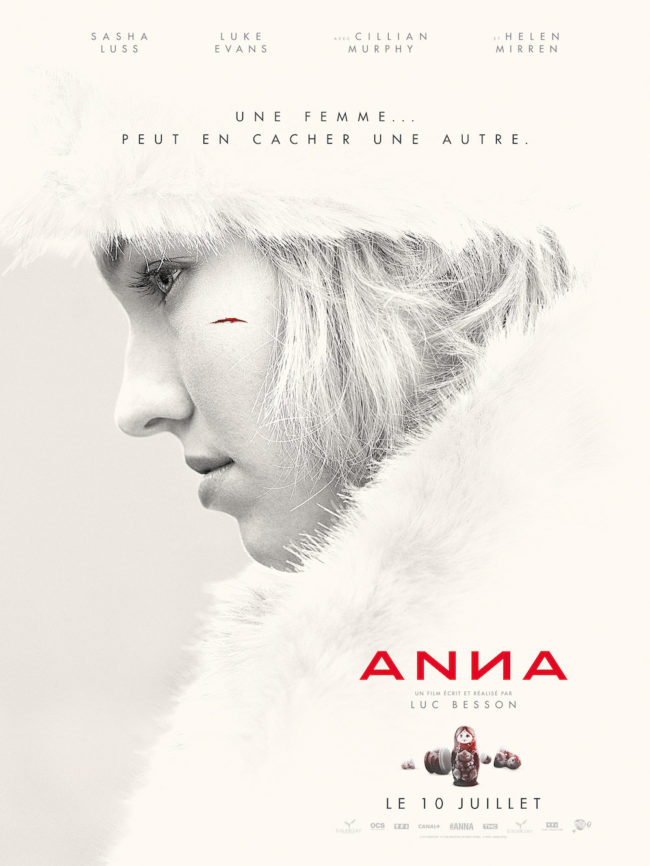 Photo credit : Anna (official trailer). Photo © Youtube
Leave a reply
Your email address will not be published. Required fields are marked *