L'Incroyable Histoire du Facteur Cheval: See the Film in Paris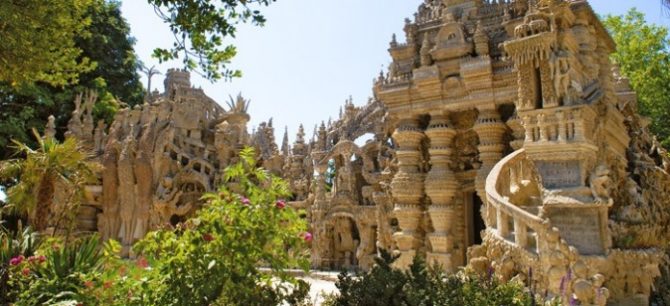 The
Palais Idéal
("Ideal Palace") is one of France's hidden gems and the only example of Naïve Architecture in the world. After taking 35 years to build, it still stands today in the Drôme department, in the village of Hauterives, and welcomes visitors year round. On September 2, 1969, the
Ideal Palace
was classified as an official historic monument by André Malraux. He is quoted declaring that the Palace is "the only representation in architecture of naive art (…) It would be childish not to classify it when it is we, the French, who are lucky to have the only naïve architecture of the world," and it is this reasoning that led him recognize it as an important monument. The story of the palace all started with a man named Ferdinand Cheval. He was a postman living in Hauterives in the mid 19th century. After the birth of his daughter, Alice, he became determined to build a palace for her. The idea to construct the palace came to him in a dream. After tripping on a rock, he was reminded of a dream from years ago, which prompted him to pocket the very rock he tripped on. When he returned to the same spot the next day he found more and more rocks that he collected. Each day he would pick up more stones on his post route, until he eventually invested in a wheelbarrow. He worked by oil lamp all night at home, enduring decades of ridicule, until his vision was completed. The end result was a grand palace composed of an assortment of various architectural influences. Styles were taken from various religions from Christianity to Hinduism to ancient Egyptian Mythology. Many members of the Ministry of Culture regarded the palace as "hideous" but despite this, Cheval was commended by highly respected artists such as Pablo Picasso for his work. In 2018, this inspiring story was turned into a film. Nils Tarvernier brings the postman's struggle and triumph to life in his movie "L'incroyable Histoire du facteur Cheval". This film can be seen with English subtitles thanks to Lost in Frenchlation. Lost in Frenchlation is an organization dedicated to bringing French cinema culture to English speakers by eliminating the language barrier through subtitles. They will screen this film on February 23 at Club de l'Étoile, right near the
Arc de Triomphe
! For more information visit 
http://lostinfrenchlation.com/
SUBSCRIBE
ALREADY SUBSCRIBED?
BECOME A BONJOUR PARIS MEMBER

Gain full access to our collection of over 5,000 articles and bring the City of Light into your life. Just 60 USD per year.

Find out why you should become a member here.

Sign in

Fill in your credentials below.
The Palais Idéal ("Ideal Palace") is one of France's hidden gems and the only example of Naïve Architecture in the world. After taking 35 years to build, it still stands today in the Drôme department, in the village of Hauterives, and welcomes visitors year round.
On September 2, 1969, the Ideal Palace was classified as an official historic monument by André Malraux. He is quoted declaring that the Palace is "the only representation in architecture of naive art (…) It would be childish not to classify it when it is we, the French, who are lucky to have the only naïve architecture of the world," and it is this reasoning that led him recognize it as an important monument.
The story of the palace all started with a man named Ferdinand Cheval. He was a postman living in Hauterives in the mid 19th century. After the birth of his daughter, Alice, he became determined to build a palace for her. The idea to construct the palace came to him in a dream. After tripping on a rock, he was reminded of a dream from years ago, which prompted him to pocket the very rock he tripped on. When he returned to the same spot the next day he found more and more rocks that he collected. Each day he would pick up more stones on his post route, until he eventually invested in a wheelbarrow. He worked by oil lamp all night at home, enduring decades of ridicule, until his vision was completed.

The end result was a grand palace composed of an assortment of various architectural influences. Styles were taken from various religions from Christianity to Hinduism to ancient Egyptian Mythology. Many members of the Ministry of Culture regarded the palace as "hideous" but despite this, Cheval was commended by highly respected artists such as Pablo Picasso for his work.
In 2018, this inspiring story was turned into a film. Nils Tarvernier brings the postman's struggle and triumph to life in his movie "L'incroyable Histoire du facteur Cheval". This film can be seen with English subtitles thanks to Lost in Frenchlation. Lost in Frenchlation is an organization dedicated to bringing French cinema culture to English speakers by eliminating the language barrier through subtitles.
They will screen this film on February 23 at Club de l'Étoile, right near the Arc de Triomphe! For more information visit http://lostinfrenchlation.com/
Lead photo credit : courtesy of the Palais Idéal
---
---