Homage to Jean-Jacques Beineix, the Audacious Film Director
Film director Jean-Jacques Beineix has died at age 75. Beineix inaugurated a rejuvenation of the
French cinema
in the 1980s which led to a new popularity of French movies, especially in the United States. In the preceding decade French cinema had lost steam after the Nouvelle Vague of the 50s and 60s. Many directors who'd given film a modern character became politically doctrinaire, impenetrably abstruse, or like François Truffaut, more traditional. Beineix got the 80s off to a flashy start with Diva (1981), which was a surprise hit in the U.S., at least in urban film circles. This boosted the film in France, where it initially had a tepid reception. Part of the romantic-thriller's appeal in America was that it co-starred African American opera singer Wilhelmenia Wiggins Fernandez as the love interest of the music-obsessed hero. The movie marked a turn from stark modernist realism to a more romantic, poetic vision. His next film, La Lune Au Caniveau, or Moon In the Gutter (1983), starred Gerard Depardieu and was a derided flop. But it was so unpopular with critics that it became a succès de scandale, adding to his larger-than-life aura. His third film, 37.2° le Matin marked a return to critical and commercial acclaim, and made an instant star out of Béatrice Dalle. Known as Betty Blue in English, it was a more modest hit in the U.S., but Beineix was firmly established as a young but pre-eminent auteur. Aside from his own renown, Beineix paved the way for other young filmmakers, such as
Léos Carax
and Luc Besson. However, the films that followed weren't as noteworthy. He didn't become a glossy commercial filmmaker like Besson, or Jean-Jacques Annaud, aspiring to American-scale celebrity. Nor did he withdraw into a private vision like Carax. Beineix kept making films but with less and less critical and public impact. Born and raised in Paris, Jean-Jacques Beineix started his post-secondary studies in medical school but then decided to switch to the prestigious IDHEC film school. He didn't get in, but undaunted, started working as an assistant director for established filmmakers like Claude Zidi, Claude Berri and Jean Becker. He began making short films in the 70s and won first prize at the 1977 Trouville Film Festival. Despite some critical naysaying, Diva won four César awards, including Best First Film. It was also awarded the Best Cinematography prize by the American National Society of Film Critics. The movie heralded a new style that some called slick, but was also an example of what came to be known as post-modern, a style which embraced ornament, pastiche and cultural fusion. At the same time as his directorial ups (37.2) and downs (Caniveau) Beineix created his own production company, Cargo Films, not only for his own movies, but also for a number of other films which he produced. Many of these were institutional films, including for France's national research institute, the CNRS. But the feature films which followed, Roselyne et les Lions (1989), IP5 (1992, Yves Montand's last film), and Mortel Transfert (2001), were resoundingly rejected by critics and public alike. RIP, Jean-Jacques Beineix 🖤📽️ As Roger Ebert once wrote, "Here is a director taking audacious chances, doing wild and unpredictable things with his camera and actors, just to celebrate moviemaking."
pic.twitter.com/QWs18v3qAN
— Criterion Collection (@Criterion)
January 14, 2022
Beineix later turned to TV documentaries, flirtations with Hollywood, and writing his memoirs. That was followed by unrealized projects, a stint heading the Tokyo International Film Festival, and a shot as a theater director.
SUBSCRIBE
ALREADY SUBSCRIBED?
BECOME A BONJOUR PARIS MEMBER

Gain full access to our collection of over 5,000 articles and bring the City of Light into your life. Just 60 USD per year.

Find out why you should become a member here.

Sign in

Fill in your credentials below.
Film director Jean-Jacques Beineix has died at age 75. Beineix inaugurated a rejuvenation of the French cinema in the 1980s which led to a new popularity of French movies, especially in the United States. In the preceding decade French cinema had lost steam after the Nouvelle Vague of the 50s and 60s. Many directors who'd given film a modern character became politically doctrinaire, impenetrably abstruse, or like François Truffaut, more traditional. Beineix got the 80s off to a flashy start with Diva (1981), which was a surprise hit in the U.S., at least in urban film circles. This boosted the film in France, where it initially had a tepid reception. Part of the romantic-thriller's appeal in America was that it co-starred African American opera singer Wilhelmenia Wiggins Fernandez as the love interest of the music-obsessed hero. The movie marked a turn from stark modernist realism to a more romantic, poetic vision.
His next film, La Lune Au Caniveau, or Moon In the Gutter (1983), starred Gerard Depardieu and was a derided flop. But it was so unpopular with critics that it became a succès de scandale, adding to his larger-than-life aura. His third film, 37.2° le Matin marked a return to critical and commercial acclaim, and made an instant star out of Béatrice Dalle. Known as Betty Blue in English, it was a more modest hit in the U.S., but Beineix was firmly established as a young but pre-eminent auteur.
Aside from his own renown, Beineix paved the way for other young filmmakers, such as Léos Carax and Luc Besson. However, the films that followed weren't as noteworthy. He didn't become a glossy commercial filmmaker like Besson, or Jean-Jacques Annaud, aspiring to American-scale celebrity. Nor did he withdraw into a private vision like Carax. Beineix kept making films but with less and less critical and public impact.
Born and raised in Paris, Jean-Jacques Beineix started his post-secondary studies in medical school but then decided to switch to the prestigious IDHEC film school. He didn't get in, but undaunted, started working as an assistant director for established filmmakers like Claude Zidi, Claude Berri and Jean Becker. He began making short films in the 70s and won first prize at the 1977 Trouville Film Festival.
Despite some critical naysaying, Diva won four César awards, including Best First Film. It was also awarded the Best Cinematography prize by the American National Society of Film Critics. The movie heralded a new style that some called slick, but was also an example of what came to be known as post-modern, a style which embraced ornament, pastiche and cultural fusion.
At the same time as his directorial ups (37.2) and downs (Caniveau) Beineix created his own production company, Cargo Films, not only for his own movies, but also for a number of other films which he produced. Many of these were institutional films, including for France's national research institute, the CNRS. But the feature films which followed, Roselyne et les Lions (1989), IP5 (1992, Yves Montand's last film), and Mortel Transfert (2001), were resoundingly rejected by critics and public alike.
RIP, Jean-Jacques Beineix 🖤📽️

As Roger Ebert once wrote, "Here is a director taking audacious chances, doing wild and unpredictable things with his camera and actors, just to celebrate moviemaking." pic.twitter.com/QWs18v3qAN

— Criterion Collection (@Criterion) January 14, 2022
Beineix later turned to TV documentaries, flirtations with Hollywood, and writing his memoirs. That was followed by unrealized projects, a stint heading the Tokyo International Film Festival, and a shot as a theater director.
One might say that Beineix the wunderkind ended up somewhat obscure, similar to Peter Bogdanovich, the American director who also died recently. It would be more accurate to say that he was one of those artists who are inextricably tied to a particular moment. For Beineix it was the 1980s, the efflorescence of post-modern style not only in film but in other arts that flourished at that time: architecture both private and public (like François Mitterrand's "grands projets"); painting, especially graffiti art; pop music, like Les Rita Mitsouko. Love it or hate it, it brought a new youthful energy to Paris and France after the 70s doldrums.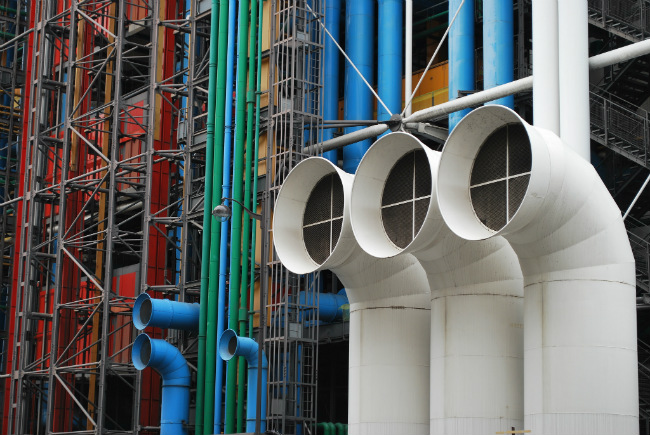 One of the epicenters of this new spirit was constructed just before the new decade: the Pompidou Center. In some ways it was in the modernist tradition: a basic cube shape, industrial motifs, the idea of being at the service of "the people". But it was also colorful and playful, flaunting its exoskeleton like Madonna showing off her brassiere. The "people" weren't just dutiful proles but young folk taking in the exhibits inside, also enjoying the buskers and other street artists outside, and interacting with one another. It was a sort of urban Woodstock en permanence.
This was the cultural moment that Jean-Jacques Beineix was not only part of, but also helped to engender. His influence on later generations was perhaps partial or oblique, but it's hard to imagine the work of filmmakers like Denis Villeneuve (Dune) without his example.
Lead photo credit : Jean-Jacques Beineix, Étoiles d'or du cinéma français, (February 2009). © Georges Biard/ Wikimedia Commons, CC BY-SA 3.0
More in cinema, Director, French director, French film
---
---