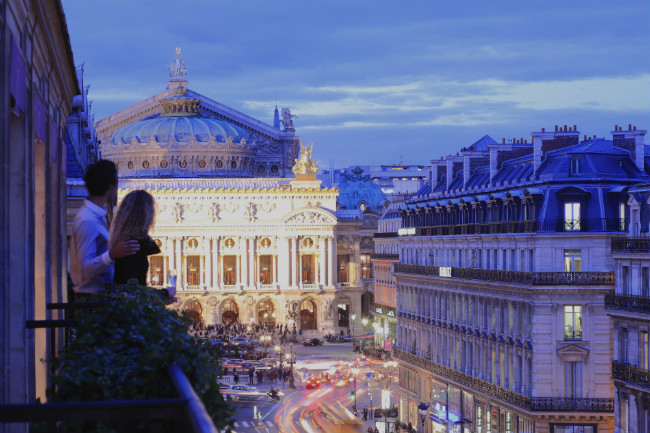 Located steps from Opéra Garnier and Place Vendôme, the Haussmann-style Hôtel Edouard 7 opened in 1877. It was the favorite Paris address of the Prince of Wales, Queen Victoria's son, Albert Edward of Saxe-Cobourg-Gotha, who reigned over England as Edward V11 from 1901-1910.
Today, following three years of renovations, the four-star hotel offers 69 rooms and 10 suites with décor by Christophe Daudré. Guests are regally welcomed into an elegant ambience, the theme of the renovations taking inspiration from the 1903 Entente Cordiale between England and France.
Christophe Daudré has created the perfect balance between modern and traditional Edward VII styles combining French elegance with contemporary design. The new rooms are enhanced with decorative elements and details, resulting in a blend of 19th century style with intricate embroideries, luxurious use of marble, as well as contemporary elements such as glass desks, designed by Christophe Daudré, and poetic notes inscribed on the walls in memory of King Edward's mistresses.
Chef Rémy Fourmeaux (whose previous stints include Hotel de Paris in Monte Carlo and Citrus Etoile in Paris) leads the team at "La Cuisine de l'E7". The airy circular restaurant, punctuated with interesting art works, is managed by Simon Peskine. It's open for lunch and dinner, Monday to Friday, and the bar "Couture" (open all the time) has a terrace with direct views onto L'Opéra Garnier.
Hotel Edouard 7, 39 Avenue de l'Opera, 75002 Paris. Tel: +33 (0)1 42 61 86 02. Rooms priced between 250€ and 1300€. Breakfast is 30€.
Lead photo credit : view of the opera from a balcony, courtesy of Hotel Edouard 7
---
---