Paris In Love Review And Author Interview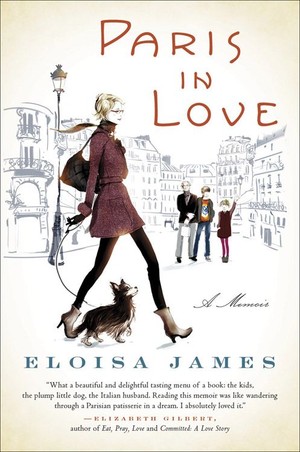 The "C" word has a profound impact.
For author Eloisa James, it prompted a move to Paris.  James was diagnosed with cancer in December 2007, and her mother died of the same disease two weeks prior.
James and her husband, Alessandro, packed up the children, sold the house and car, then moved to Paris for a year – fulfilling every Julia Child fan's dream.
Upon diagnosis, James experienced an epiphany: "I would see joy in my children's eyes…eschew caffeine, and simply be, preferably while doing yoga in front of a sunset."
Most people entertain a similar imagined existence (a videographer for a Rolling Stones tour circa 1972, for example), which is forgone for real life demands like bills, laundry and Game of Thrones.
Like her imagined one, James leads an actual "double life." Née Mary Bly, she is a New York Times bestselling author of romance novels, and a professor of Shakespeare at Fordham University. Academia meets pulp is her forte.
Soon James and her family made the move to Paris and settled into an apartment in the 9th, on Rue du Conservatoire. It is there her book begins.
Paris in Love spawned from James' updates on her Facebook and Twitter accounts, which amassed a collection of musings from her Parisian life. The posts were eventually gathered and presented in an easy-read format, which flows like a travel guidebook written by your witty best friend.
Spurts of day-to-day recounts, make for a fast-paced read: a stop at Ladurée, scouring the Clignancourt Market and shopping at the Real McCoy for American cereal.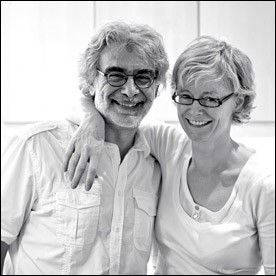 James' Italian husband, Alessandro, approves of Paris' Amorino gelato shops. Deemed an ice cream snob, he scoffs at James' love of Baskin Robbins Rocky Road ice cream. Alessandro hosts a conversation exchange with a Frenchman named Florent, who is hopelessly in love with a shy Italian waitress.
Alessandro and Florent speak for an hour in French, then an hour in Italian. When Alessandro first advertised the language exchange online, many French women took it as a masked date invitation. One woman wrote to him proposing practicing Italian at the opera, while drinking champagne.
The back of the book contains listings of James' favorite museums, restaurants and shops. Most items on the lists are not typical Must-Sees, thus helpful to tourists looking for a road-less-traveled experience, like a stop at umbrella store Parapluies Simon.
The most endearing thing about James' writing is her self-deprecation, which comes in heavy doses: "If getting lost in New Jersey was traumatic, in Paris it became an art form." James' book is a collection of things she discovers on her walks around Paris, of which her favorite was a stroll down Avenue de Villars in the 7th.
"I found peace in those walks…Paris taught me something about the art of living that I had heedlessly thrown away."
I was fortunate to speak with James about her novel, before she jetted off to Italy for the summer.
You are a graduate of Harvard, Oxford and Yale – was there a particular point in your education when you decided you wanted to be a writer?
Becoming a writer actually had nothing to do with my education — I decided to be a writer when I was still a young girl.  Back then, I was doing two things: I was cataloguing all my books, and I was writing romances.  I alphabetized my books and wrote out summaries (that was the academic side) and then I also write plays for my siblings in which my siblings performed.  The princess always found her prince.
Your husband is Italian and you and your family spend summers in Italy – what do you enjoy most about the European lifestyle?
Italians have a better understanding of time.  The days pass lazily in Florence… my husband's family is amused by but unenvious of a life that involves so much work and stress.  They are not ambitious: they live to eat, not to work.
What is your favorite thing to do in Paris?
Walk.  I love walking around Paris and losing myself.
What surprised you most about life in Paris?
Paris is full of poor restaurants; Parisians are astonishingly tolerant of poorly prepared meals. Our tendency is to account such restaurants to the presence of tourists, but as the year went on, we went out to dinner with new friends in restaurants without a single tourist (other than ourselves): those restaurants could not have survived in New York City, given the poor food, not to mention lackadaisical service. They are particularly prone to eating supermarket sushi in a restaurant: sushi fast food restaurants are every couple of blocks.  This is just to say that you should pay attention to the reputation of a place before you make a reservation. If you feel like fast food, we found Parisian Thai restaurants to be far superior to Japanese.
What advice would you give aspiring authors?
Allow yourself to write bad prose.  Just keep writing: the worst thing a writer can do is quit.  In my opinion, writing is all about revision, and it's much easier to revise a novel, for instance (because you know where it's going) than to revise a single page or a single chapter.  You definitely can't revise blank pages—so just shut off your inner critic, and keep writing until your story is finished.
Then worry about revising it.
Leave a reply
Your email address will not be published. Required fields are marked *