Coquilles, Calva, and Crème: A Love Affair with Real French Food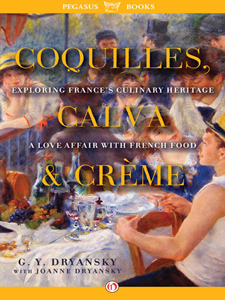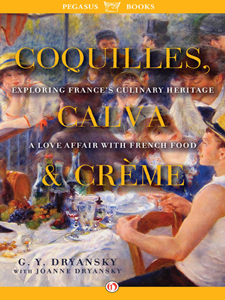 Last time I checked, which was, in fact, a few minutes ago, the median age of the French population is just a few decimal points under 40, which means it seems safe to say that G.Y. [Gerry] and Joanne Dryansky have been in France longer than most Frenchmen have. In almost half century they have accumulated enough experiences and anecdotes to put together a memoir that resembles a well-prepared meal, and it comes in four courses via their latest book Coquilles, Calva, and Crème: Exploring France's Culinary Heritage: A Love Affair with Real French Food.
One course recounts Gerry's long experience as a general reporter and fashion correspondent for the likes of the Paris Herald Trib, Women's Wear Daily and Condé Nast Traveler. That provided enough big-ticket dining à la Ducasse and au Robuchon to give him a bellyful of the restaurant rat-race with its 'shrill refrain of new, new, new', to say nothing of such stuff as amuse-gueules consisting of 'foam or baby food in shot glasses'. About this fad he pointedly quotes Christian Millau: 'We are now in a ridiculous period—ridiculous, pretentious and stupid.' The fancy-food shows he endured were usually in the company of designers and celebrities, and as a result there's another course: gossip, and plenty of it. Happily, the dish is served without malice. Dryansky is a wry and cool-eyed observer of le comedie humaine, whether it involves Régine missing a 'historically lavish ball' because her elephant got lost in the Bois de Boulonge; or the Duchess of Windsor taking the floor, so to speak, at a three-star restaurant whose facilities left much to be desired; or Coco Chanel's summing-up of a well-despised critic—a woman who wore an alarm clock round her neck as reminder of her days as a Dada darling—as 'mouth like a sewer, talks like a sewing machine.'
Another course recounts threats to traditional French cooking, the cuisine bourgeoisie and plats canailles that Dryansky calls [because in this case the French apparently don't have a word for it] "soul food." Enemies abound here. There are the power-mad sanitation authorities. Unpasteurized cheese?  Non! Outdoor iron stoves at local fêtes? Non! Wood butcher blocks and pastry pins? Non! And yet, Dryansky asks, 'why has every outbreak of salmonella or listeria that I've read about involved industrial foods under plastic in supermarkets?' What about rich but ignorant customers? The ego-feeders who spend money as freely Fernand Point used butter, like the 'four bejeweled, leggy, blonde Russian women' who besieged Sébastien Petit's tiny place in Orvilliers, 50 kilometers west of Paris, demanding 'breaded shrimp with French fries'? The French themselves are often guilty. My friend Marylou Kavaler, recently returned from her garret in the 15th, noted that there are four supermarkets within a few blocks: 'I think the French are just barely hanging on', she told me. Decrypted, her lament reflects the fact that France's most popular online merchant is Findus, the nation's leading producer of frozen food. And Picard, the frozen-food retail chain, can't be far behind.
Hence the pièce de resistance: the Dryanskys' series of locavore voyages into la france profonde, the deeply rural agricultural countryside that many Frenchmen still believe is the heart and soul of the nation. Theirs is a seek-and-enjoy mission aimed at the products, places and producers of traditional cuisine: lampreys and smoked eels; calva distilled the old-fashioned way [unfiltered]; cheese from cows that give fine milk but not much of it; the beouf gras of Bazas; and Billom garlic, cassoulet and Baeckeoffe. The places? Pays d'Auge, Alsace, Normandy, the Auvergne and elsewhere and everywhere in the Hexagon.
And the people? They are home cooks and trained chefs; some have abandoned industrial careers to revive a family restaurant; others have never left their little villages; most work alone in their kitchens up to 15 hours a day to maintain primacy of local dishes made from local ingredients. They want to cook as they please for whom they please and have no interest in the star-chef rat race and its 'shrill refrain of new, new, new'. There is nobility in their commitment to food that is not merely sustenance but a means of participating in a culture.
The Dryanskys' visits to restaurants may be taken as recommendations, and the dozen-or-so recipes they provide are worth trying. But caution and courage are advised on those recipes that are, so to say, 'chef direct'. French chefs eschew ballistic scales and graduated cylinders to work au pif—by experience and so the measurements are perforce often 'estimates of estimates'.

Subscribe for
FREE

weekly newsletters.
BonjourParis has been a leading France travel and French lifestyle site since 1995.
Readers' Favorites: Top 100 Books, imports & more at our Amazon store
We update our daily selections, including the newest available with an Amazon.com pre-release discount of 30% or more. Find them by starting here at the back of the Travel section, then work backwards page by page in sections that interest you.
Current favorites, including bestselling Roger&Gallet unisex fragrance Extra Vieielle Jean-Marie Farina….please click on an image for details.
Click on this banner to link to Amazon.com & your purchases support our site….merci!
Leave a reply
Your email address will not be published. Required fields are marked *