The Unlikely King of the Paris Brasserie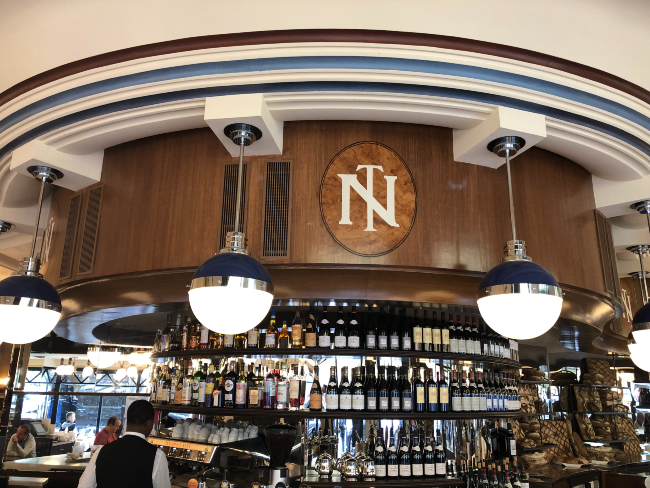 What do "Barbie Live: The Musical" and Brasserie Floderer in the 10th arrondissement of Paris have in common? Both "sets" or walls surrounding actors on a stage, or diners enjoying a meal, were decorative painted by Benjamin Craig, who calls himself the "unlikely king of the French brasserie." This past summer, Craig finished painting his 18th brasserie worldwide while working with British designer John Whelan.
"It's amusing to think that a Franco-American painter who has spent half his life in the U.S. and half of it in France has teamed up with Whelan to dash a coat of paint on the most French of all institutions – the brasserie," said Craig.
Decorative painting is more than a special coat of paint. It's a well-respected fine art where painters replicate the appearance of materials such as wood, stone or marble but also includes many other decorative and colorful finishes for walls, floors, ceilings and even furniture. It's about simulating recognizable textures and surfaces to create a faux (fake) finish. Decorative painting covers up the plain wood of a structure and brings the elegance of expensive, rare materials to rooms that would be very plain otherwise. The art even includes trompe-l'oeil (fool the eye) which replicates architectural details and depth.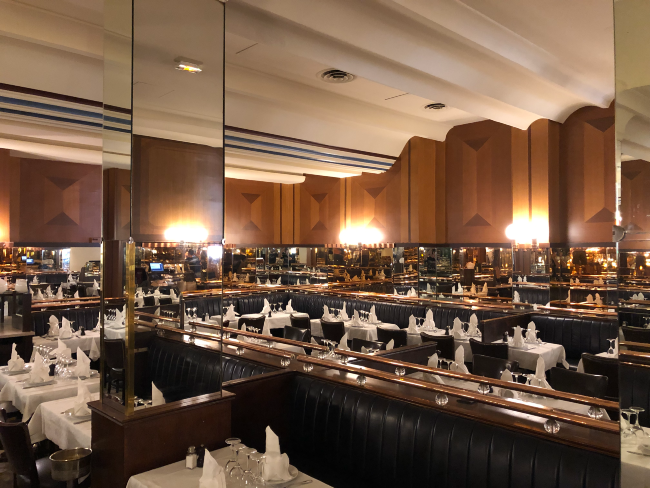 Although decorative painting began in Mesopotamia over 5,000 years ago, it took the Art Deco trend of the 1920s to make it popular for commercial and public spaces. That's when many of the brasseries in Paris and the rest of Europe decorated their walls to enhance the aesthetic appeal of the brasserie experience and add a specific personality to the restaurant.
The art of today's decorative painting is complex and uses two processes. Glaze uses a mixture of paint and glaze applied with tools such as brushes, rollers, rags or sponges to mimic textures. Plaster uses tinted plasters or earth pigments applied with a trowel or spatula. Both can be flat or textured. Some of the finish techniques using these two processes are marbleizing to create faux marble, fresco which adds mottled color and texture to walls, graining or faux bois (fake wood) to imitate wood textures, color wash to create subtle variations of color using multiple hues of glaze blended together, rag painting to create textural patterns and strié (stripe) which creates thin streaks of color using a paint brush to imitate fabrics.
As wallpaper fell out of fashion in the late 1980s/early 1990s, decorative painting became popular again. This is about the time when Craig entered the profession. He earned a BA in Fine Arts and ultimately a degree in decorative painting from the Institut Supérieur de Peinture Decorative in Paris (IPEDEC). He started his career in Brooklyn painting theater sets in a set shop where he painted sets for the Barbie musical along with the TV shows such as "The Sopranos", "30-Rock" and others.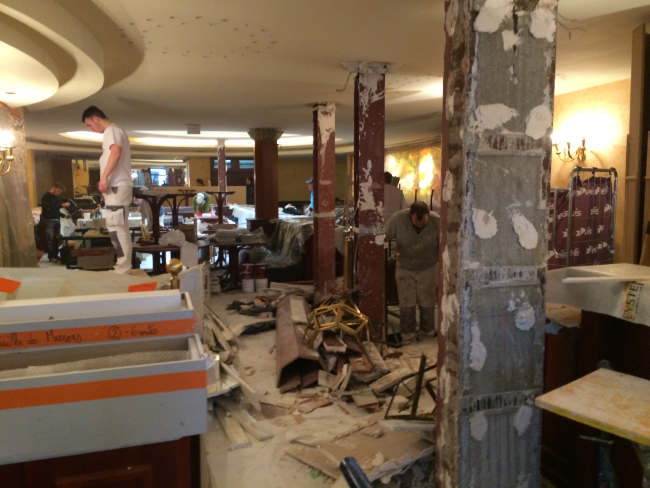 "It was tough as I didn't have the foundational knowledge to work efficiently and well," said Craig. "A friend of mine set up a meeting with Pierre Finkelstein, a Franco-American painter like myself, who wrote the bible of decorative finishes. He told me about some of the decorative painting programs in Europe which were real boot camps of the trade … so I moved to Paris and attended IPEDEC. It completely changed my way of working and gave me the foundation from which I could continue to progress."
Craig's career took off allowing him to work as an independent or subcontractor for decorative painting companies and famous designers in the US and Europe. Projects included updating chateaus (Chateau de Villette for designer Jacques Garcia, Chateau Champ de Bataille in Normandy), hotels (the Ritz Paris with Finkelstein), the Cartier boutique in Paris, a few bars, individual homes and apartments, the Salle des Fetes of the Marie du 16th arrondissement and many more. For the past few years, Craig has been working with Whelan to restore brasseries throughout Europe, with many in Paris including Boullion Julien, Brasserie Floderer, Brasserie Rosie, Bofinger, Terminus Nord and others.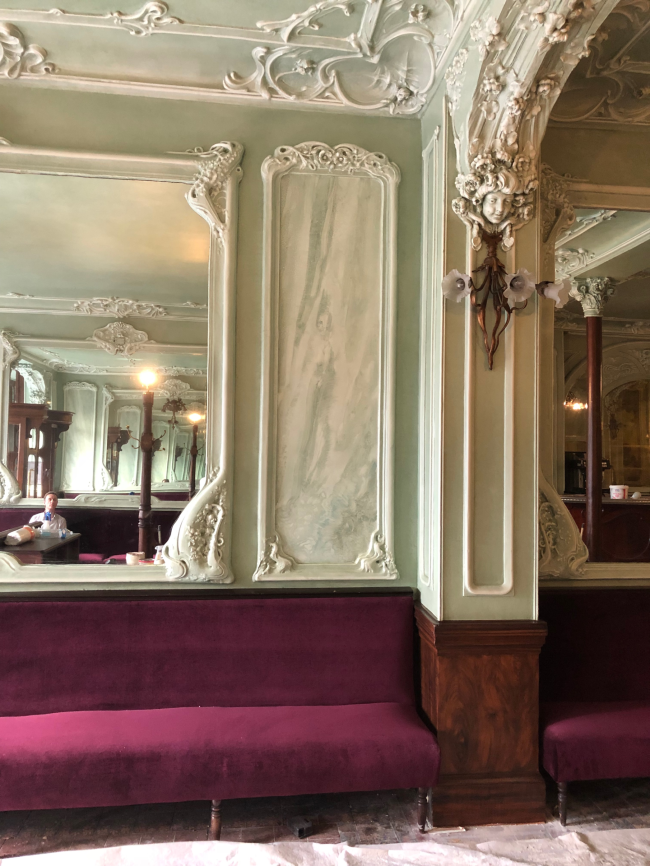 It's the brasseries where the understanding of the art of decorative painting shines. Decorative painting is complex and the work must balance with the history of what was painted at the location, what works today and personal feelings about the design.
"Sometimes these projects are about creating a space and an atmosphere where none existed, and sometimes it is about preserving the atmosphere," said Craig. "This does not mean that all that is old must be scrupulously preserved … since over the decades many of these restaurants went through redecorations. It is important to figure out which of these transformations over the decades kept the history alive, which ones were completely new directions, and which ones were just … bad."
Brasserie Floderer was a perfect example. It was a complete restoration basically restituting all the surfaces to their original style. The wood was restored to the original faux bois. The gold paint was just freshened up as it was considered in excellent shape and the 1920s murals were restored. It was restoring the exterior that was a problem. It had been redone 20 years ago and looked awful, nowhere near the original faux bois which was found when the decorative painters sanded down the paint layers. That's when personal feelings about the design popped up.
"As we were working, people would stop by and say we couldn't touch this building as it was a national monument and that we were defacing it," said Craig. "That is one of our hardest challenges – fighting with people's nostalgia. This sort of nostalgia clouds people's judgement sometimes as they think 'this is old so it must be good, so it must remain that way.' They forget that all these places have evolved over time."
Many of the brasseries in Paris have gone from being "dans son jus" (an expression literally meaning 'in its own juices') or reflecting its original, history-stepped condition, to looking a little dingy, according to Craig. Bouillon Julien was an Art Deco jewel in 1906. It was last painted with tobacco-colored patina on the ceiling, moldings, stiles and panels which is a trick of the trade. French brasseries were famous for customers who smoked which stained the walls a brown shade, so a general glaze on the walls and ceilings that was "tobacco" colored would give a warm tone to the restaurant while hiding the yellowing of the paint.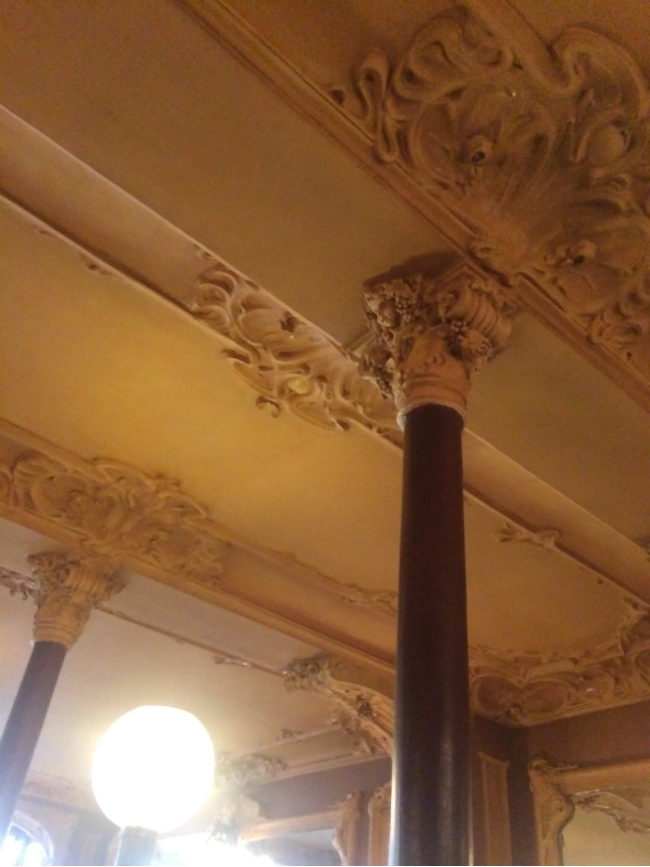 Craig brought in a stratigrapher (an expert who removes layers of paint with a scalpel) who discovered that between 1906 and 2010 there were seven paint layers with seven different colors. One of the colors was celadon green which is what the designer wanted to use.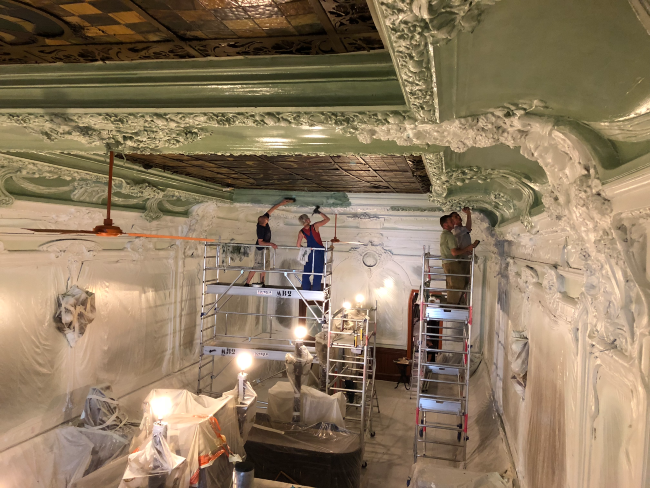 "This is what people forget," said Craig. "Despite brasseries being these stayed, old institutions, they are not fixed in time. The decorative team found the panels to be a bit flat and repetitive and we suggested a faux marble using only the colors of the patina in a very simple style. This gave more rhythm to the space while not overshadowing the architecture of the ornate molding of the walls and the glass verrière (canopy.) At the end of the day we respond to the space itself."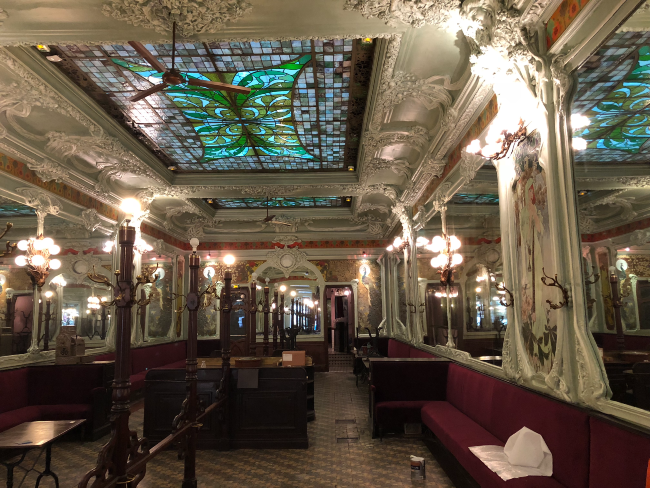 Sometimes decorative painting designers create historicity of a space where none existed before. The example is Brasserie Rosie, part of a chain, whose whole space was torn down to the bones.
"It's amusing that we spend half our time making old things look new again, and the other half making new things look old," said Craig. "The aged patina is one of the most common tricks of our trade – painting new surfaces to give them the feel like they have always been around."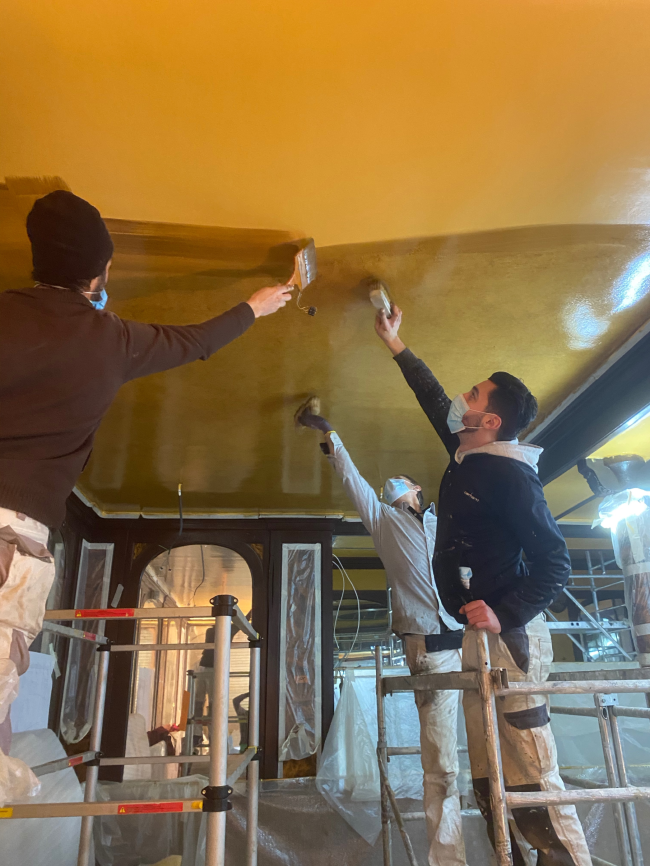 France is used to seeing things look old. The city is full of monuments and spaces which take one back in time with the traces of history on walls, domes, building structures and rooms where one enjoys the "old" while walking through public areas or eating in a brasserie. It is the goal of the decorative painter to bring the feeling of history and time into a space to be enjoyed.
"We know that the diners want to feel that they are sitting in a space steeped in history, even if we have to fake it," said Craig.
Lead photo credit : Terminus Nord, courtesy of Benjamin Craig
More in Art Deco, benjamin craig, Bofinger, Boullion Julien, brasserie, Brasserie Floderer, Brasserie Rosie, restoration, Terminus Nord
---
---