American Artist Joan Mitchell and Claude Monet at the Fondation Louis Vuitton
Joan Mitchell might not be a household name, but the twin exhibitions of the works of this U.S.-born abstract expressionist – the Joan Mitchell Retrospective and Monet – Mitchell – currently on view at the Fondation Louis Vuitton – are designed to change that. Joan Mitchell was born in Chicago on February 12, 1925, to an upper-class family. Her mother, who was deaf, was a poet and associate editor of Poetry magazine. Her father was a successful physician. In her youth, Mitchell was not only athletic, but also wrote poetry, started art classes in second grade at the Art Institute of Chicago, and painted en plein air with her father. According to one source, "When she was eleven years old, her father compelled her to choose between writing poetry and painting rather than risk mediocrity at both." She chose painting. Rebellious by nature and determined to live life on her own terms, in 1948, she rented a studio at 73 rue Galande in the Paris 5th. About that stay, she wrote, "France has sort of disappointed me…I'm not even sure what I expected but I don't like it or the French much…" Joan Mitchell at the window of her 73 rue Galande apartment, Paris, 1948. Photograph by Barney Rosset, Joan Mitchell Foundation Archives. © Joan Mitchell Foundation In 1950, she established a studio in New York and became part of the art scene there. Friends included artists Franz Kline and Willem de Kooning. In 1951, she had her first solo exhibition in New York, and she participated in the
9th Street Exhibition of Paintings and Sculpture
, a pivotal exhibition that launched Abstract Expressionism, the first internationally relevant American art movement. Exhibition poster for 9th Street Show, New York, 1951. © Joan Mitchell Foundation Mitchell's work was shown in one-woman and group shows, and as recognition of and respect for her art grew as a member of the second generation Abstract Expressionists, museums purchased her work, as the Whitney Museum of American Art did in 1956. In 1967, Mitchell purchased an estate overlooking the Seine in the village of Vertheuil, an hour northwest of Paris. From her window, she could see the house where Monet lived for over 10 years before moving to
Giverny
. Joan Miitchell gazing out the window of her studio in Vertheuil.
SUBSCRIBE
ALREADY SUBSCRIBED?
BECOME A BONJOUR PARIS MEMBER

Gain full access to our collection of over 5,000 articles and bring the City of Light into your life. Just 60 USD per year.

Find out why you should become a member here.

Sign in

Fill in your credentials below.
Joan Mitchell might not be a household name, but the twin exhibitions of the works of this U.S.-born abstract expressionist – the Joan Mitchell Retrospective and Monet – Mitchell – currently on view at the Fondation Louis Vuitton – are designed to change that.
Joan Mitchell was born in Chicago on February 12, 1925, to an upper-class family. Her mother, who was deaf, was a poet and associate editor of Poetry magazine. Her father was a successful physician. In her youth, Mitchell was not only athletic, but also wrote poetry, started art classes in second grade at the Art Institute of Chicago, and painted en plein air with her father. According to one source, "When she was eleven years old, her father compelled her to choose between writing poetry and painting rather than risk mediocrity at both." She chose painting.
Rebellious by nature and determined to live life on her own terms, in 1948, she rented a studio at 73 rue Galande in the Paris 5th. About that stay, she wrote, "France has sort of disappointed me…I'm not even sure what I expected but I don't like it or the French much…"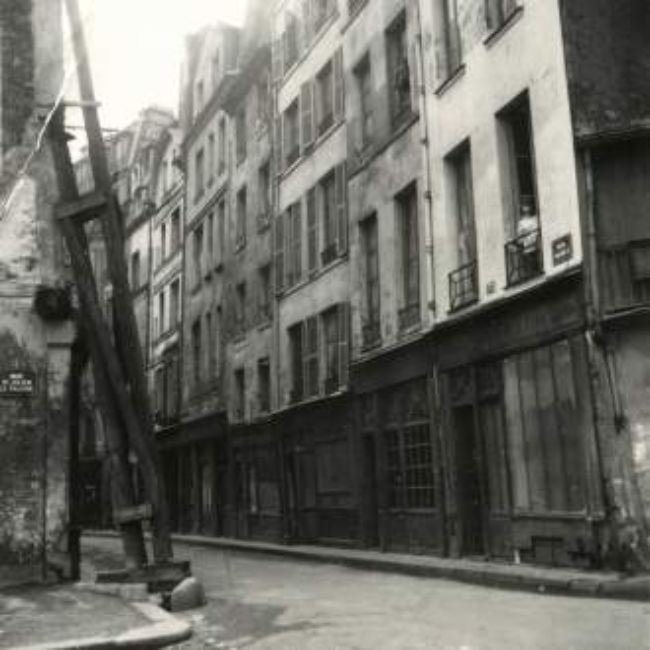 In 1950, she established a studio in New York and became part of the art scene there. Friends included artists Franz Kline and Willem de Kooning. In 1951, she had her first solo exhibition in New York, and she participated in the 9th Street Exhibition of Paintings and Sculpture, a pivotal exhibition that launched Abstract Expressionism, the first internationally relevant American art movement.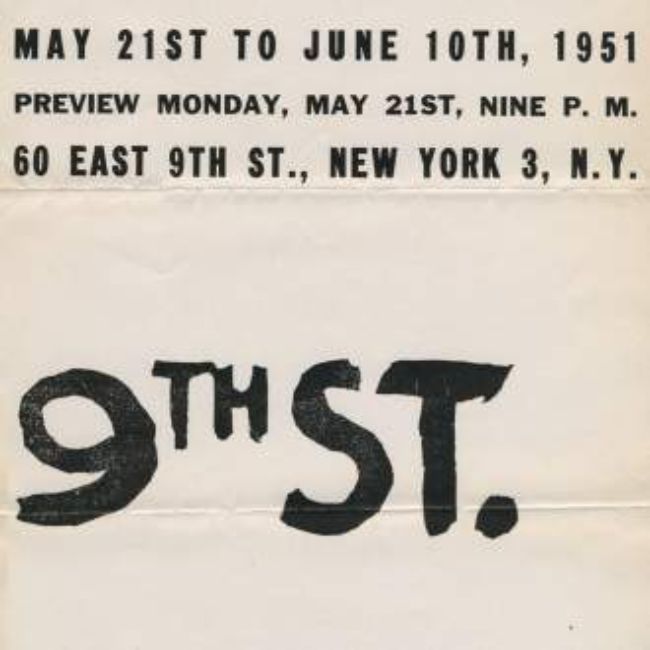 Mitchell's work was shown in one-woman and group shows, and as recognition of and respect for her art grew as a member of the second generation Abstract Expressionists, museums purchased her work, as the Whitney Museum of American Art did in 1956.
In 1967, Mitchell purchased an estate overlooking the Seine in the village of Vertheuil, an hour northwest of Paris. From her window, she could see the house where Monet lived for over 10 years before moving to Giverny.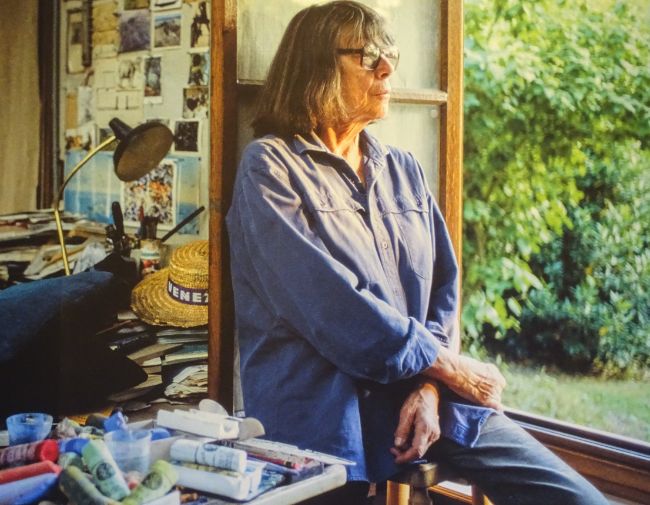 Although the view from the window in Mitchell's studio was beautiful, she always painted with the window closed, as she revealed in one of the short films that accompany the retrospective. In 1982, Mitchell became the first female American artist to have a solo exhibition at the Paris Museum of Modern Art.
The 50 works in the Joan Mitchell Retrospective trace the evolution of her work, many of which were landscapes. Mitchell once said, "I paint from remembered landscapes that I carry with me — and remembered feelings of them, which of course become transformed. I could certainly never mirror nature. I would like more to paint what it leaves me with." So what we see on canvas is what nature has left Mitchell with, as reflected in her paintings, which range from single panels to quadriptychs.
Take, for example, the quadriptych, "Minnesota," painted in 1980 in Vertheuil. Its vivid yellows and purples are alluring enough, but there is also energy and passion infused in the strokes and overlapping colors.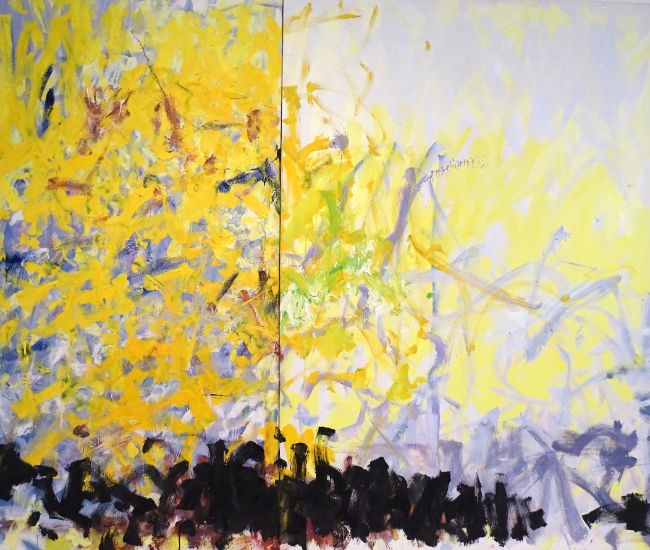 But take the painting, "Before, Again IV," painted in 1985. You would be forgiven for not knowing exactly what you are looking at.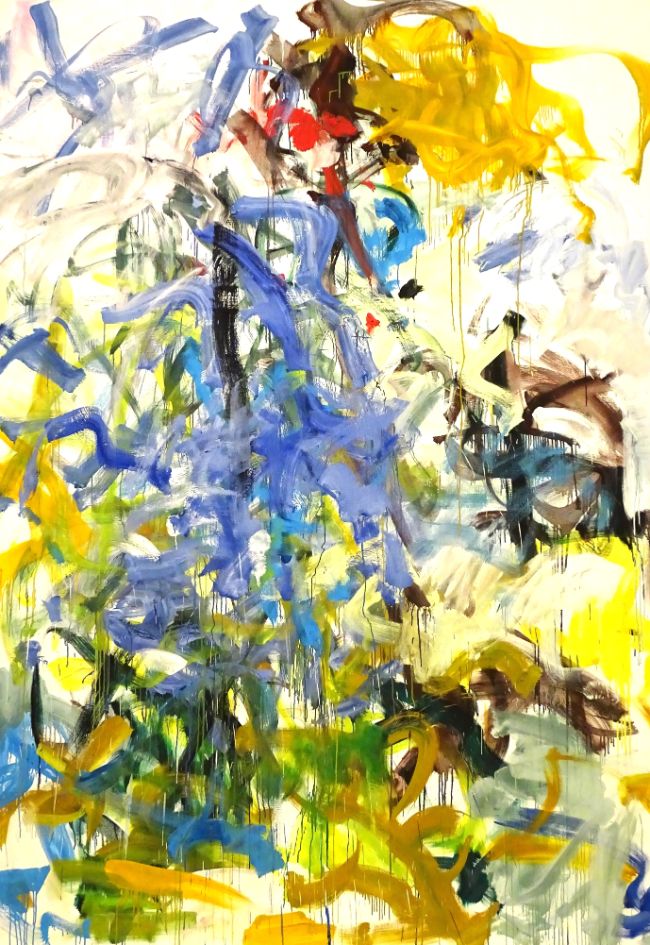 As one New Yorker art critic wrote, "her best paintings amount to metaphysical conundrums: you don't know what you're looking at." And yet, they are delicious for their use of color and their energy-infused strokes. When you look at a Mitchell painting, you should not be asking, "What is it?" You should be appreciating the totality of what you are seeing – the use of color, the energy, and above all, the composition. What it actually is, is irrelevant.
Joan Mitchell was born the year before Monet died, and although her house in Vertheuil overlooked the house in which Monet once lived, she often vehemently denied Monet influenced her painting. "I bought this house because I liked the view, not out of any love for Monet," she once snapped. And yet, as that same New Yorker art critic wrote, "Like Monet, Mitchell used colors redolent of nature and juxtaposed them to mingle in the eye…."
The Fondation characterizes Monet – Mitchell as a "poetic dialogue between Claude Monet's later works (1914–1926), the Water Lilies, and the work of artist Joan Mitchell." The Fondation contends that Monet's Water Lilies were seen, in the United States, "as precursors of abstraction by the painters of Abstract Expressionism," a term coined by Mitchell's friend Elaine de Kooning.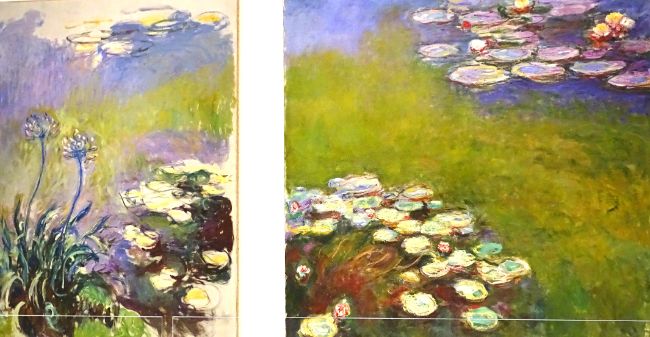 Through the combined 70 works, the Fondation hopes to demonstrate the "visual and thematic parallels" of the two artists.
Of the 35 Monet paintings shown, three are panels of Monet's Agapanthus triptych, which are held in three American museums – the Cleveland Museum, the Saint Louis Art Museum, and the Nelson-Atkins Museum in Kansas City – and are exhibited together at the Fondation for the first time in Paris since 1956.
Monet worked on this triptych for 10 years and he considered them "one of his four best series" and, as the Fondation explains, they "played a decisive role in the artist's subsequent recognition in the United States."
Included in the 35 Mitchell paintings are 10 of the 21 paintings from her La Grande Vallée series, begun during her grief over the death of her sister. "Painting is the opposite of death, it permits one to survive, it also permits one to live," she said.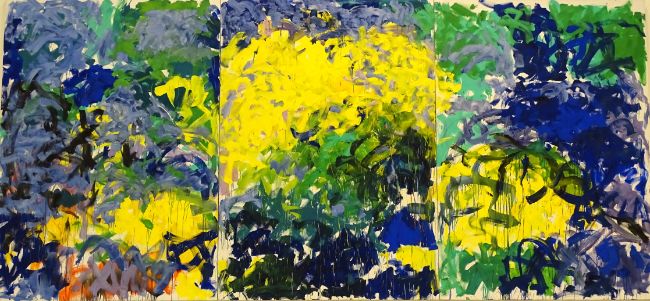 In the end, one big difference between Monet and Mitchell is that Monet painted what was before his eyes, while Mitchell painted what was in her mind. A viewer can understand what Monet saw before him, but no one can be expected to see what was in Mitchell's mind, except as reflected in her paintings. For those who tend toward the literal, Mitchell's work will be unintelligible. But for those who can appreciate an abstract painting for its color, composition, and energy, there is much to appreciate.
I must confess, however, that the supposed "dialogue" between Monet and Mitchell strikes me as contrived – if not exactly an intellectual conceit, then at least as much exhibitionist as exhibition – a way to monetize Monet. I wonder what Mitchell would have thought of the show. And at least two of Mitchell's paintings included in the show, both named Tilleul (Basswood), should have been left out, as they detract from rather than enhance her oeuvre.
That being said, the exhibit is well worth viewing, if only to see so many Joan Mitchells in one venue, for she is an important artist both nationally and internationally.
Mitchell died in a Paris hospital on October 30, 1992, at age 66. In an interview done shortly before she died, Mitchell said of her life in France, "Why did I come? Certainly not because of the French people…. Of course, there are other advantages here: the landscapes, the bistrots, everything you call quality of life."
Some things never change.
The Joan Mitchell Retrospective and Monet – Mitchell are at the Fondation Louis Vuitton through February 27.
For more details on her life and work, please see the website of the Joan Mitchell Foundation.
***
Fondation Louis Vuitton
8 Avenue de Mahatma Gandhi, Bois de Boulogne, 16th.
Tel: +33 (0)1 40 69 96 00
Métro: Line 1, Les Sablons; take the exit Louis Vuitton Fondation. The Fondation is a 10- to 15-minute walk from the metro.
Bus: Line 73 La Garenne-Colombes–Charlebourg
Shuttle service: Exit #2 Charles de Gaulle Étoile Station – 44 avenue de Friedland, 8th. Hours: Around 10:45 a.m. to around 9:15 p.m. at 15-minute intervals. Cost: 2 euros.
Velib: Station – Jardin d'Acclimatation
Open: Mon, Wed, and Thurs 11 a.m. to 8 p.m.; Fri 11 a.m. to 9 p.m; Sat and Sun 9 a.m. to 8 p.m. Closed Tuesdays.
Entrance fee: Full price 16 euro; visit this website for reduced price categories; free for members. The admission ticket includes access to the Jardin d'Acclimatation, which you can enter through the "back door" of the Fondation.
Lead photo credit : Photo by Diane Stamm
---
---
Comments