Cy Twombly in Paris: Blockbuster Exhibition at Centre Pompidou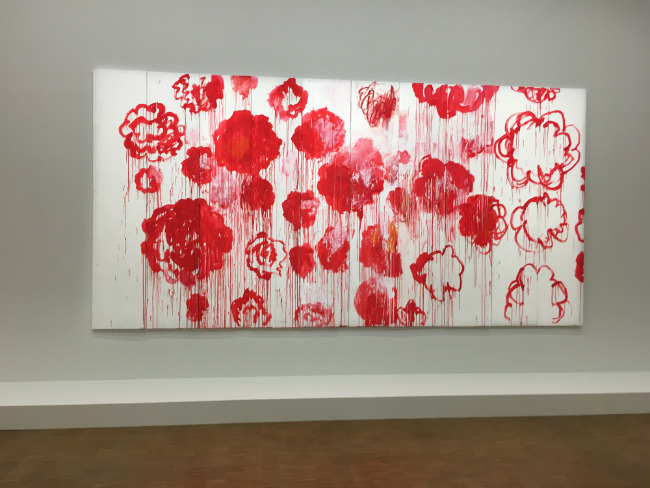 This is not the first time that the Centre Pompidou has exhibited Cy Twombly's works—there were big exhibitions in 1988 and 2004—but this retrospective is a blockbuster: the most important Twombly expo ever staged in Europe. The Virginia-born artist may have successfully dodged the spotlight during his lifetime, trading the New York art scene for Italy, but this exhibition concretizes Twombly's position as "one of the most important painters from the second half of the 20th century."
Running until April 24, the exhibition is arranged chronologically around three monumental cycles: Nine Discourses on Commodus (1963), Fifty Days at Iliam (1978) and Coronation of Sesostris (2000). Some of the 140 works have never before been shown in France. Curator Jonas Storsve worked extensively with the Cy Twombly Foundation to bring this exciting show to fruition.
Twombly was a famously well-read painter—devouring Goethe, Homer, Horace, Herodotus, Keats, Mallarmé, Ovid, Rilke, Sappho, Virgil—and an "extremely cultivated young man," explains Storsve. Twombly's evocative works are often covered in writing. To quote the show's brochure: "Twombly's art has often been described as literary, so frequent in his canvases are allusions to the past, to myth and to the authors he read, a palimpset of wide-ranging references." During a 1961 Twombly show organized at galerie J in Paris, art critic Pierre Restany published an essay in which he wrote, "His handwriting is poetry, reportage, furtive gesture, sexual release, automatic writing, self-affirmation, self-abnegation too… Twombly's writing has neither syntax nor logic, but quivers with life, its murmur penetrating to the very depths of things."
This is an exhibition charged with emotion. In describing Twombly's method of working, Storsve says, "There was the impression that he wasn't doing anything. But the creation of an oeuvre was entirely in his head." The moment when it was completed, he would "attack the canvas. This is why he worked with an extreme sense of urgency- to reproduce the internal image."
A highlight of the exhibition is a room full of Twombly's sculptures showcased against a Paris panorama– the Pompidou's giant glass windows framing the city in a magnificent backdrop.
Centre Pompidou, Place Georges-Pompidou, 75004 Paris, is open every day except Tuesdays, from 11 am -10 pm. Ticket prices are 14 € (full price), and 11 € (reduced price). "Cy Twombly" is open until April 24, 2017. 
Related article: The Best Paris Museum Shops
Photo credit : Cy Twombly, Blooming, 2001-2008 acrylic, wax and crayon on wooden panel
Leave a reply
Your email address will not be published. Required fields are marked *