A Woman, Wine, and Wonderful Château Coutet: Making Sauternes Wine in Bordeaux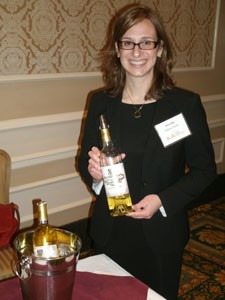 Aline Baly is a vivacious 31-year-old Frenchwoman who fell head-over-heels in 2005. But this is not a conventional love story. Her passion is for Château Coutet–both the prized "gold" wine and the winery she runs with her uncle, Philippe Baly. Until six years ago, Baly had no thought of going into the family business, not even when her uncle asked. She also hadn't spent much time at the château in Barsac, one of the five communes in Bordeaux where Sauternes is made. Although she was born in Paris and occasionally visited her grandparents on the estate as a child, when she was eight her father Dominique's job for a multinational company took the family to Boston. They lived there for three years, then in Hong Kong for two, and by the time they returned to Boston, they knew they weren't going to go back to France. Baly kept up her French, though not as rigorously as before, and had learned to speak English like a native. During high school, she worked at the Concord Book Shop, which she calls "a great experience," partly because it made her appreciate small family businesses. A small campus, Bucknell University in central PA, was Baly's choice for college, though she says she didn't know much more than that she liked economics and psychology and wanted a liberal arts education. After her first year, she decided to focus on international relations and the European Union. She got her BA in 2002 and moved back to the Boston area for a job with Millipore Corporation, an international biosciences company. During her four years there, her job included event planning, corporate public relations and marketing. A business trip to Germany in 2005 led to the fateful introduction to the world of wine. Dominique was supposed to act as translator for Philippe at the Decanter Fine Wine Encounter in London but couldn't make it, so he asked his daughter to go instead. "I had a wonderful time working with my uncle, meeting cultured people and learning about wine," she recalls. "I also realized that I could contribute some marketing know-how to Coutet." The event made Baly realize she wanted to go into the family business after all, but when she discussed it with her father and uncle, they thought she should get her MBA first—an idea she agreed with wholeheartedly. In fact, she'd already been thinking about applying to Northwestern University's Kellogg School of Management because of its excellent marketing program and family business center, and her experience in London provided the material for her application essay. Baly started at Kellogg in 2006 and between her first and second year interned in Bordeaux with Mouton-Rothschild, part of Baron Philippe de Rothschild S.A., which has been the exclusive distributor of Château Coutet since 1994. "I needed a bigger perspective on the industry, and Mouton-Rothschild had the structure in place as well as a strong connection to Coutet," she explains. "I worked on communications and marketing for the commercial group of châteaux fine wines and learned a lot that summer about the life I was in for." By the end of the internship, Baly knew she would return to Bordeaux and Château Coutet after graduation—and she did, a week after getting her degree in June of 2008. She says she spent the first year getting to know her uncle as a business partner (rather than just a relative) and learning about the history of the estate and the wine, as well as what they mean to the 20 people who work there and to customers around the world. One of the oldest vineyards in the Sauternes region, Château Coutet dates back at least to 1643, and the main courtyard's square tower, believed to be from the late 13th century, reflects military design from the time of Aquitaine's English occupation. A second tower showcasing the era's architecture originally was constructed to breed pigeons and peacocks for local Gascon lords. Other buildings range from a 14th-century chapel to the 110-foot-long cellar (the longest in the appellation), which was converted from a horse stable in 1893 and now houses more than 860 oak wine barrels arranged in four single, parallel lines. The original owner, Charles le Guerin, Lord of Coutet and a counselor at the Bordeaux parliament, passed the estate onto his nephew Jean de Pichard in 1695, and his descendents owned it until 1788. Around this time, Thomas Jefferson praised Coutet as the best Sauternes from Barsac. Bordeaux parliament president Gabriel-Barthelemy-Romain de Filhot, a cousin of the previous owner, acquired the property next, but the French Revolution cut short his tenure: The state seized Coutet in 1794, and he was beheaded. Later, though, it was inherited by Marquis Romain Bertrand de Lur-Saluces, son of Marie-Geneviève de Filhot and Antoine-Marie de Lur-Saluces. At the time, he also owned Château Yquem, Château Filhot and Château de Malle, making him the largest producer of sweet wines in the world. The Lur-Saluces family maintained ownership until 1922, at which time Château Coutet was purchased by Henry-Louis Guy, an hydraulic wine press manufacturer from Lyon. He installed his vertical presses, still in use today, and created the reserve Cuvée Madame (only produced 11 times so far) in honor of his wife. Baly says her grandfather, Marcel, bought Château Coutet in 1977 basically on a dare, after he'd retired from his transportation and logistics company in Alsace. "He was visiting Bordeaux with friends who showed him the estate, which was for sale, and teased that he wouldn't be any good at running it," she says. "The first harvest was very hard because he didn't have any first-hand experience, but he sprang into action and brought Philippe and Dominique in from the start." Of the 11 Sauternes classified as First Growth in 1855, Château Coutet is one of only two from Barsac. The vineyard consists…
SUBSCRIBE
ALREADY SUBSCRIBED?
BECOME A BONJOUR PARIS MEMBER

Gain full access to our collection of over 5,000 articles and bring the City of Light into your life. Just 60 USD per year.

Find out why you should become a member here.

Sign in

Fill in your credentials below.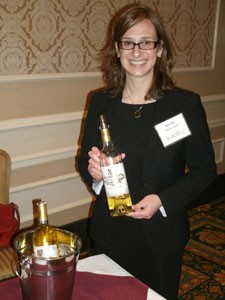 Aline Baly is a vivacious 31-year-old Frenchwoman who fell head-over-heels in 2005. But this is not a conventional love story. Her passion is for Château Coutet–both the prized "gold" wine and the winery she runs with her uncle, Philippe Baly.
Until six years ago, Baly had no thought of going into the family business, not even when her uncle asked. She also hadn't spent much time at the château in Barsac, one of the five communes in Bordeaux where Sauternes is made. Although she was born in Paris and occasionally visited her grandparents on the estate as a child, when she was eight her father Dominique's job for a multinational company took the family to Boston.
They lived there for three years, then in Hong Kong for two, and by the time they returned to Boston, they knew they weren't going to go back to France. Baly kept up her French, though not as rigorously as before, and had learned to speak English like a native. During high school, she worked at the Concord Book Shop, which she calls "a great experience," partly because it made her appreciate small family businesses.
A small campus, Bucknell University in central PA, was Baly's choice for college, though she says she didn't know much more than that she liked economics and psychology and wanted a liberal arts education. After her first year, she decided to focus on international relations and the European Union. She got her BA in 2002 and moved back to the Boston area for a job with Millipore Corporation, an international biosciences company. During her four years there, her job included event planning, corporate public relations and marketing.

A business trip to Germany in 2005 led to the fateful introduction to the world of wine. Dominique was supposed to act as translator for Philippe at the Decanter Fine Wine Encounter in London but couldn't make it, so he asked his daughter to go instead. "I had a wonderful time working with my uncle, meeting cultured people and learning about wine," she recalls. "I also realized that I could contribute some marketing know-how to Coutet."
The event made Baly realize she wanted to go into the family business after all, but when she discussed it with her father and uncle, they thought she should get her MBA first—an idea she agreed with wholeheartedly. In fact, she'd already been thinking about applying to Northwestern University's Kellogg School of Management because of its excellent marketing program and family business center, and her experience in London provided the material for her application essay.
Baly started at Kellogg in 2006 and between her first and second year interned in Bordeaux with Mouton-Rothschild, part of Baron Philippe de Rothschild S.A., which has been the exclusive distributor of Château Coutet since 1994. "I needed a bigger perspective on the industry, and Mouton-Rothschild had the structure in place as well as a strong connection to Coutet," she explains. "I worked on communications and marketing for the commercial group of châteaux fine wines and learned a lot that summer about the life I was in for."
By the end of the internship, Baly knew she would return to Bordeaux and Château Coutet after graduation—and she did, a week after getting her degree in June of 2008. She says she spent the first year getting to know her uncle as a business partner (rather than just a relative) and learning about the history of the estate and the wine, as well as what they mean to the 20 people who work there and to customers around the world.
One of the oldest vineyards in the Sauternes region, Château Coutet dates back at least to 1643, and the main courtyard's square tower, believed to be from the late 13th century, reflects military design from the time of Aquitaine's English occupation. A second tower showcasing the era's architecture originally was constructed to breed pigeons and peacocks for local Gascon lords. Other buildings range from a 14th-century chapel to the 110-foot-long cellar (the longest in the appellation), which was converted from a horse stable in 1893 and now houses more than 860 oak wine barrels arranged in four single, parallel lines.
The original owner, Charles le Guerin, Lord of Coutet and a counselor at the Bordeaux parliament, passed the estate onto his nephew Jean de Pichard in 1695, and his descendents owned it until 1788. Around this time, Thomas Jefferson praised Coutet as the best Sauternes from Barsac. Bordeaux parliament president Gabriel-Barthelemy-Romain de Filhot, a cousin of the previous owner, acquired the property next, but the French Revolution cut short his tenure: The state seized Coutet in 1794, and he was beheaded. Later, though, it was inherited by Marquis Romain Bertrand de Lur-Saluces, son of Marie-Geneviève de Filhot and Antoine-Marie de Lur-Saluces. At the time, he also owned Château Yquem, Château Filhot and Château de Malle, making him the largest producer of sweet wines in the world. The Lur-Saluces family maintained ownership until 1922, at which time Château Coutet was purchased by Henry-Louis Guy, an hydraulic wine press manufacturer from Lyon. He installed his vertical presses, still in use today, and created the reserve Cuvée Madame (only produced 11 times so far) in honor of his wife.
Baly says her grandfather, Marcel, bought Château Coutet in 1977 basically on a dare, after he'd retired from his transportation and logistics company in Alsace. "He was visiting Bordeaux with friends who showed him the estate, which was for sale, and teased that he wouldn't be any good at running it," she says. "The first harvest was very hard because he didn't have any first-hand experience, but he sprang into action and brought Philippe and Dominique in from the start."
Of the 11 Sauternes classified as First Growth in 1855, Château Coutet is one of only two from Barsac. The vineyard consists of 95 acres (38.5 hectares) of vines planted 2,250 vines per acre in soil that's clay with fine gravel on a limestone sub-soil that distinguishes the terroir from that of the rest of Sauternes. The varietals are sémillon (75%), sauvignon blanc (23%) and muscadelle (2%), and the grapes are harvested by hand over a period as long as six weeks. The wine is fermented for up to three weeks in new French oak barrels, then aged in the barrel for 18 months before being bottled. Average production is 4,200 cases a year of half and full bottles.
Baly says that weather conditions have been ideal for the last decade, with lots of sun in August, so the grapes can achieve optimal ripeness before autumn's foggy mornings bring on the fungus botrytis cinerea ("noble rot"), and sunny afternoons help dehydrate the grapes, concentrating their aromas and flavors. Noting that "Coutet" means "knife," she characterizes the wine's distinct style as "very crisp and sharp with a lot of tension that cuts through the sweetness of Sauternes with a clean finish." It tends to be fresh and floral when it's less than 10 years old, she says, and imbued with more nectars and luscious fruits at 10 to 20. At 25 and older, the wine is heady with dried fruits, nuts and gingerbread, though the sweetness takes a step back as it ages. "I'm very excited about the 1989 right now," she adds, "It's a show stopper."
Since joining Château Coutet, Baly has traveled extensively and pioneered the use of social media to keep people informed about the wine. "A lot of people enjoy wines from the region but aren't sure how best to enjoy them," she points out. "I want to show that Sauternes are very flexible. They can go with savory courses from a lot of cuisines and many cheeses, as well as with the traditional foie gras and blue cheese." She mentions lobster and oysters as Valentine's Day examples—and says her uncle and father consider the wine an aphrodisiac all by itself—but one of her favorite pairings is with turkey. "When we moved to Boston and started having Thanksgiving dinner, we always drank Château Coutet, so it really means home to me."
Château Coutet retails for $50 and up for a full bottle. For more information and/or to make an appointment to visit the vineyard, go to www.chateaucoutet.com or email [email protected].
Photos (c) Fred Swanson
Subscribe for free so you don't miss a story & don't forget our searchable library of 7,000+ stories about France travel. 50 original stories monthly: travel guides, Paris events, dining, lodging, shopping, French lifestyle, recipes, photography & more since 1995.
Shop direct at Amazon.com (and merci for using our direct link, your support allows us to publish BonjourParis.)
and check our Francophiles Favorites loaded with French-themed items for travelers and Francophiles. Choose your category at the right edge, then click the category's last page number to browse the latest listings.
Short-cut to our 100 TOP SELLING ITEMS

(please wait for widget to load—updated daily)
Current food & wine books at our
Amazon.com Boutique
with new listings below: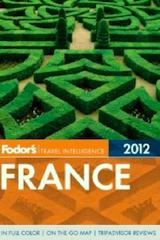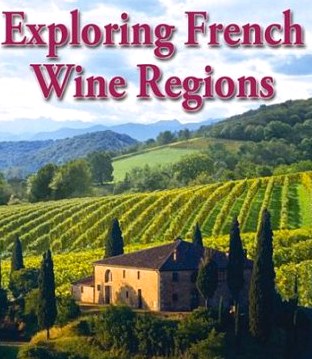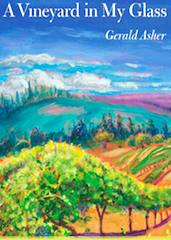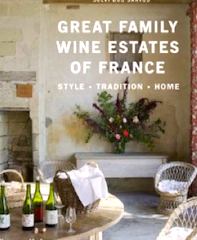 Fodor's France 2012 (Full-Color Gold Guides) [October 2011 release]
DVD: Exploring French Wine Regions Plan your vineyards tour with this DVD.
A Vineyard in My Glass [Sept 2011, 27 essays published in Gourmet magazine about regions]
Great Family Wine Estates of France [Nov 2010]
More in Hotels, Neighborhood, Paris, Shopping
---
---