Wine Class: the Bordeaux Wine Official Classification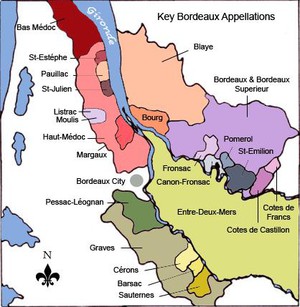 What do Château Lafite Rothschild, Château Latour, Château Margaux, Château Haut-Brion and Château Mouton Rothschild have in common? Besides being monster French Reds they were classified First Growths in 1855 (with one exception) by a group of French oenophiles headed by then Emperor, Napoleon 111. I guess he was not a first growth himself. This rating became known as the Bordeaux Wine Official Classification of 1855.
The one exception is Château Mouton Rothschild, which was elevated from a second growth to a first growth vineyard after Philippe de Rothschild ventured into intense lobbying for many decades to change his wines classification.
The wines were ranked in importance from first to fifth growths (crus). All of the red wines that made it on the list came from the Médoc region except for one: Château Haut-Brion from Graves. The white wines, then of much less importance than red wine, were limited to the sweet varieties of Sauternes and Barsac and were ranked only from first great growth to second growth.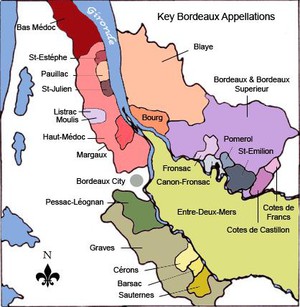 Bordeaux is one of the great regions of the world, producing tremendous wines, both red and white. The area around the city of Bordeaux is naturally divided by the Gironde River into a Left Bank region consisting of the Médoc with the sub regions of Saint-Estèphe, Pauillac, Saint-Julien and Margaux and a Right Bank area which includes Saint-Emilion and Pomerol.
Over 700 million bottles of Bordeaux wine, ranging from large quantities of everyday table wine to some of the most expensive and prestigious wines in the world, are produced in an average vintage. About 90% of wine produced in Bordeaux is red, with notable sweet white wines such as Château d'Yquem, dry whites, rosé and sparkling wines (Crémant de Bordeaux) all making up the remainder.
Cru is a French wine term which means "growth place". The term cru is often used within classifications of French wine. By implication, a wine which displays (or is allowed to display) the name of its cru on its wine label is supposed to be a terroir wine characteristic of this cru. The terms Premier Cru and Grand Cru are often translated into English as First Growth and Great Growth.
Following the success of the Bordeaux Wine Official Classification of 1855, Jules Lavalle developed an informal classification of vineyards of the Côte d'Or in his book History and Statistics of the Côte d'Or. In 1861, Lavalle's classification was formalized by the Beaune Committee of Agriculture. The designations of grand cru and premier cru were later developed and expanded on in the 1930s with the creation of the Appellation d'Origine Contrôlée (or AOC) system.
As I have written in the past, the majority grape that makes up a Bordeaux red is Cabernet Sauvignon, and in the UK and elsewhere it is sometimes called a Claret. The great thing about Bordeaux wine is: Funky barnyard smell, wet hay are some of the good attributes. You just have to love a wine region that produces this type of Juice.
Many thanks to Wikipedia—if it was only around when I was in school. Now, on to that picnic I always gravitate to when I drink French wine.
Mo Sussman
If you're coming to France (or for that matter anywhere) you can reserve your hotel here. To rent a car, Bonjour Paris recommends Auto Europe.
Leave a reply
Your email address will not be published. Required fields are marked *